LIMITED TIME OFFER
Get up to $9,250*
mortgage cashback
Get 1% cashback on your
mortgage value. You choose
how to spend it.
Bigger mortgage = bigger bucks
Here at nesto, we keep things simple : 1% of your loan, no matter if you're a home buyer or a homeowner renewing for a better rate.
Total cashback is:


0

*
*Please be advised cashback rates are specific to a 5 year term with 120 day rate hold, and are different than advertised rates.
What you can use your cashback for:
Pay off high interest debts
Moving services
Home renovations
New furniture for your new home
A fire pit that makes winter bearable
A pool for backyard hangs
A year supply of your dog's favorite toys
…anything you want, judgment free!
How nesto's 1% cashback is different:
We keep things simple: 1% of your loan every time, no matter if you have a $125,000 loan or $925,000 loan. No tiers here…Only tears of joy.
Our cashback is predictable…Take your loan total multiply by 0.01 and there you have it: math wizardry and your cashback amount!
When we say you choose how to spend your cashback, we mean it. You do you.
Combine nesto's low rate, and a side of cashback. Lots of bang for your buck!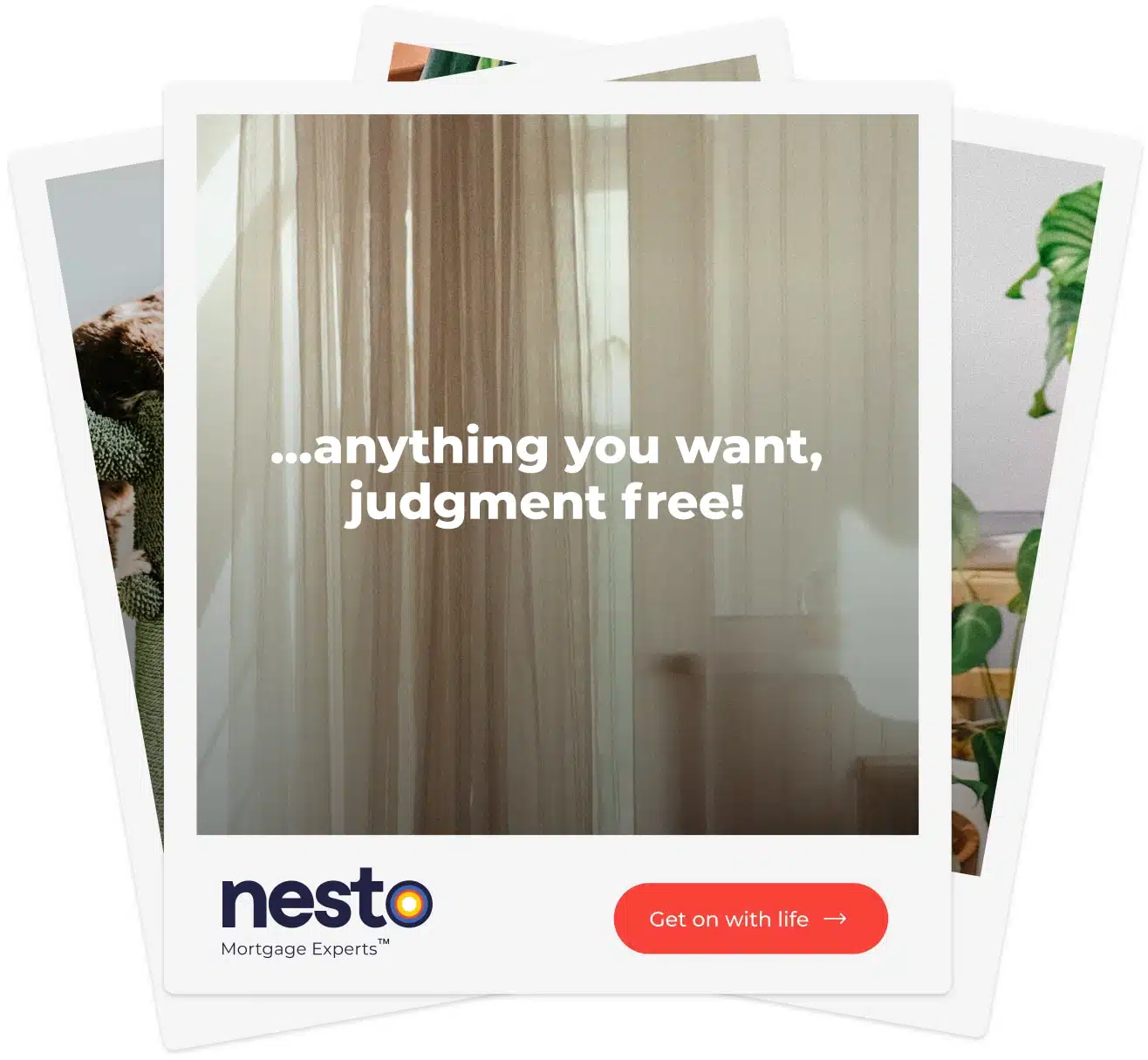 Discover the best current
Cashback mortgage rate
No matter where you are in Canada, we can tell you what the best current mortgage rates are by you today. Instantly get the lowest Cashback rates for 5-year variable & 5-year fixed rate mortgages.
*Please be advised cashback rates are specific to a 5-year term with 120-day rate hold, and are different than advertised rates.
For all nesto rates click here
Questions? Talk to a mortgage expert, now!
Call us anytime. We're always here for you.
The nesto difference
Low Mortgage
Rate Guarantee
Your low rate upfront, every time. Expert advice. No commission.
Simplicity
meets speed
We provide a streamlined financing experience backed by best-in-class technology.
A company
you can trust
nesto is a pioneer in online lending & has helped 210,000+ Canadians.
Read all the deets here:
Which mortgage amount is eligible for 1% cashback?
The value of the cashback offer is 1% of the total loan amount including any applicable default insurance premiums
Purchase price, or property value, cannot exceed $999,999.99
Total loan amount must be between $125,000 and $925,000
What are the restrictions?
Conditional to the completion and disbursement of a Nesto Inc. mortgage.

Clients are limited to one cashback offer per mortgage loan. This offer is not available for Assumptions or Porting. If the mortgage is discharged, transferred, or refinanced before the date of maturity of the term then all, or a portion of the cashback offer must be repaid
The cashback cannot be used towards the downpayment of the purchase related to this mortgage, nor can be used to pay off debts in advance of the mortgage funding.
How will we pay the cashback?
Cashback, equal to 1% of the total funded amount, will be sent 7-14 days following the date of disbursement of the mortgage loan. The transaction will be made in the form of a direct deposit to the bank account in which mortgage payments will be made from.
*Terms and conditions:
Limited Offer: This offer is available for new mortgage requests.
nesto reserves the right, in its sole discretion, to terminate the 1% cashback offer, in whole or in part, and/or modify, amend or suspend the 1% cashback offer and/or the terms and conditions in any way, at any time, for any reason without prior notice.
All issues and questions concerning the construction, validity, interpretation and enforceability of the terms and conditions or the rights and obligations between the entrant and nesto in connection with the 1% cashback offer shall be governed by and construed in accordance with the laws of the province of Québec.