Mortgage Renewal Calculator
When it comes to managing your finances, it can be beneficial to have a tool that helps you calculate your monthly mortgage payments. If you're a homeowner coming up for renewal or want to run scenarios, check out nesto's mortgage renewal calculator. nesto's calculator lets you explore options for paying off your mortgage faster and save money.
When it comes time to renew, a mortgage calculator can help you understand your payments. Knowing your mortgage payment can make budgeting and planning for the future much easier and less stressful.
---
Key Takeaways
A mortgage renewal calculator can help homeowners understand their monthly payments and budget for the future.
Homeowners should start planning their renewal at least 4 months before the renewal date and shop around for the best rates and conditions.
nesto's mortgage renewal calculator can help homeowners compare their options to maximize savings.
---
Are you a first-time buyer?
We're curious…
Are you a first-time buyer?
How To Use The Mortgage Calculator
Using nesto's mortgage renewal calculator makes it easy to estimate and run scenarios to calculate your mortgage payments, preparing you for your next mortgage term.
Use the calculator to test scenarios by changing the amortization and payment frequency to calculate your mortgage renewal payments and get an overview of the total interest you will pay over the term.
To run a scenario, enter the following information:
Current Property Value: Enter the assessed value of your home. If you aren't sure about the current assessed value of your home, you can use CREA's National Price Map to find the average property values in your area to run a base scenario. Note: If your property is less than $1 million, you could qualify for a lower mortgage rate.
Mortgage Balance: Enter the balance you have remaining on your mortgage. Note: The lower your mortgage balance compared to your property value, the better your rate.
Province: Select the province from the dropdown where your home is located.
Remaining Amortization: Enter how many years you have remaining on your mortgage. You can find this by clicking on your mortgage in your online banking or looking at the most recent statement. Note: If your mortgage has over-amortized (also known as negative amortization), you must return to your remaining amortization.
Payment Frequency: Use the dropdown to select how often you want to make mortgage payments. Note: An accelerated payment frequency can shave off time and interest on your mortgage.
Mortgage Rate: Use the dropdown to choose a pre-selected rate based on the term length, or if you already have a new rate, enter it in the custom rate field. Note: If your mortgage was originally default-insured, you'll qualify for the lowest rates.
Payment Summary: The output is calculated from the details you entered. This will provide the mortgage payment you should expect based on the details you inputted.
Helpful Calculator Tips – Use the Payment Frequency dropdown to run scenarios and see how much interest and time you can save by switching to a more frequent payment schedule.
Today's Best Mortgage Rates as of September 28, 2023
How to Calculate Your Mortgage Renewal
Your mortgage renewal is the perfect opportunity to rethink your strategy and shop for better rates and terms and conditions. Whether your renewal is a few months or years away, it's never too early to consider your options, especially if you will save money in the long run.
All you need to know is the current property value of your home, the balance remaining on your mortgage, and your remaining amortization, which is the length of time remaining on your mortgage.
For example, let's say you live in Ontario and have a home with a current assessed value of $600,000. You have $450,000 remaining on the mortgage, and your amortization will be 15 years at renewal.
To calculate mortgage renewal payments, you can use nesto's mortgage renewal calculator to run some different scenarios. In the first scenario, we will use nesto's 5-year fixed rate of 4.79% and look at how monthly payments will affect the principal and interest payments you would make over your term.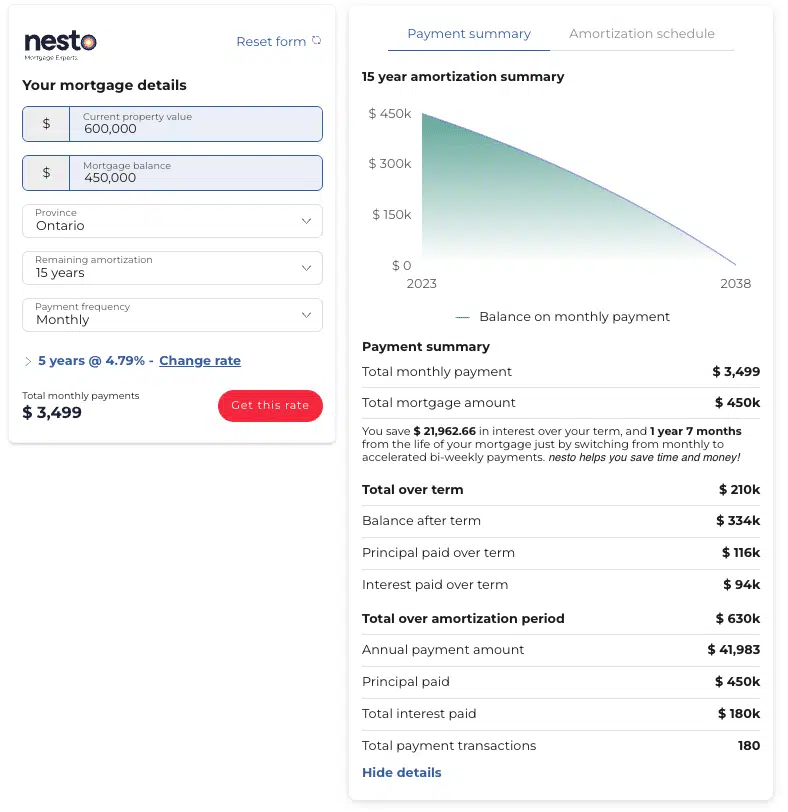 In the second scenario, using the same inputs, we will look at how bi-weekly payments will affect the principal and interest payments you would make over the term.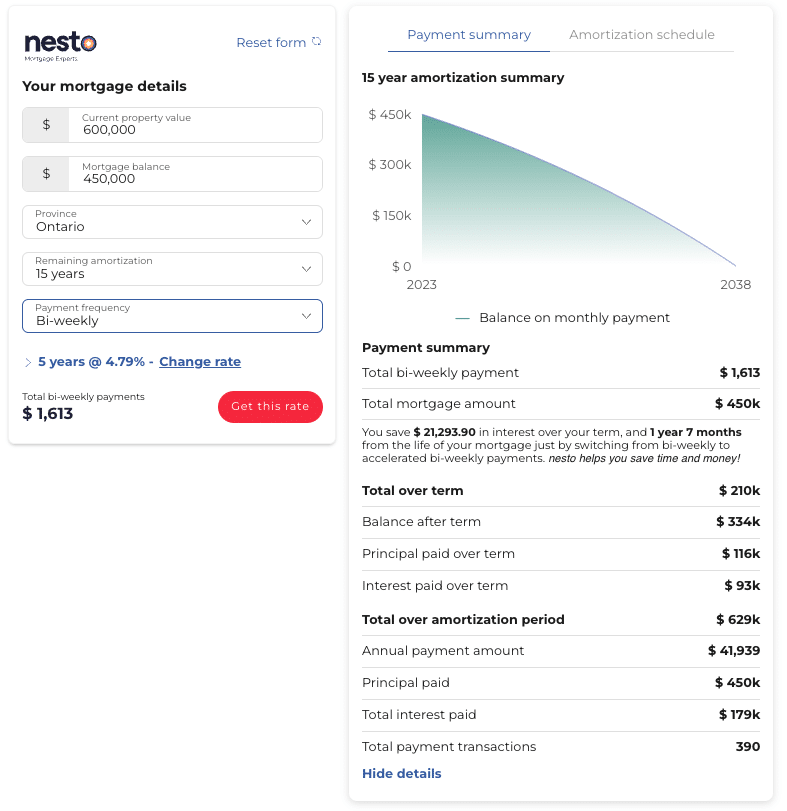 Between monthly and bi-weekly payments, there are no monetary savings; however, the benefit of bi-weekly over monthly payments is that bi-weekly amounts allow you to break up payments making your cashflow more manageable.
In the final scenario, using the same inputs, we will look at how accelerated bi-weekly payments will affect the principal and interest payments you would make over the term. As mentioned, you could save time and money by choosing an accelerated payment – even better if it syncs with your payroll dates.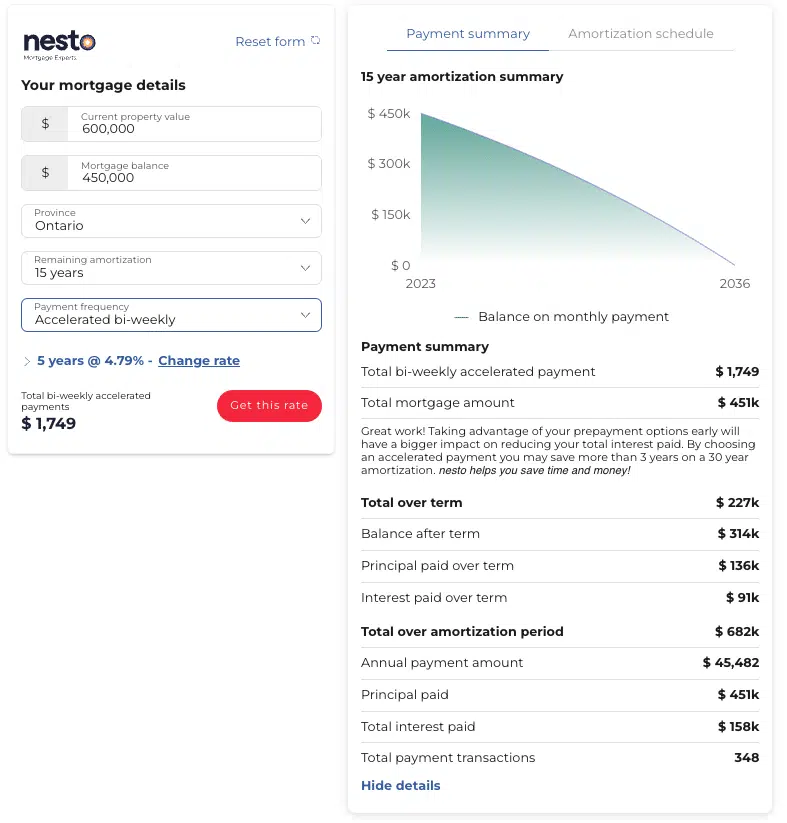 Switching from a monthly or bi-weekly to an accelerated bi-weekly payment schedule increases principal payments by $136 bi-weekly, ultimately saving you time and money. You will save 1 year and 7 months on the life of your mortgage (amortization) and $21,294 over the term in interest-carrying costs.
What Is A Mortgage Renewal?
When you sign a mortgage agreement, it typically lasts for a set period of time, with the most popular mortgage term in Canada being 5 years. Once that term ends, you can fully pay off the remaining balance or renew your mortgage agreement. When you renew your mortgage, you have the opportunity to negotiate a new interest rate, change payment terms, and make other adjustments to your terms and conditions to suit your current financial situation. Renewal is also the best time to compare rates to save even more by switching or transferring to a new lender.
How To Use The Mortgage Renewal Calculator To Your Advantage
Interest rates are high, with an additional 25 basis points (1 basis point is 1/100th of a percent equal to 0.01%) increase just announced by the Bank of Canada. Alongside heightened expectations of possible increases, saving money is a priority to keep up with your finances. nesto's mortgage renewal calculator can help you compare your savings by dabbling with interest rates, amortizations, and payment frequencies. Let nesto's mortgage experts help you find the best rates for your renewal today.
Mortgage Renewal vs Refinance
A mortgage renewal means that when your current mortgage term ends, you renegotiate with your lender for a new term and interest rate. Still, the principal amount of your mortgage should remain the same. A renewal allows you to explore new lenders and what they offer for interest rates and terms that you could then use to negotiate more favourable terms with your current lender – or switch lenders altogether.
Conversely, refinancing involves obtaining a new mortgage with different terms and conditions and a new interest rate. Refinances are often useful to lower your mortgage payments or gain access to your home's equity. When you refinance, you're taking out a new loan and paying out your existing one. Refinancing is a great way to access equity in your home to consolidate high-interest debt, finance renovations, or buy an investment property.
Important: Once you refinance, you will lose your mortgage default insurance.
How to Renew Your Mortgage
Renewing your mortgage starts by determining your needs. Take this opportunity to look at your budget and see what has changed since the beginning of your mortgage term. When considering what you want from a new mortgage term, consider how frequently you want to make payments, and if you are financially able, make a lump sum prepayment or increase your payments to pay off your mortgage sooner and save thousands in interest. Explore current interest rates and see who offers the best rates and conditions, like other lenders' prepayment options.
Now is also the time to assess your future plans. Do you plan to move during the next term? If you see yourself selling your current home in the next 5 years, you may consider going with a shorter mortgage term or looking for lenders that offer assumable or portable mortgage options. You should aim to plan at least 4 months before your renewal date. Most lenders will allow you to renew to secure your mortgage with them for another term at least 90-120 days prior to your maturity date without prepayment penalties.
Finally, lock in your rate 30 days before renewing. Lenders are required to send your renewal statement at least 21 business days before your current term ends. You should receive an offer from your current lender with their reserved rates around the 30-day mark before your current term ends, so this is a good time to lock in your renewal mortgage rate or use what was offered to compare against other lenders.
Tips on Your Mortgage Renewal
Start Early – Don't wait until the last minute. Ensure you give yourself enough time to discuss renewal options with your lender and shop around. You can start as early as 120 days before your renewal.
Negotiate – Your current lender rarely offers you the best renewal rate. Take the time to shop around, compare what you are offered with other lenders, and negotiate a better rate if you want to stay with your current lender.
Don't forget – virtual lenders like nesto are only interested in helping you with your mortgage. They will offer you the best rate upfront without the need to negotiate, ask you to move your banking or investments to them or persuade you to sign up for insurance you may not need.
Frequently Asked Questions (FAQ)
Can I renew my mortgage early?
Yes, most lenders will allow you to renew early, 90-120 days before your term ends. Check with your lender to see how early you can renew your mortgage.
Do I keep my mortgage insurance at renewal?
As long as you renew and keep your remaining amortization and mortgage balance the same, it won't affect your mortgage default insurance at renewal.
Is it better to renew or refinance my mortgage?
Deciding whether it's better to renew or refinance will depend on your situation. A renewal may be better if you are at the end of your term and want to stick with the same mortgage balance and remaining amortization. A refinance may be a better option if you want to access equity or lower your mortgage payments by extending your amortization.
How nesto works
At nesto, our commission-free mortgage experts hold professional designations from one or more provinces concurrently. We believe that our clients will receive the best advice and care when they speak with specialists that exceed the industry status quo.
Unlike the industry norm, our agents are not commissioned but salaried employees. This means you'll get free, unbiased advice on the most suitable mortgage solution for your unique needs. Our advisors are measured on the satisfaction and quality of advice they provide to their clients.
nesto's working hard to change how the mortgage industry functions. We start with honest and transparent advice, followed by our best rates upfront. We can offer you these best rates by using technology by providing a virtual and 100% online process to reduce our overhead costs.
By working remotely across Canada, all our advisors and staff spend less time commuting to work and more time with their friends and family. This makes for more dedicated employees and contributes to our success with happy and satisfied clients.
nesto is on a mission to offer a positive, empowering and transparent property financing experience, simplified from start to finish.
Browse Calculators by Location:
Other Helpful Mortgage Links
Save up to $25,232 in your first term*