Home Affordability Worsened In 6 Out Of 10 Provinces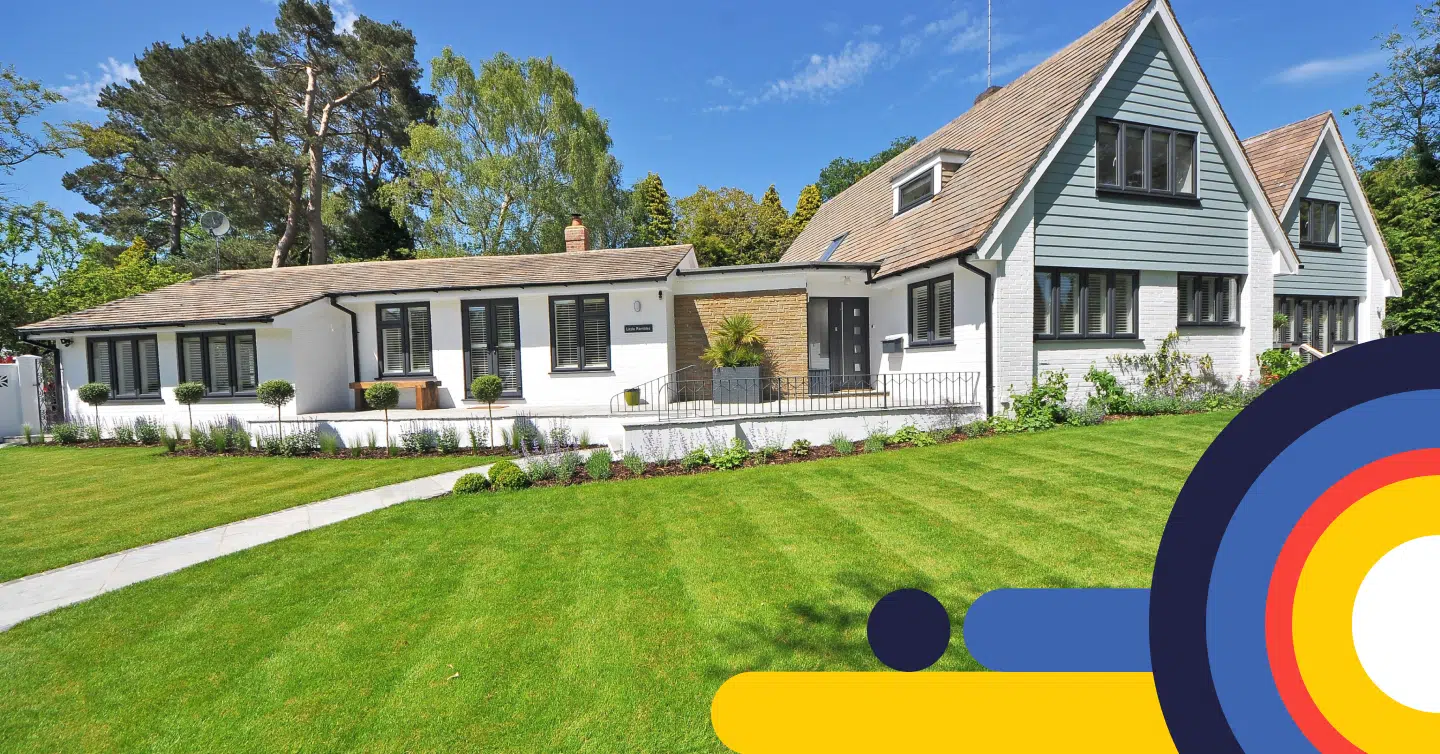 Though home prices have declined annually, higher interest rates remove any gains that would increase affordability. This is noted in an increase in 6 out of 10 provinces' income needed compared to a decrease in home prices in 7 out of 10 provinces.
---
This month's CREA report highlights the summer market is in recovery mode. Why is that? There seems to be a stabilization happening. This is signalled by the number of new listings and home sales near historically average levels.  
However, regarding the market's year-over-year outlook for income affordability, things became a little cloudier due to the Bank of Canada raising interest rates for the 10th time. 
According to the latest CREA report, posted on July 14, the following developments took place:
Homes sold were up 1.5% from last month. The total transactions posted (not seasonally adjusted) were up 4.7% compared to June 2022.
The average home price was  $760,600, up $5,700 from last month but down $35,700 from last year. This was noted to be the largest increase in a 2-year window.
The Aggregate Composite MLS HPI logged in CREA's July report was 4.5%, climbing a significant 2% monthly growth. However, it remains down 4.5% year-over-year.
Are you a first-time buyer?
Home Affordability Worsened Year Over Year In Most Provinces, Yet Signs of Improvement Shine Through in Quebec, British Columbia, Manitoba, and New Brunswick
Now that we know how the market's doing let's review what this means in terms of affordability for potential homebuyers. After all, knowledge is power, and knowing what can be afforded is the first step in any home journey.
Looking at nesto's data, it is clear that the housing market was negatively impacted by the latest Bank of Canada rate hike on July 12. It increased the prime rate to 5.0%, and the lender's best 5-year fixed today stands at 5.14% compared to 4.64% in June 2022. 
So, while we logged a notable decline in home prices across 7 of 10 provinces – income affordability only improved in 4 out of 10 provinces due to increased mortgage interest rates. 
This can be seen in Prince Edward Island, where the average home price decreased by $6,200, but the income needed to qualify increased by $1,303 – from $79,316 to $80,619.
Being on the bright side of mortgages, though, we are happy to report some positive developments:
Quebec saw an average home price and income needed to qualify decline year-over-year. The income needed now stands at $100,404 (down from $100,546), and the average home price fell by $18,400.
Manitoba saw a similar fate. The income needed fell from $93,598 to $93,022. What about home prices? Those fell  $12,800.
New Brunswick showed an $11,100 decline in average home price and a $411 decrease in income needed.
British Columbia noted a $46,600 decrease in average home price which resulted in an outstanding $18,724 drop in income needed, bringing that number to $201,362. 
"It's welcoming to see that home prices have come down across the country, generally speaking,, leading to a slightly more balanced market for home buyers," says Chase Belair,, Co-Founder and Principal Broker of nesto, "However, as long as interest rates remain at these levels, or continue to rise, we will still see issues at the income affordability level. While I can't predict the future, it appears that rate hikes should slow or home to a halt in 2024, giving a much-needed reprieve to first-time homebuyers as well as current homeowners."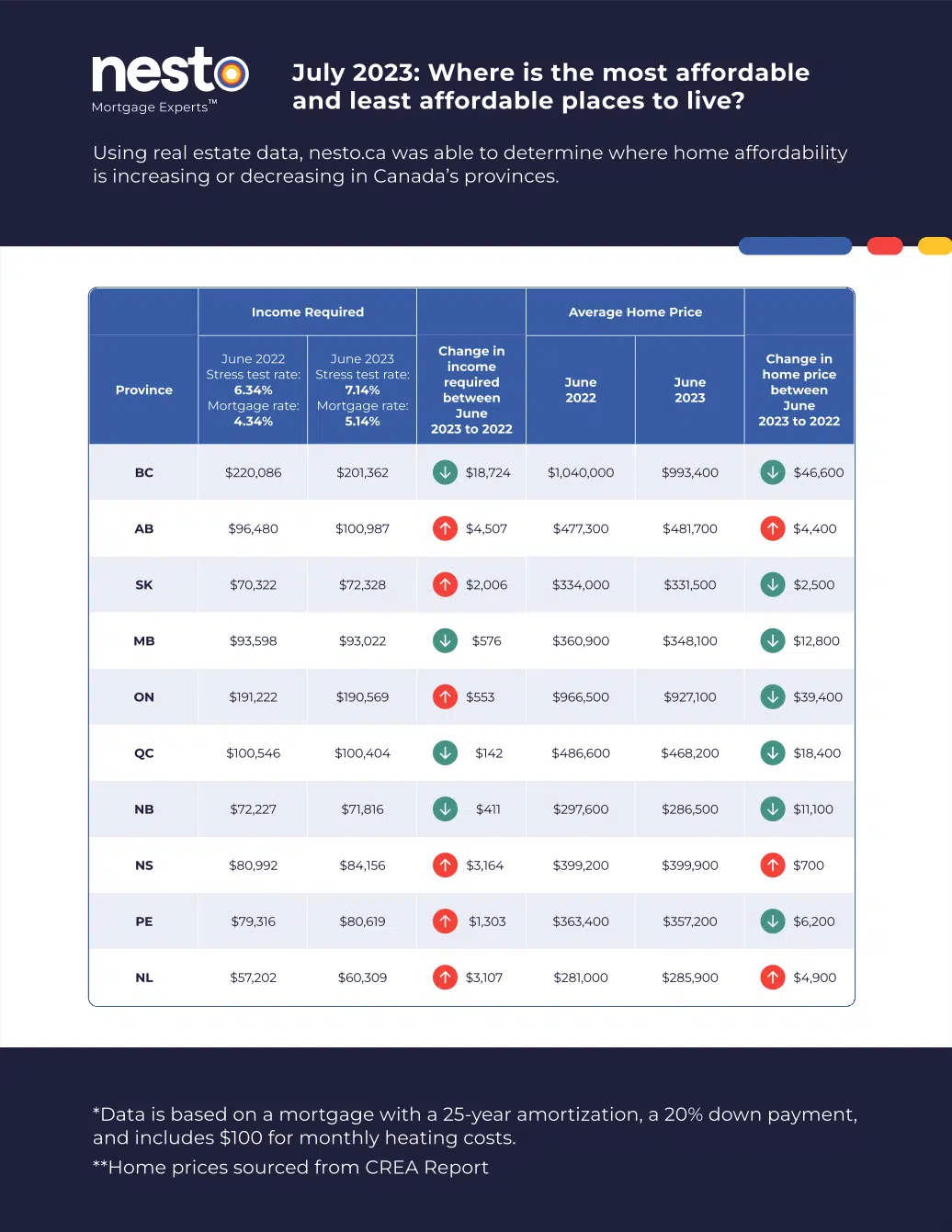 6 Provinces Where You Can Buy A Home Under $100,000 Salary July 2023
Newfoundland & Labrador: $60,309
New Brunswick: $71,816
Saskatchewan: $72,328
Prince Edward: $80,619
Nova Scotia: $84,156
Manitoba: $93,022
4 Provinces Where You Need Over A $100,000 Salary To Buy A Home July 2023
British Columbia: $201,362
Ontario: $190,569 
Alberta: $100,987
Quebec: $100,404
Find a better rate, and we'll match it, beat it, or give you $500*.
*Conditions Apply
With nesto, it's stress-free
Impact of 10 Bank of Canada Rate Hikes on Home Affordability
We'd be remiss not to highlight the impacts of the Bank of Canada hikes further before we wrap this piece up.
To prove their impact, the nesto team did a pull to see what the impact of the last ten has been on a $300,000 home with a 5-year fixed rate and a 25-year amortization. 
The results? Well, they were telling. 
In March 2022, mortgage payments had an even split with $661 going towards principal and $661 going towards interest for a total monthly payment of $1,322, and the income to secure this mortgage was a low $80,100. 
Fast forward to July 2023 and on a mortgage payment of $1,710, only $463 is going towards principal, the rest is on interest. You'd also need to make $94,800 to secure this loan. 
Final Thoughts & Predictions for Next Month:
While it's great to see home prices lower, the real thing we look forward to is a drop in interest rates. Yet, there is a small likelihood that will happen in 2023. As we look to August 2023's report, we expect a similar pattern to appear – Home prices will continue to level out, but with higher rates, income affordability will be brought into question.
---
Ready to get started?
In just a few clicks, you can see our current rates. Then apply for your mortgage online in minutes!
Today's Best Mortgage Rates as of September 28, 2023