There's no doubt that the housing market in Canada has been red hot over the last few years. But is it starting to cool off? Some are predicting that house prices could continue to fall through 2022. They point to a number of factors, including the potential for interest rates to rise and the impact of the pandemic on the economy.
In fact, our own recent nesto meter (our mortgage industry report), we saw noticeable signals that the Canadian housing market is indeed cooling. With average purchase prices falling in Ontario and most provinces as well as average down payments dropping, these are all positive indicators that buyers are back in favor!
Is the housing market cooling in Canada 2022?
The Bank of Canada has hinted that interest rates will continue to rise through 2022.
The Bank of Canada has hinted that interest rates will continue to rise through 2022. This is good news for savers and bad news for borrowers. However, it's worth noting that the housing market in Canada has been cooling off for the past few months, with prices falling in some areas. As a result, borrowers may find that their monthly payments don't increase as much as they expected. And if housing prices continue to fall, some borrowers may even see their home equity decrease. So while higher interest rates may be a headwind for the housing market, falling prices could offset some of the impact. Ultimately, only time will tell how this all plays out.
With the rise of interest rates, there are more homes on the market, giving buyers more choice.
There's no denying that interest rates are on the rise. But what does that mean for the housing market? While some people see it as a negative, it actually provides more opportunity for buyers. With more homes on the market, buyers have more choice. And as we all know, choice is a good thing. This increased choice also has the potential to lead to falling home prices in Canada, which is good news for buyers who are looking to get into the market. So, while interest rates may be rising, there's still plenty of reason to be optimistic about the housing market.
Prices on homes in key areas in Canada are starting to go lower which signals a buyer's market is on the rise and the sellers' market may be on the way out.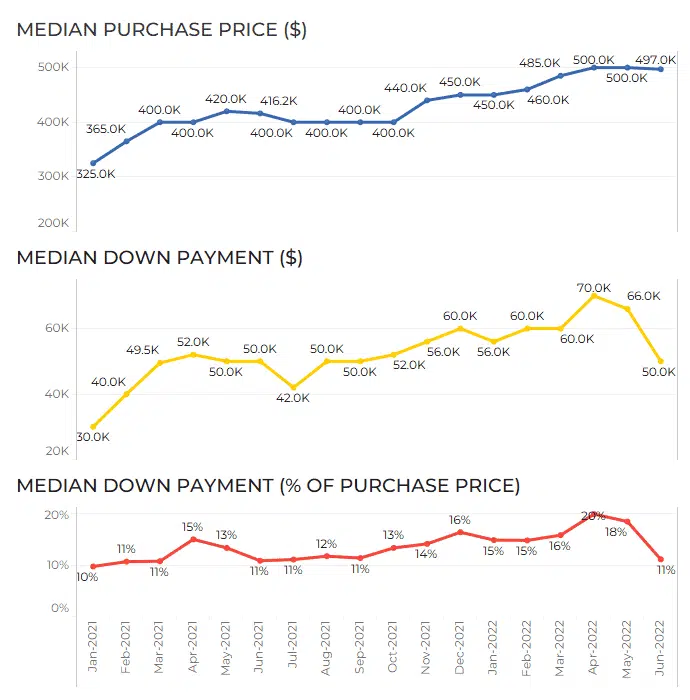 Housing markets are always in flux, with prices rising and falling in different areas at different times. For the last few years, Canada has been in a sellers' market, with high demand and limited supply driving up prices. However, recent data shows that prices in key housing markets are starting to fall, signaling a shift to a buyers' market. This is good news for those who have been priced out of the housing market or who have been holding off on buying in hopes of finding a better deal. So if you've been waiting for prices to come down, it looks like your time has finally arrived. Act fast, before the housing market shifts again!
Final Thoughts
So, what's the truth? Only time will tell. But if you're thinking of buying a home in Canada, it's worth keeping an eye on the housing market in case prices start to fall. Interest rates are the lowest they will be through 2022 today and home prices are becoming more favorable. Chat with a nesto mortgage expert and see what's possible for your unique situation today: 1-888-614-3589
---
Ready to get started?
In just a few clicks you can see our current rates. Then apply for your mortgage online in minutes!
Related articles in: Home Buying