Winnipeg Housing Market Outlook 2023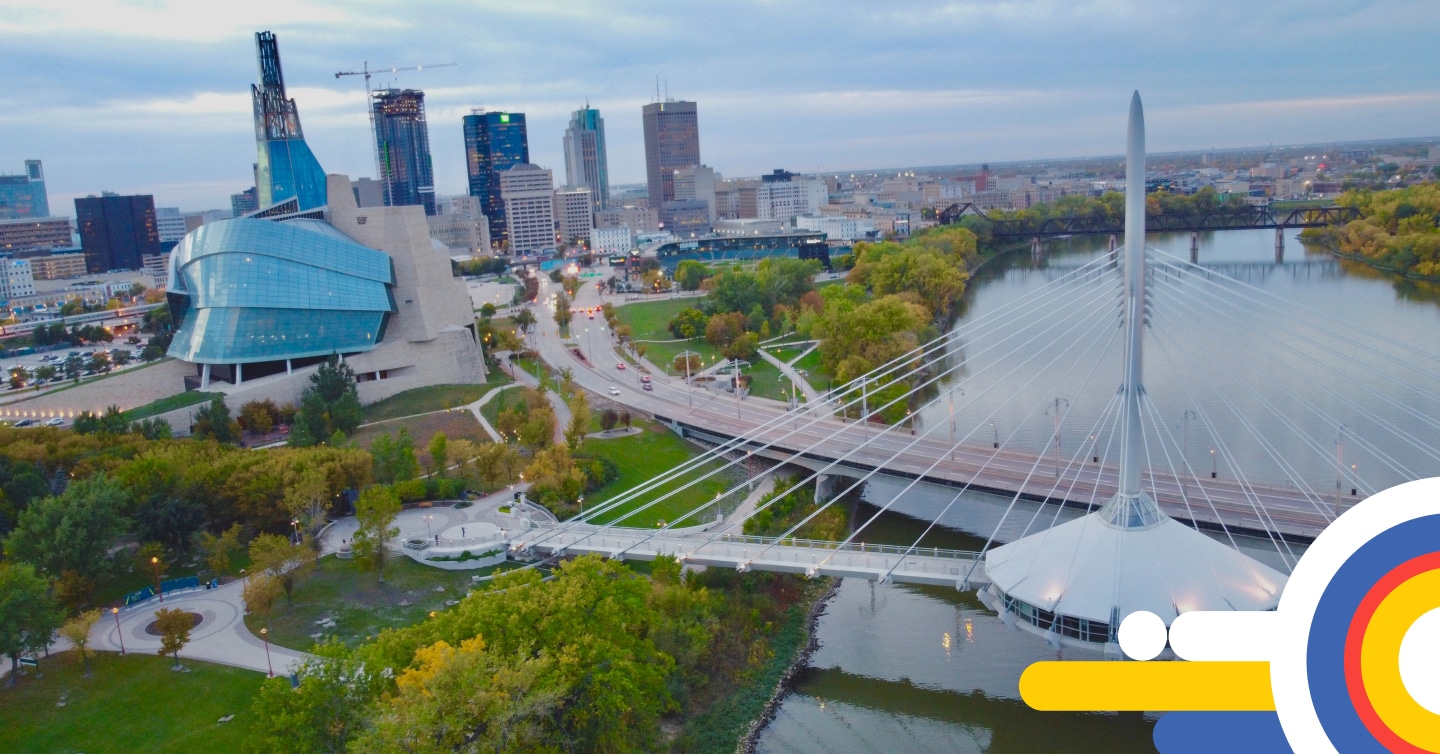 ---
Winnipeg Housing Market Report Summary
The benchmark single-family home in Winnipeg decreased by 0.4% year-over-year to $365,400 in July 2023.
Winnipeg's benchmark townhouse price decreased by 6.9% year-over-year to $294,300 in July 2023.
The benchmark condo price in Winnipeg decreased by 2.3% year-over-year to $225,200 in July 2023.
Winnipeg's benchmark composite home price decreased by 1.1% year-over-year to $347,200 in July 2023. In comparison, provincially, Manitoba's average home sale price was down by 0.3% from a year ago to $352,352.
 The average rent for a 1-bedroom apartment in Winnipeg increased by 8.6% year-over-year to $1,259 for July 2023. While the similar average provincially for a 1-bedroom rental in Manitoba increased by 8% year-over-year to $1,253.
---
Are you a first-time buyer?
Winnipeg Housing Market Outlook
Data from the Winnipeg Regional Real Estate Board (WRREB) indicates that the average price of resale residential homes sold across Winnipeg in July 2023 was $347,200, a slight decrease of 1.1% compared to a year ago.
With a sales-to-new-listings ratio (SNLR) of 57%, Winnipeg has entered a balanced market for the first time in 3 months.
The average sale price in Winnipeg for July 2023 was $325,883, representing a 1.1% year-over-year decrease. The average sold price of detached homes in Winnipeg rose 2% over last July and is up 9% over the 5-year average. The average attached home sold price was $325,883 for July 2023, representing a 1% increase year-over-year and 8% compared to the 5-year average. The average condo sold price was $255,206 for July, representing 6% below July of 2022 and even with the 5-year average.
Regarding the mortgage market, the Bank of Canada's rate hike early in the month helped ease Winnipeg home prices after rising since the start of the year. Any reduction in mortgage rates would be very unlikely in 2023. This week's increase to the CPI forecasts a possibility of rate hikes of 25 basis points by the BoC and a 5% – 5.25% policy rate for this cycle, translating into an increased prime rate of 7.45%. Thus, variable mortgages will likely experience another 25bps to 50bps (1bps is equal to 0.01%) rise.
All sales in July were 15% below June, 11% below July of 2022 and 14% below the 5-year average. Of note, sales performance for July was 2% below the 5-year average of July from 2015-2019 before the pandemic began. Active listings on the other hand, were up 3% from June, 16% up from last July and statistically even with the 5-year average. Of the 971 residential-detached sales across our market region, 623 were in Winnipeg, while the remaining 348 occurred in areas outside of Winnipeg. Of the 2,257 residential-detached active listings, 1062 were in Winnipeg, while 1,195 were in the areas outside Winnipeg.
"The last 3 Julys were the top three Julys on record, but when taking the 5-year average of Julys from 2015 to 2019 before the pandemic began, we see July 2023 sales tracking similarly," said Rena Prefontaine, 2023-2024 President of the Winnipeg Regional Real Estate Board. "The depleted housing availability seen over the last 3 years has balanced out with gains to active listings that are encouraging to see. A healthy housing inventory that spans all different price ranges is important for a balanced market."
Overall, the Winnipeg real estate and mortgage market performed well in July 2023, with some property types seeing an increase in prices while others saw a decrease. The mortgage market may come under some pressure soon due to acute affordability pressures made worse by the latest rate hikes from the BoC.
Month-over-Month Market Expectations
| Month | Composite Price | Units Sold | New Listings | SNLR | Market |
| --- | --- | --- | --- | --- | --- |
| January | $326,800 | 582 | 0 | 0% | Unknown |
| February | $329,800 | 657 | 0 | 0% | Unknown |
| March | $335,000 | 1,014 | 0 | 0% | Unknown |
| April | $344,600 | 1,103 | 0 | 0% | Unknown |
| May | $348,700 | 1,514 | 2,290 | 66% | Sellers |
| June | $348,100 | 1,614 | 2,581 | 63% | Sellers |
| July | $347,200 | 1,365 | 2,399 | 57% | Balanced |
Data and figures were collected from the Winnipeg Regional Real Estate Board (WRREB) and the Canadian Real Estate Board (CREA).
The sales to new listings ratio (SNLR) is the number of home sales compared to new listings. An SNLR under 40% suggests a buyer's market where buyers have the upper hand and more negotiating power. An SNLR between 40% and 60% is a balanced market, while an SNLR of over 60% is considered a seller's market. 
Market Expectations Breakdown By Property Type
| Property Type | Sales | New Listings | SNLR | Benchmark Price | Market |
| --- | --- | --- | --- | --- | --- |
| Single Family Home | 968 | 1,489 | 65% | $365,400 | Sellers |
| Townhouse/Row/Multiplex | 82 | 136 | 60% | $294,300 | Balanced |
| Condo / Apartments | 200 | 319 | 63% | $225,200 | Sellers |
| Total Residential | 1,365 | 2,399 | 57% | $347,200 | Balanced |
Data and figures were collected from the Winnipeg Regional Real Estate Board (WRREB) and the Canadian Real Estate Board (CREA).
Historical Changes To Benchmark Prices In Winnipeg By Property Type
Are you a first-time buyer?
Who's Buying Winnipeg Real Estate?
Until recently, the primary demographics driving demand in Winnipeg's residential property market were those looking to upsize their homes, foreign investors looking to purchase an investment property, professionals who recently immigrated to Canada in the past 5 years, and out-of-province migrants advancing their careers in and around Winnipeg. 
With the passing of the Omnibus Bill C-32 legislation, including the foreign buyers' ban and anti-flipping tax, the Winnipeg homebuyers' demographic may be shifting away from foreign investment. However, it remains to be seen whether efforts to limit foreign buyers in Winnipeg will have an impact; according to Statistics Canada, foreign investors make up less than 1% of homeowners in Winnipeg's total homeownership. 
Multi-property Investors
According to an article by the Calgary Herald, investors and multi-property owners accounted for over a third of homebuyers in 2021, mainly the numbers were higher in Ontario, British Columbia, and Nova Scotia. There were no specific numbers for Winnipeg but it can be implied that many Ontario and BC residents looking for affordable real estate investments will aim to purchase in Winnipeg, where market rents are enough to cover the cost of carrying an investment property.
First-time homebuyers have traditionally accounted for more than half of all purchases. However, that share has slowly declined, reaching a low of 46.8% in June 2021, with real estate investors and multiple property owners picking up the difference.
According to Statistics Canada, multiple property owners represent 15% of owners in BC and Ontario and 20% in New Brunswick and Nova Scotia but hold 30% and 40% of existing housing stock, respectively.
Upsizing Buyers
Upsizing by buyers has driven Winnipeg's demand for single-family homes as prices have decreased throughout the city due to the Bank of Canada's rate hikes this past year.
Immigration & Out-of-province Migration
While the pandemic saw thousands of homebuyers leaving urban areas searching for more space and affordable housing, new immigrants are making Winnipeg their new home. Many Ontarians, British Columbians, and residents from other provinces continue to move to Manitoba – most relocating to its economic capital of Winnipeg. According to this report by Re/Max, the federal government expects to bring an additional 2 million new immigrants to Canada – many of whom will still choose to settle in Manitoba due to its lower cost of homeownership.
First-Time Homebuyers
Getting a mortgage in Winnipeg as a first-time buyer can be less challenging than in many other large cities in Canada. Winnipeg has much higher property tax rates than Toronto or Montreal, with over 0.71% of property value.
While programs like the First Time Home Buyer Incentive are in place to help people afford homes in Winnipeg, this has yet to do much to offset affordability as the stress test makes it harder to qualify. At the same time, the Bank of Canada keeps rates elevated – adding a barrier to purchasing a home without a combined household income over $110,000. 
Market Rents Summary
The Canadian rental market experienced a record-breaking surge in August, with average rents soaring to an all-time high. This trend indicates a significant shift in the country's rental landscape, with prices continuing to escalate despite increasing rental completions. Below, we delve into this trend with data from Rentals.ca and Urbanation, examining the changes across various provinces and cities.
National Overview: A Record-Breaking Surge
August witnessed a remarkable rise in the average asking rents in Canada. The average rent reached an all-time high of $2,117, marking a monthly increase of 1.8% and an impressive annual growth rate of 9.6%. This trend is a testament to the escalating demand in the rental market as the country struggles with a severe rental housing shortage.
Over the past three months, the Canadian rental market experienced a significant 5.1% increase in asking rents from May to August. This equates to an increase of $103 monthly, putting additional pressure on renters. Shaun Hildebrand, President of Urbanation, shed light on this trend, noting that unlike in the U.S., rent inflation in Canada has stayed the same, even with rental completions reaching their highest levels in decades. This gives an idea of the dire rental housing shortage across the country and the impact on rental demand as the population expands rapidly.
Quebec's Rental Market: Steady Climb
In Quebec, the rental market is also experiencing a steady rise. The province, known for its rich culture and picturesque landscapes, has seen average asking rents grow by 24.0% annually to $888 monthly for shared units. The surge in rental prices in Quebec is mainly attributed to the robust demand for rental housing, driven by the province's growing population and strong economy.
The Greater Montreal area, in particular, has seen a significant rent increase. Despite the city's efforts to provide affordable housing, the average asking rents have surpassed the $2,000 mark for the first time, reaching $2,001. This has increased financial strain on renters, particularly those with lower incomes.
Ontario's Rental Landscape: The Expensive Side of Living
Ontario, Canada's most populous province, is familiar with high living costs, particularly in the rental market. The province saw an annual rent increase of 7.5% to an average of $1,040 for shared accommodations. This trend is particularly prevalent in the Greater Toronto Area (GTA), where the average monthly rent has reached $2,898.
Despite being one of the country's most expensive cities, Toronto posted a below-average annual rent increase of 8.7%. Nevertheless, the cost of renting in Toronto remains high, while rental vacancies are at a two-decade low. This increasing unaffordability and low availability is a significant concern for many residents and employers looking to attract talent.
Alberta's Rental Market: Leading in Growth
Alberta's rental market has grown the fastest among Canada's largest cities. Calgary, in particular, leads in rent growth, recording an enormous 17.3% year-on-year increase in August, bringing the average rent to $2,068 for purpose-built and condominium apartments.
Despite the economic challenges faced by the province due to the fluctuating oil and gas industry, Alberta's rental market has remained resilient. The significant rent rise in Alberta is primarily due to the province's steady rental demand, driven by its growing population and recovering economy.
British Columbia's Rental Market: High Prices Amid High Mountains
British Columbia (BC), known for its stunning landscapes and high living costs, has also witnessed a considerable increase in rental prices. In BC, average asking rents for shared accommodations increased by 17.7% annually to $1,150 monthly.
Vancouver, BC's largest city, continues to be the most expensive city in Canada, with an average monthly rent of $3,316. However, Vancouver posted a below-average annual rent increase of 7.3% and even saw a 0.7% decrease in average rents monthly. This indicates that the city's rental market may be stabilizing, although the cost of renting remains high.
The Time to Purchase a Home is Now
In conclusion, the Canadian rental market has been experiencing an unprecedented price surge, with rents increasing faster than ever. This trend and the ongoing rental housing shortage have pressured renters nationwide.
Given these circumstances, it might be an opportune time to consider purchasing a home. Despite the high upfront costs, owning a home can offer long-term financial benefits and stability, especially in a market where rents are skyrocketing. Thus, starting planning and taking the necessary steps toward homeownership is vital. After all, a home is not just a place to live but also an investment for the future.
Rental Cost Escalation Due To Housing Affordability Constraints
This past month, CMHC released some quantified findings from their 2022 Rental Market Survey. Their experts indicated rental markets tightening in many urban centres and created two different measurements to show the lack of housing supply in the country.  You can read the full report, while the data can be easily illustrated in two charts.
Share Of Affordable Units By Major Urban Centre
The first indicator measures the share of units that are affordable (whose rent represents less than 30% of pre-tax income) for the lowest income group of renters, those in the lowest income quintile (20%).
*Kitchener, Waterloo and Cambridge Source: CMHC
Change In Average Rent For A 2-Bedroom Unit
The second indicator allows us to measure the average rent for newly rented units, that is, apartments whose occupants arrived in the last 12 months. This new statistic is very relevant because it allows us to compare it with the average rent for units occupied for more than a year.
Source: Provincial governments, CMHC Rental Market Survey (2022)
Each $100K in mortgage balance costs an average of $601.11 per month on nesto's lowest fixed 5-year rate at and $641.25 per month on nesto's lowest variable 5-year rate at .  Rates used for calculation are those offered on insured purchases with less than a 20% downpayment on a 25-year amortization.  Each 0.25% change in mortgage rates impacts the monthly payment by $15 to $17 on a 25-year amortization.
Rental Prices Compared to Other Canadian Cities
Rental Prices Compared to Other Provinces and Nationally
Average Rents by Housing Type

Rental Growth by Housing Type
 Frequently asked questions
Is the Winnipeg housing market going to crash in 2023?
Winnipeg home prices are currently sagging a bit compared to last year's surge in the housing market nationally due to the Bank of Canada's rate hikes. Winnipeg prices remain below average compared to the rest of the country, and with the current Bank of Canada rate hikes, mortgages have been harder to qualify for due to the stress test as well as higher property taxes throughout Manitoba. Winnipeg price recovery will be slower than areas of the country once mortgage rates decline back to manageable levels for homebuyers to purchase or homeowners to refinance their homes.
Will Winnipeg housing prices increase in 2023?
Although slightly decreased compared to a year ago, many experts believe a bigger turnaround is imminent.  Buyers are waiting on the sidelines for the opportune time to make a move. The market has already started to get past balanced territory.
How do I get approved for a mortgage in Winnipeg?
Final Thoughts
Winnipeg is a great destination for Canadians looking for affordable housing, and a diverse city. Like most major and secondary Canadian cities, Winnipeg's real estate market has grown throughout the pandemic, and is set for a welcomed balance in 2023. If you're looking to join hundreds of Canadians moving to Manitoba in 2023, get in touch with one of nesto's mortgage experts today, and we'll help you take the next steps.
---
Ready to get started?
In just a few clicks, you can see our current rates. Then apply for your mortgage online in minutes!
in this series Housing Market Outlook
Today's Best Mortgage Rates as of September 29, 2023