30-Day Spring Cleaning Checklist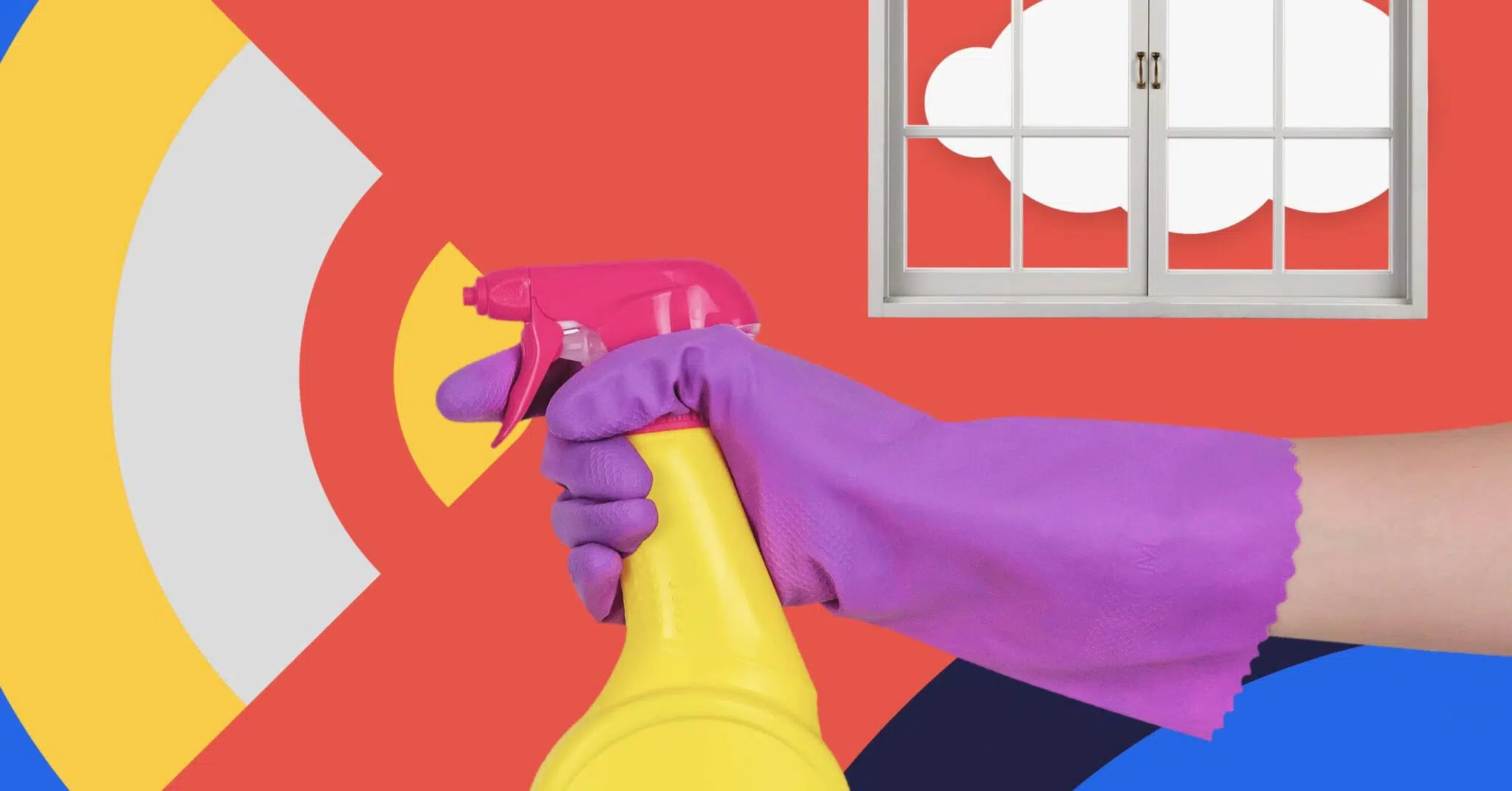 Spring cleaning is a common tradition for many households – out with the old dust and grime, and in with the fresh air and hope for warmer weather. But organizing your home isn't just a do-it-one-time-and-forget-it sort of thing. Tackling tasks in bite-sized pieces each day, in fact, is one of the best ways to prevent all your organizing and decluttering work from being undone. After all, it's easy to become demotivated when thinking of cleaning and organizing as one large chore. Here's a 30-day spring cleaning bootcamp to get you started and keep you moving forward in your quest for a clean, clutter-free home.
---
Key Takeaways
Don't hang on to items that you haven't used in a while. Consider selling or donating
Clearly label all items in storage so you can access seasonal décor easily
Stay motivated by tackling projects on this cleaning checklist as daily tasks as opposed to doing too much at once
---
Are you a first-time buyer?
Day 1: Dust
Grab a broom and head to the corners of the ceiling to catch any cobwebs that have gathered in your kitchen, living room, hallways, bedrooms and bathrooms. Then dust and sweep or vacuum the floors. Launder the drapes in your living room, dining room and bedrooms. If you don't think you can wash them at home, bring them to the dry cleaner. Dust your books and all knick-knacks on your bookshelves.
Day 2: Clean Out Your Medicine Cabinet
Declutter your linen closet. Pull out the old towels and sheet sets you no longer use and put them into your donation box. Throw away expired cosmetics and medicines. Toss any liquid makeup over three months old and any powdered makeup over a year old. ✋
Important: Toss old medicine into the garbage. Don't flush it or dump it down the sink!
Day 3: Wash Your Linens
Wash your bed linens, including any mattress covers, duvet covers, pillow liners, throw blankets and throw pillows. If you have a guest room and the bed hasn't been used in a while, strip the bed down to the mattress and wash everything including the mattress pad and duvet cover.
Day 4: Clean Appliances
Clean your appliances, including their plugs, tops, bottoms, sides and any accessories that came with them. Remove odd socks from your sock drawer, and either toss them or use them as cleaning rags. Go through a bureau or dresser (yours, your child's) and pull out items of clothing you haven't worn in a year and have no plans to wear again. Put them in your donation box.
Day 5: Deep Clean Your Fridge & Cabinets
Deep clean your fridge and freezer by removing all shelves, racks and storage items, and washing them in your laundry tub or sink. Toss any old or unused food items. Soak your ice cube trays. Wipe down the inside and outside of the fridge and freezer before putting everything back in neatly. If you're afraid of food spoiling, use a cooler to keep items cold while you work. Check the backs of kitchen cabinets for any old food that can be thrown away.
Day 6: Clean Your Oven
Clean your oven including the cooktop, underside of hood and front of hood. At the same time, clean your microwave and toaster oven. Wash your ironing board cover, tea towels and dish cloths. 
Day 7: Vacuum Under Furniture & Appliances
Move the couch and any heavy chairs, and clean and vacuum underneath them. Then use the handheld attachment to vacuum the couch and chairs themselves. Pull out your fridge and stove, and clean under and behind them. 
Day 8: Toss Clutter from the Bathroom
Toss small throw rugs and bathroom mats in the wash. Clean and declutter your bathroom shelves and drawers. You need to take everything out to do this. Declutter, clean and then put everything back neatly. Toss grubby pet toys.
Day 9: Switch Out Seasonal Décor 
Remove any winter decorations still hanging around, including throw pillows, candle holders, blankets and vases. Sort through your old CDs and DVDs. Do you really need to hang on to them?
Day 10: Put Away Seasonal Items
If the weather has warmed up enough, switch out your clothing for the season. Wash your heavy sweaters, and store them until next winter. Wash bathrobes and slippers. Clean every mirror in your home including bathrooms, bedrooms and entryways. Sort out your under-bed storage boxes. Is there anything in them to donate?
Day 11: Clean Winter Clothing
Wash your winter gloves, hats and scarves, and pack them up for next year (in a labeled container or box). Take your winter coats to the dry cleaner if they're not machine washable. Wash your couch covers, pillowcases and other linens used around the house. Shred unimportant but sensitive documents, and/or scan important papers and shred the originals if they don't need to be saved. 
Day 12: Clean Out Your Shoes & Boots
Sort through all your shoes and boots, and if any need repairing, get them ready to take to the cobbler. Organize your emergency supplies – make sure you're stocked with first aid necessities in the bathroom, and safety pins, stain remover and the like in your laundry room. Switch scented candles, hand soaps, etc from winter scents to fresh spring ones.
Day 13: Repair Broken or Damaged Clothing
Take any clothing items that need to be repaired to the tailor. If you don't know where to go for a good tailor, ask your dry cleaner – they'll either know a good tailor or have one on staff. Replace your old shower curtain liner with a new one.
Day 14: Clean Your Electronics
Clean your remote controls. Clean your phones, both mobile and landlines, Kindles, tablets and computers. Clean the undersides of every chair and table in your home, then vacuum and mop the floors around them. Polish silver jewelry, silverware and any other items that have become tarnished.
Get approval on your low rate today
No big bank bias, just commission-free experts ready to help you.
Day 15: Clean Out Junk
Wash your garbage cans and recycling bins. Either do this outside or in your laundry sink. Then scrub your laundry sink. Wash reusable water bottles and water filtering pitchers, and then change the filters. Tend to your plants, removing dead leaves and tossing old flowers in vases, etc.
Day 16: Clean Out Drawers
Organize your junk drawers – no, they shouldn't really be full of junk. Go through your drawers and toss broken items like pens – and other useless things you can throw out right now. Throw out aging nail files, matches and other small items that no longer function well. Take that stash of coins to a coin machine or the bank.
Day 17: Recycle Old Papers, Magazine & Newspapers
Recycle old magazines, newspapers and packing material. If you haven't read a magazine after a month, you're not going to read it. If you haven't read a newspaper after a week, recycle it! Clean out the cabinets under your sinks (kitchen and bathroom). Take everything out, and clean the backs, sides and bottom of the cabinet. Dispose of any unused cleaning products and place everything neatly back under the sink. Organize old paper or plastic shopping bags that are lying around in one location so you can reuse them.
Day 18: Sort Your Mugs & Glasses
Declutter your cups, mugs and glasses. Donate the ones you've decide to get rid of, and wash and put away the rest. Clean out your front or hall closet. Replace old kitchen sponges and rubber gloves. Replace your old toothbrushes.
Day 19: Organize Bags
Organize your bags, including backpacks, briefcases and suitcases. Declutter the insides, then clean and store them. Dust the screens of televisions and computers – and while you're at it, clean your keyboard.
Day 20: Wash Your Walls
Wash any interior walls that look stained, then touch up chipped or discoloured paint. Make a list of anything you can't do yourself and will need to call in a professional to complete. Tackle that one spot (eg, bedroom chair, hall closet, bottom drawer) where you throw all the stuff you don't want to deal with right away. You have a few simple choices with items left here: store, recycle, repair or toss them.👆
Tip: Consider hiring a handyperson to clean items or paint areas that are more time-consuming or require expertise, such as cleaning windows or painting high ceilings.
Day 21: Clean Your Windows
Wash your windows (or hire a professional to do them). Remove the screens and vacuum them using the handheld attachment on your vacuum cleaner, then soak them in soapy water before rinsing. Use dish soap diluted in water and a microfibre cloth to wipe down your windows. Then spray vinegar diluted in water and wipe the windows with a clean towel to dry them. Dust your windowsills and the frame, and touch up any chipped paint around the sill.
Day 22: Clean Your Car
The easiest way to clean your car is to bring it to a car wash. Use a high-powered vacuum to completely clean the inside of your car. Declutter while you go. Don't neglect the floor mats. Then wipe down the interior with a protectant cream and a rag. Finally, hand wash or machine wash the outside of your car. Depending on your time and budget, you could also just pay the service to detail the interior and exterior of your car for you. If you don't have a car, clean your coffee table, kitchen sink and bathroom sink. 
Day 23: Declutter Your Basement
Declutter your basement shelves or storage areas. Resist the urge to decide to organize the entire basement right now. You don't have enough time to do that and spring clean the rest of your home. Just stick to cleaning out the shelves and storage areas by tossing/donating/selling items you don't use or need. Be sure to label any storage containers or boxes and keep similar items inside for easy access. Clean the floors of your closets. Declutter shoes and boots, and toss/donate/sell any unused storage solutions. Wash your makeup brushes and hair brushes.
Day 24: Clean Out Your Plumbing
Clean every drain in your home (bathroom, kitchen and laundry) using this method: Pour boiling hot water down your drain, add in baking soda, followed by vinegar. Then cover the drain with a plug. Follow with another pour of boiling water. Throw out expired or questionable food in your pantry, cabinets and drawers. 
Day 25: Clean Your Fireplace & Garage
If you have (and use) a fireplace, clean it out. Declutter your garage and throw out any items you haven't touched since last spring. Open the windows and air out the house in the rooms you don't use often.
Day 26: Organize Hobby & Craft Supplies
Organize your hobby supplies. This can include crafting supplies, board games, books or sporting equipment. Sweep your porch, patio, deck and/or front steps.
Day 27: Get the Kids Involved in the Cleaning
If you have young children, teach them how to clean something in their room, and make that their chore from now on. Go through your books (including kids' books). Are there any you want to donate to the library or charity?
Day 28: Dust & Vacuum Some More
Dust your blinds, then vacuum or collect dust with your dust mop. Dust around your stairs and bannisters, and then vacuum. Wipe down your baseboards and other moulding where dust tends to collect, and then vacuum.
Day 29: Sell or Donate Unwanted Items
Did you keep a list of things to sell? Now's the day to photograph your items and post them for sale online. Find somewhere to donate unwanted items or things that don't sell.
Day 30: Throw it Away!
Get your trash ready for garbage day or take a trip to the dump. Gather up any larger broken items you've been holding onto, and either throw them away or take them to be repaired. If they've been broken for awhile, you're likely not going to fix them, so get rid of them.
---
Ready to get started?
In just a few clicks, you can see our current rates. Then apply for your mortgage online in minutes!
Today's Best Mortgage Rates as of September 28, 2023