Rules for Gifted Down Payments in Canada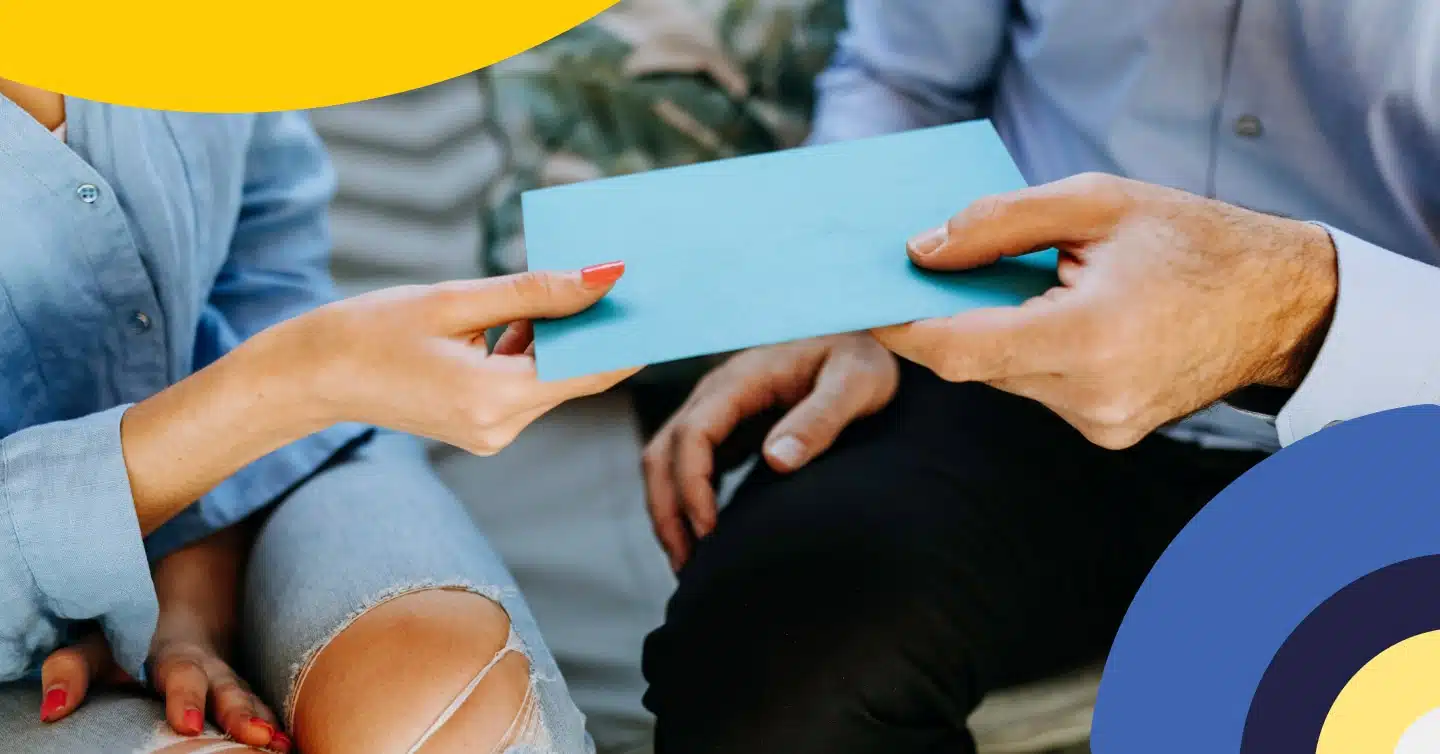 With interest rates on the rise across Canada, it's harder than ever for young, first-time homebuyers to budget for a down payment. It's becoming more common for young homebuyers to seek out the help of their family members, usually in the form of a gifted down payment. 
But before you call your family to be gifting money for a down payment in Canada, remember that that comes with its own set of rules. You'll need a few things such as an official gift letter for a down payment, amongst other things. Here's what you need to know.
---
Key Highlights
With rising interest rates across the country, many first-time homebuyers are turning to family members for a gifted down payment. 
In most cases, an individual's parents or grandparents are the gift givers, offering to pay anywhere from 5% to 20% of the down payment toward a home.
It all depends on the mortgage lender, but a gift letter and proof of funds from the gift giver might be required.
---
Are you a first-time buyer?
What Is A Gifted Down Payment?
Simply enough, a gifted down payment is a large financial gift typically offered by a first-time homebuyer's family members. Be it parents, grandparents, aunts or uncles, any member of an individual's family is eligible to gift money for a down payment in Canada. 
A down payment gift is a great way to relieve the financial pressures of a down payment, especially if you don't have the means to put down more than 5% of the purchase price of the home.
How Do Gifted Down Payments Work?
In Canada, a 5% down payment is often required to purchase your first house. However, most mortgage experts suggest that putting 20% of the purchase price down is advised due to the fact that mortgage insurance is required when the down payment is less than 20%. Mortgage insurance can significantly increase the cost of your monthly payments and could extend the length of your mortgage. 
Suppose you can afford to put down 5% and your parents give you the remaining 15% as a gift, bringing your total to the preferred 20%. Your mortgage payment is now less each month, and you pay less in mortgage insurance.
Often, a down payment gift letter that legally confirms the gifted down payment will be required by your mortgage lender to ensure all your bases are covered and that the gift is valid. 
Gifted Down Payment Rules & Details
Here are some of the finer details behind a gifted down payment in Canada that you should know about. 
Who Can Offer Gift Money For A Mortgage?
Normally, anyone can contribute money to anyone they choose, but when giving money for a down payment, it should typically come from a member of the individual's immediate family. 
Though it could also be a sibling, an aunt, or an uncle, a parent or grandparent is most frequently the case. Gifts from friends or romantic partners are generally not accepted by mortgage lenders because most lenders prefer that these monetary gifts originate from immediate family. 
Depending on which mortgage lender you do business with, you could be permitted to receive a present from a relative who is more distantly related to you but nevertheless, you could need to provide proof of your relationship.
How Much Money Can Be Gifted As A Down Payment?
Although most people choose to put 20% down on their homes, you can gift as much as you wish if you are gifting a down payment. The down payment money can typically be gifted in whole to the buyer, but if they are self-employed, they will need to contribute 5% of the down payment themselves.
What Is A Gift Letter?
Often, a gift letter for a down payment in Canada must accompany the mortgage loan. A letter declaring that the down payment is a gift must therefore be signed by your benefactor. 
Consequently, it means they don't expect the money back. The correspondence would explain the parties' connections, the sum given, the donor's contact information, and the property being bought. Having your parents sign as guarantors for your mortgage is another strategy to boost your application.
The following should be included in a mortgage gift letter:
The gift recipient's name;
Name of the donor, along with their connection to the receiver;
The amount that is given;
The date of the gift;
And a clear declaration that there is no expectation of repayment and that the funds are being given to you as a gift towards a down payment for a home.
What Are Proof Of Funds?
Mortgage lenders could demand evidence of the source of funds from the person who is gifting you the down payment money. Although not always the case, this gives the lender another way to verify the borrower's identity. 
This demonstrates that the source of the funds was indeed who you claimed it to be. You don't want your lender to inquire about the source of the funds if it is suspect so it's crucial to have all of your paperwork organized.
Is a Mortgage Gift Letter Taxable?
In Canada, there is no gift tax that applies so luckily, you can both give or receive a gift completely tax-free. 
Find a better rate, and we'll match it, beat it, or give you $500*.
*Conditions Apply
With nesto, it's stress-free
How Home Buyers Can Partner with Parents to Get into the Market
Partnering with your parents could be a great way to both get into the housing market and manage the costs of a down payment and monthly mortgage payments. Common methods include signing a mortgage with your parents as co-borrowers or co-signers. 
Purchasing with co-borrowers entails including additional names on the mortgage application. Everyone identified on the application's credit, income, and assets will be evaluated. You should understand that if one co-borrower is in default, the other is legally obligated to repay the mortgage loan. Therefore, all co-borrowers for a mortgage should feel at ease with the idea of being accountable for mortgage payments.
A co-signer, meanwhile, is not held responsible for making the monthly mortgage payments. Instead, the co-signer is held as the guarantor on the loan without being considered an owner. If the primary owner is unable to make payments and defaults on their mortgage, however, the co-signer will be held responsible for making up the deficit.
FAQ
Can my parents give me money to buy a house in Canada?
Yes! It's becoming more common amongst younger individuals and first-time homebuyers to ask parents for a monetary gift to buy a house in Canada. It's perfectly legal and might even help you save money in the long run.
How do I prove my money was a gift in Canada?
Mortgage lenders will typically require a gift letter that is signed by all parties attesting that the money is a gift and isn't expected to be paid back. Also, the lender might also look into the benefactor's ability to actually give the financial gift in the first place.
Final Thoughts
With rates on the rise, many first-time home buyers are revisiting their budgets and are putting down smaller portions of their purchase price to cover interest. Receiving a gifted down payment from family members is a great way to mitigate those extra costs and allow new buyers to contribute a down payment they are comfortable with. And of course, you can use a mortgage down payment calculator to find out what you can afford to put down.
---
Ready to get started?
In just a few clicks, you can see our current rates. Then apply for your mortgage online in minutes!
Today's Best Mortgage Rates as of December 5, 2023