Short term fixed rate mortgages: How nesto beats the banks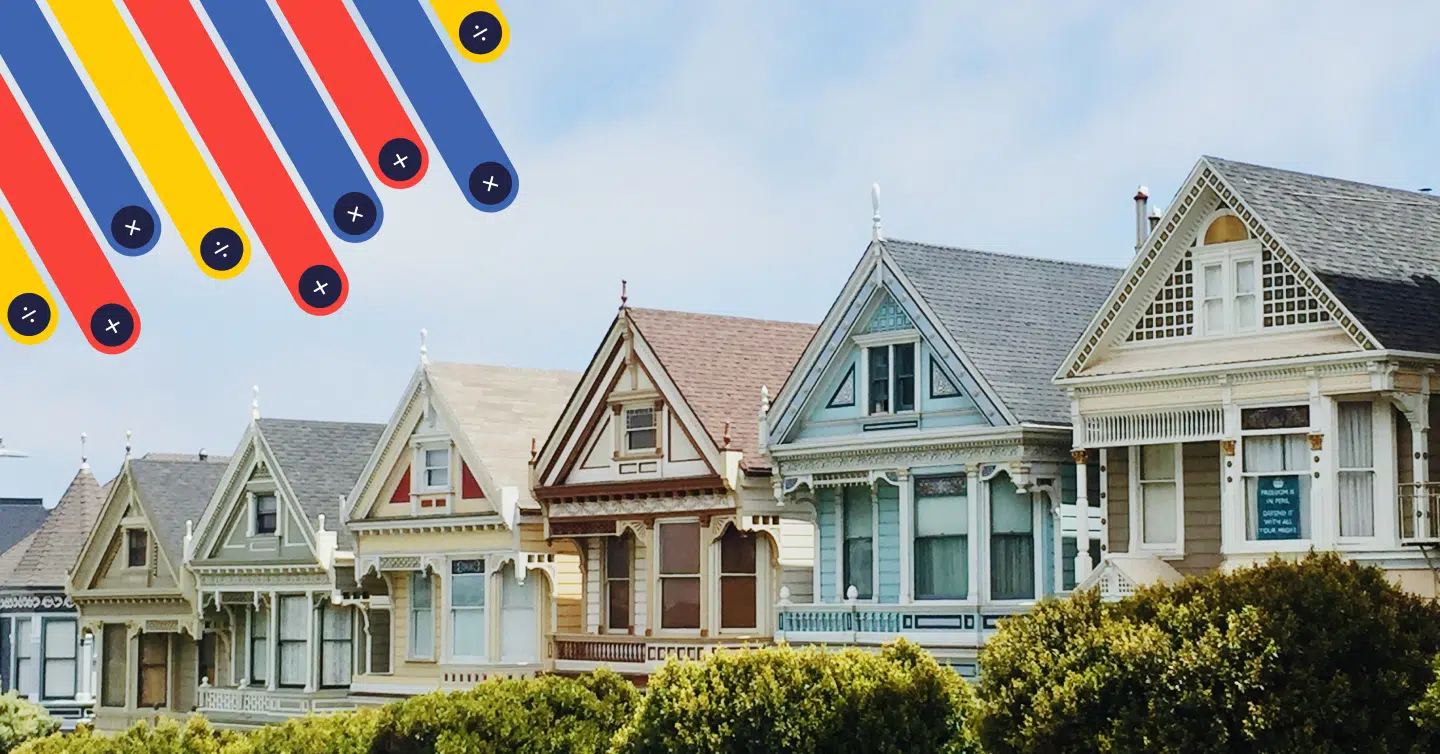 Significant upward movements in rates caused many borrowers who are up for renewal or have a pending purchase on the horizon to ditch longer term rates for short term fixed rate mortgages. Big banks have increased their short term rates as their risk and costs increase to carry them. Mortgage Finance Companies like nesto still have short term fixed rates lower than 5% as our access to mortgage money and the risk to big banks follows on a trickle down effect.
---
Key Takeaways
Rates have moved up significantly and more borrowers are choosing to go with shorter terms.
Too many borrowers jumping into shorter term rates has increased the risk on them thus causing a higher intake and inverting the bond yield.
Big banks have increased their short term fixed rate mortgages but mortgage finance companies are lagging in this increase so far.
---
Are you a first-time buyer?
Why should you choose short term fixed rate mortgages?
Short term fixed rate mortgages or long term, that is the question. The answer: More people are choosing short term fixed rates vs. long term mortgages. But why? Let's discuss this more below.
Rates have been increasing both on the fixed and variable mortgages as inflationary conditions increase in Canada – making money more expensive to borrow.   
Fixed rates are based on bond yields. A bond's yield is the return to an investor from the bond's interest payments.  Higher yields mean that bond investors are owed larger interest payments, but may also be a sign of greater risk on that bond. This additional risk stems  from the current market conditions as inflationary pressures rise by central banks around the world, including the Bank of Canada (BoC) nationally.
More recently, bond yields have inverted, meaning that shorter term rates have increased more than longer term rates. It's an average increase of approximately 30bps (that's 0.30%) for shorter term rates versus only 5bps (that's 0.05%) for longer term rates like 5 years fixed. Though the increase in rates on shorter term mortgages has been more pronounced than longer term mortgages – short term mortgages are still priced much lower.
A lot of borrowers that were in fluctuating variable rate mortgages and up for renewal have decided to take the advice of mortgage experts to switch to shorter term fixed rate mortgages. Why? To ride out the uptrend in rates over the next year or so.In doing so, they will have consistent mortgage payments over 2 or 3 years, albeit at a higher rate, which will allow some stability in times of instability. Once the term is up, homeowners can  lock back into a longer fixed rate term, or even go back to variable rate (as it has been proven to provide more savings over the long term) once rates calm down.
How banks are responding to popularity in short term fixed rate mortgages
The Big Banks have opportunistically increased their short term fixed rates. They are doing this to price in the growth of the inverted bond yield, which is widening as the difference between higher short term bond yields and lower long term bond yields increases. This pricing-in of future expectations from their projections may be partially due to the additional risks being added to their mortgage portfolios.  
These risks could be a question of affordability costs for the borrower when they come up for renewal at the end of their short term. What will the rates look like then and can the borrower afford it? Affording a mortgage it is not the same as qualifying for it. Affordability here means the ability to carry your mortgage on your after tax income if the rates should be higher at the end of the term.
Qualifying is only a concern when the borrower changes lenders as they have to be stress tested (not sure what that means? Read our post here) on the new rate with the new lender.  However, if they choose to stay with the current lender then they will renew without going through this additional risk mitigation. Leaving the question: Will they be able to afford this new possibly higher rate if rates don't reduce as per these borrower's expectations?
 As rates are usually a lagging indicator of the economy since inflation has already set in by the time that central bankers and chartered banks react. It is quite possible that by the time that these shorter terms end, that the banks will have already reversed their risk. However, the priced-in increase of short term fixed rates on average approximately 55bps (that's 0.55%) is seen as risk mitigation to avoid too many clients locking into cheap short term rates and then coming up for renewal once again, possibly still in an inflationary market.
Canadian financial institutions generally tend to err on the side of caution. In the case of preemptively increasing short term rates they are pricing-in future risk by building their mortgage balance sheet with higher collected interest – to aptly use this money in the future towards their loan write-offs if the need arises. All these changes have impacted the short term rates currently being much higher than the longer term rates.
Find a better rate, and we'll match it, beat it, or give you $500*.
*Conditions Apply
With nesto, it's stress-free
How nesto's short term fixed rates compare & why you should secure with us
At the time of writing, nesto is still offering lower rates on almost all the shorter terms compared to the big banks. The reason nesto is able to do this is that we are a mortgage finance company and not a bank. Meaning that we are not the ones setting aside capital for the mortgages that we finance, rather it is our investors that lend us the money to lend to our clients.
Our investors set guidelines around risk that we must follow when underwriting our mortgages. They price our mortgage portfolio as a whole and not individually on each client.  The discount they offer is shared with our clients where we price the mortgages in our portfolio by the risk that we are taking on with each file and the type of solution chosen – features, benefits and restrictions as well as the client's risk profile.
Unlike a traditional bank, we don't have overhead costs (any and all of our employees can work remotely) and we don't need to hold capital in lieu of our mortgage portfolio (as deposits in savings accounts or GICs) – making our costs to run the business more affordable.
Mortgage finance companies like nesto are able to pass these savings onto our clients by way of lower rates to reduce their overall interest costs to carry the mortgage; or even qualify for the mortgage itself.  We offer other benefits such as covered costs to transfer your mortgage to us – even if you have a collateral charge which is not standard in the mortgage industry – albeit that a high proportion of all big bank mortgages are generally collateral charges.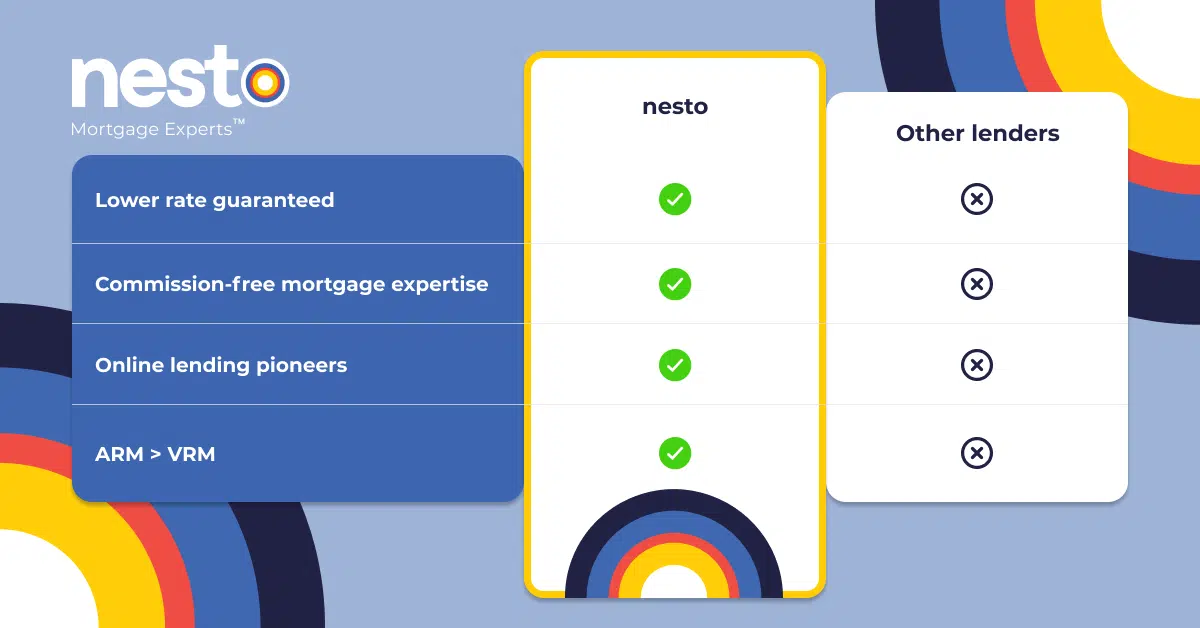 To stay competitive with the big banks, nesto offers 1% cashback to help clients recoup more of their penalties, closing costs or legal costs in arranging or transferring their mortgage. With the knowledge that we know we have lower rates than the big banks for your mortgage – we offer all clients our Low Rate Guarantee. 
Nesto's Low Rate Guarantee, if you meet the conditions, will beat any rate or we pay you $500 cash. No risk to you.  All these features are a win-win for anyone looking to arrange their mortgage in the current market.
Take advantage of our low rates and discover all other cost saving options nesto has by locking in a shorter term fixed rate for your mortgage. Reach out and connect with one of our mortgage experts to learn more about your purchase or renewal options.
Final Thoughts on Short Term Fixed Rate Mortgages
As market risks increase and rates are carried further upward, it would be advisable to lock in at a shorter term if you're at an impasse and need to purchase or renew.  You can take advantage of nesto's low short term rates now and save yourself a bundle.
---
Ready to get started?
In just a few clicks, you can see our current rates. Then apply for your mortgage online in minutes!
Today's Best Mortgage Rates as of September 28, 2023