How Much Do Canadians Lose to Online Scams?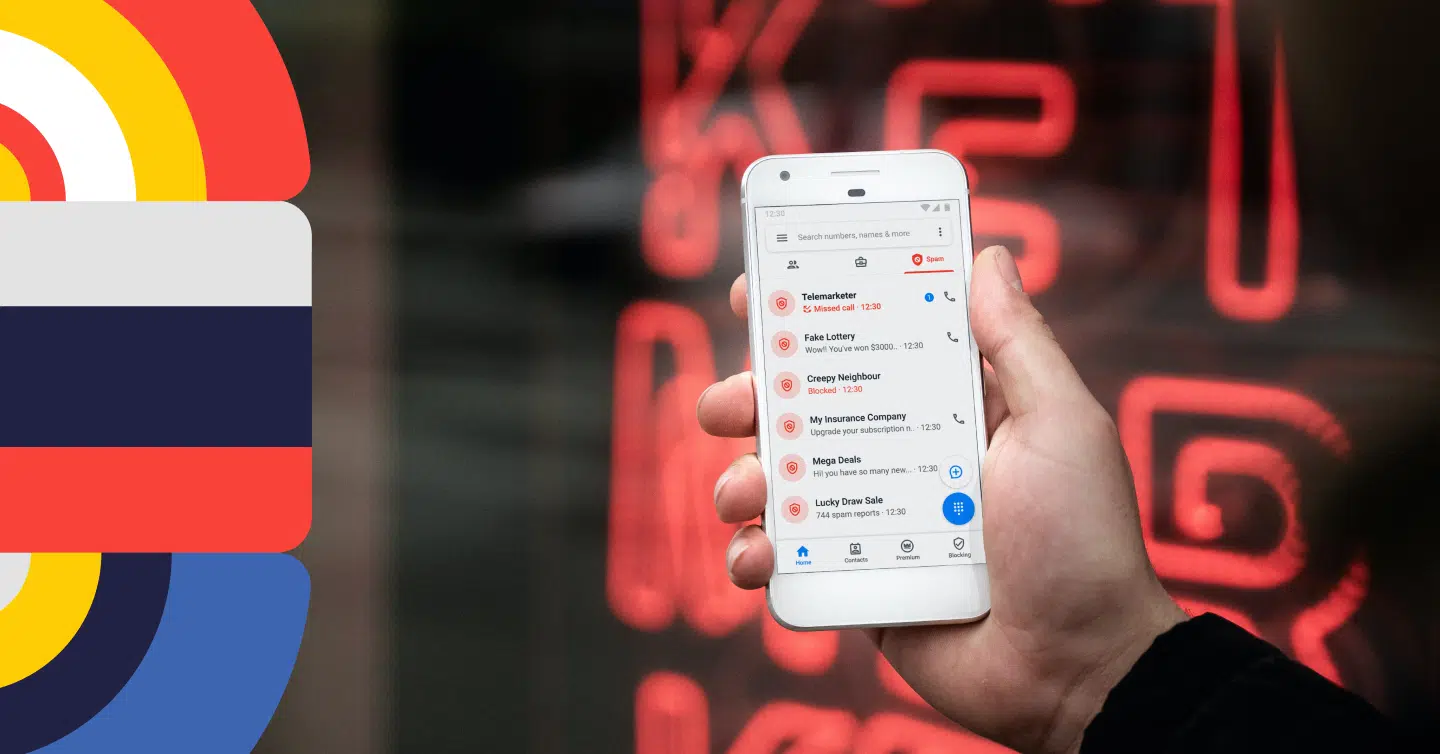 As Canadians, we like to think of ourselves as savvy digital citizens. But our confidence can leave us vulnerable when it comes to online scams. Every year millions of dollars are lost to sophisticated scams in Canada. 
The frightening truth is that most people may not even realize they've become a victim until it's too late. According to the Canadian Anti-Fraud Centre, fraud in Canada has already cost Canadians $133.7 million in the first 3 months of 2023.
In this post, we'll discuss just how much money Canadians lose every year in online scams (spoiler alert: it's a lot!), the common types of fraud and scams you should be aware of, and how you can report fraud and protect yourself from becoming one of these statistics.
---
Key Takeaways
Canadians lost a record $530 million to scams in 2022.
Fraud has cost Canadians $133.7 million in the first 3 months of 2023.
Nearly half of Canadians have reported being victims of fraud at some point.
---
Are you a first-time buyer?
Canadians Lost A Record $530 Million To Scams In 2022
In 2022, the Canadian Anti-Fraud Centre received 70,878 reports of scams. It's estimated that only about 5-10% of those scammed in Canada go on to report the fraud. Last year, lost money in Canada directly related to scams was a record $530 million. This was nearly a 40% increase from 2021, another record-breaking year that saw $380 million lost to fraud and cybercrime. 
More than half of the reported scams in 2022 were due to mass marketing fraud. With the advancement of technology making mass communications easier (and cheaper), criminals can now scam thousands of people with similar demographics with more efficient and sophisticated frauds. 
Fraud prevention month occurs annually in March and is a campaign designed to help Canadians recognize, renounce and report fraud.  It's now more important than ever for consumers and businesses to play a role in fraud prevention in Canada. Education and awareness are the best lines of defence to protect yourself against scams and fraud.  
53% Of Fraud Reports Were Victims Of Mass Marketing Fraud
With so many communication channels, from text messages to emails, technological advancements increase the ability for scammers to steal, purchase, or exchange personal and financial information. 
Additionally, advancements in payment methods have created more advantages for criminals since convincing someone to send funds cross-border as a transfer is now as easy as getting them to click a few buttons in their mobile banking app. Substantial financial losses in Canada can be attributed to mass marketing fraud.   
Contrary to popular belief, mass marketing fraud operations are not just committed by overseas fraudsters. Mass marketing fraud is one of the top types of scams in Ontario, with the Greater Toronto Area (GTA) playing a primary role in where these types of Canadian fraud operations are based. 
Common Types Of Fraud In Canada
Fraud in Canada is on the rise. With the implementation of new technologies, this can only be expected to grow. The most common types of fraud are those designed to convince you to send money or give away sensitive personal information like your banking details, SIN, or passwords. 
Bank frauds in Canada are on the rise as more and more people switch to online banking payment methods like e-transfer. Awareness of the common types of fraud is crucial to protect yourself against them. 
Mass Marketing Fraud
What is Mass Marketing Fraud?
Mass marketing fraud is a scam using one or more mass communication methods like email, the internet, mail, and telephone to solicit multiple people or businesses and lure them into giving out personal information or money. Mass marketing fraud isn't a type of crime but a category of scams, including prize/lottery/vacation fraud, romance and employment scams, investment fraud, spoofing, and phishing. 
These generally fall into two categories: when fraudsters defraud many victims out of small amounts of money, such as hundreds of dollars, or when fewer victims are defrauded out of thousands or even millions of dollars. 
One of the most common mass marketing scams is the overpayment scam. This is where the victim targeted is advertising something for sale online. The victim is contacted by the scammer to purchase the item and is sent a payment amount that exceeds the cost of the item. The victim is then asked to return the difference between the payment and the cost of the item. 
In this case, once the bank determines the payment was fraudulent, the victim is left out of pocket for the amount they were asked to return to the scammer and the cost of the item if it was already sent to the scammer.
How to Prevent Mass Marketing Fraud
To prevent mass marketing fraud and protect yourself from this type of scam, it's important to not respond to emails/phone calls/text messages claiming you have won a prize or lottery if you know you never entered. If it sounds too good to be true, it probably is! 
If you're an online seller, don't accept deposits for more than the agreed-upon purchase price of the item and do not agree to requests for any portion of the money to be returned or sent to a third party. 
Identification Fraud
What is Identity Fraud?
Identification fraud is stealing and using someone else's personal information for criminal purposes. Thieves most commonly steal personal information through phishing scams and data breaches. They can also obtain your personal information by stealing your mail or garbage. 
Once your information is stolen, it's used to access your emails and bank accounts or apply for things using your identity, like government benefits, cell phone accounts, passports, loans, and credit cards. Fraudsters are even using identification fraud to take over social media accounts. 
One of the most common types of identity theft is phishing, where fraudsters contact individuals, usually claiming to be their financial institution, saying their account has been compromised or suspicious activity has been observed on their accounts, like credit card fraud. They then ask for personal information to "verify" their identity. Once the scammer has the information they need, they can commit fraud using your volunteered information. 
Statistics Canada reports that scams were also quite common during the 2021 census, where scammers claimed to be census officials in an attempt to collect personal information under the threat of conviction if the victim didn't provide the information requested. 
How to Prevent Identification Fraud
To protect yourself against identification fraud, never provide personal or credit card information to anyone who contacts you without verifying the legitimacy of the person calling. If your financial institution calls and asks for personal information, hang up and call the number on your debit or credit card and independently verify if there is anything suspicious with your accounts. Monitor your credit reports and check bank and credit card statements regularly to spot suspicious activity. Or set up text message alerts whenever a transaction is completed through your debit or credit cards.
If your mailbox doesn't lock, pick up your mail frequently to limit the possibility of mail theft. Shred any financial documents before recycling, putting them in the garbage, or setting up electronic statements. Keep your SIN card and any other important documents like your passport in a safe place where they can't be easily accessed and limit the documents you carry. 
Investment Scams
What are Investment Scams?
Investment scams are positioned to investors as opportunities that offer higher than normal returns based on false or misleading information, often resulting in investors losing most or all of their money. Investment scams usually involve get-rich-quick schemes that promise high returns. 
Pyramid and Ponzi schemes used to be the most common type of investment scams, but recently there has been an uptick in cryptocurrency scams. 
Pyramid schemes are a business model that focuses on luring people with the promise of money-making ventures for a large fee. Typically, the only way to recover this money is by convincing others to join and part with their money. 
Ponzi schemes work similarly to pyramid schemes in that returns are generated with money from new investors and distributed to older investors. Ponzi schemes entice investors by offering much higher returns than other investments. 
In both cases, pyramid and Ponzi schemes are usually presented by a trusted friend or family member who may not know they are involved in a scam or illegal operation. 
How to Prevent Being Scammed from Investments
To protect yourself from investment scams, get your cryptocurrency from reputable, well-known exchanges and know the risks before investing. Crypto does not have any legal protections, and payments are irreversible. 
Be wary of unsolicited investment opportunities promising unrealistically high returns. Even if these come from a trusted friend, family member, or social media personality, it's important to research first. You can also check if a person or company has been flagged on the Investment Industry Regulatory Organization of Canada (IIROC) website. 
Common Scamming Methods In Canada
With Canadians increasingly becoming victims of scams, it's important to understand the most common methods scammers use so we can protect ourselves and our loved ones. As technology rapidly evolves, so do the deceptive practices used by criminals looking to profit quickly from unsuspecting victims. 
Phishing and Personal Information Scams
You receive a text message from Canada Post. The text says you have a parcel scheduled that they could not deliver because you weren't home, and the package has a customs fee. There's a link for you to click and pay the fee to reschedule delivery. You click the link and are brought to the Canada Post website, where you update your delivery information and input your credit card details to pay the fee and reschedule delivery. No parcel arrives, and the tracking number doesn't exist when you contact Canada Post. The text was fake, and so was the website. Now scammers have enough personal information and credit card details to commit fraud. 
Phishing and personal information scams are a type of fraud where scammers are able to trick people into providing personal information that is then used for fraudulent purposes. Scammers ask for passwords, credit card numbers, and access codes that they will then use to take over accounts and commit fraud. 
These are usually through emails or text messages that look authentic with corporate logos, spoofed email addresses, and phone numbers, making them seem authentic. Though there are some cases where malware disguised as a file attachment or a link is downloaded that can corrupt, encrypt, delete files, or steal financial and personal data. 
Romance Scams
You think you may have found the one. You've been exchanging messages and photos on a popular dating app for a while and are ready to meet, but they live in another province. You finally make plans to meet in person, set a date, and pick a location when they confess they are having a hard time and money is tight. They really want to meet and say they love you, so when they ask to borrow the money with the promise to pay you back, you send them an e-transfer to cover their travel. The date comes and goes, and no one shows up. Turns out you've been scammed, and this person doesn't exist. A scammer used someone else's photos to trick unsuspecting victims out of their money. 
Romance scams are designed to convince victims to enter false virtual relationships through dating apps and social media profiles to gain affection and trust. The scammers create a virtual identity by stealing photos from social media accounts that they then use to build trust, pretending to have romantic feelings for the victim. Once a relationship is established, the scammer begins to ask for money using an urgent scenario like travel, a medical emergency or helping out family members. Newer scams are also surfacing, asking victims to invest in cryptocurrency. 
Cryptocurrency Scams
You're browsing Instagram, and a friend posted a story about how they just turned $1000 into $10,000 in a few hours by trading cryptocurrency. They back this up by posting screenshots of their bank accounts to their story. They've also been kind enough to refer their followers to the trader used linking to an Instagram account that shows that person is a forex trader. Excited by the thought of such a large return, you reach out and e-transfer $5000, hoping to turn your investment into $50,000 before the day ends. The only problem is that it wasn't your friend, and the story is fake. Their account was hacked that morning, and now fraudsters are posing as them, convincing followers to transfer money to scammers. Now your money is gone, and there may be little you can do to recover it. 
Cryptocurrency scams typically involve having victims download a fraudulent trading platform to purchase cryptocurrency. A variation of this is similar to a Ponzi scheme which involves giving money to someone who will then invest in cryptocurrency with the promise of generating a large return. They will regularly update the victim on how much their "portfolio" is worth. Then when it comes time to withdraw funds, the victim finds out that the money doesn't exist. 
Another variation of the cryptocurrency scam is when scammers take over someone's social media account and try to convince their followers to invest in a fraudulent platform or send money to a "trader" with the promise of doubling or tripling their money quickly, usually within hours. 
Email & Social Media Scams
You receive an email from your bank that looks legit. They ask you to click a link and verify your personal information urgently. You click and are brought to your financial institution's website. You are asked to log in, so you do and input your password. You are then asked to verify your personal information, including your SIN, to update your account and confirm some credit card details. Everything looks fine, so you log out and continue with your day. Turns out the email was fake, and so was the website. Now you've discovered that fraudsters captured your personal information, and it's being used to commit fraud.  
Email and social media scams are designed to impersonate a well-known business or brand to get victims to trust that links or downloadable documents sent are legitimate. Emails are sent impersonating a legitimate company, usually with an urgent call to action requiring that you click a link to verify your personal information. These links lead to a spoofed website mirroring the legitimate company website. 
These scams have spilled over to social media, where fraudsters create fake social media accounts posing as customer support and trick victims into believing that customer service is reaching out to help resolve an issue with the intent to get you to give up your personal or financial information. 
Who Are Common Victims Of Scams In Canada?
Fraud is a lot more common than we think. Nearly half of Canadians have reported being victims of fraud at some point. With so much of our world moving virtually, it's no surprise that fraud is becoming increasingly common. Contrary to popular belief, older Canadians are not the only ones falling victim to scams. 
The below charts show the number of scam reports by age group, the number that fell victim to these scams in 2021, and the dollar amounts lost to these scams. While the 60 and above age category had the highest reported fraud attempts, the 50-59 age group lost the most money when they fell victim. 
Average Dollar Loss To Scams By Age Range
Age Range
# of Reports
# of Victims
% Victimized
Dollar Loss
Average Dollar Lost Per Victim
19 and under
1,650
1,302
78.9%
$1,696,112
$1303
20-29
7,567
4,943
65.4%
$16,813,067
$3401
30-39
8,243
4,226
51.3%
$31,646,550
$7,489
40-49
6,747
3,275
48.5%
$43,223,792
$13,198
50-59
6,670
2,989
44.8%
$48,311,236
$16,163
60 and above
12,968
5,438
41.9%
$83,798,264
$15,410
Not Specified
29,814
13,115
44.0%
$154,089,617
$11,749
Data from Canadian Anti-Fraud Centre Annual Report 2021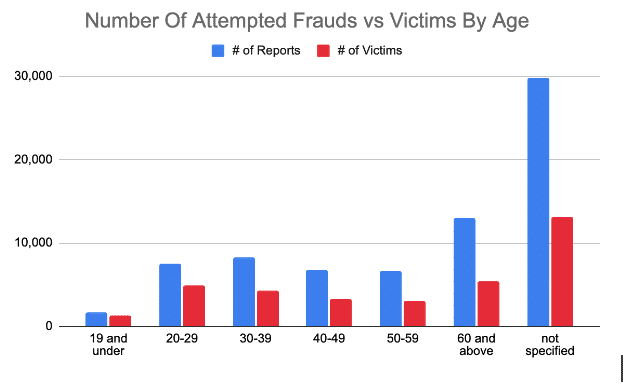 Data from Canadian Anti-Fraud Centre Annual Report 2021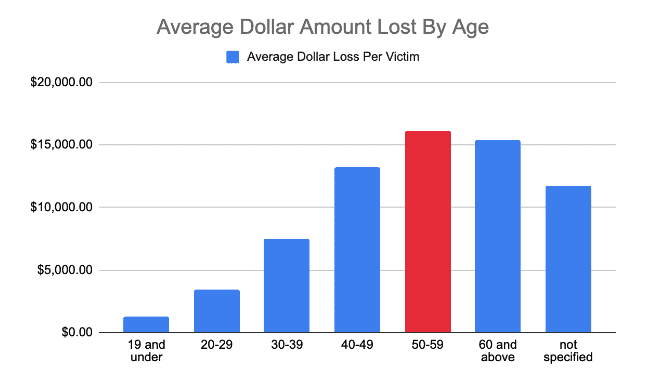 Data from Canadian Anti-Fraud Centre Annual Report 2021
How To Report A Scam In Canada: The Canadian Anti-Fraud Centre
If you think you have been the target of a scam, whether or not you fell victim, you can report the incident to your local law enforcement who can investigate. Additionally, you can call and report scams to the Canadian Anti-Fraud Centre phone number at 1-888-495-8501 or visit their website. 
Find a better rate, and we'll match it, beat it, or give you $500*.
*Conditions Apply
With nesto, it's stress-free
Frequently Asked Questions
Welcome to our Frequently-Asked Questions (FAQ) section, where we answer the most popular questions designed and crafted by our in-house mortgage experts to help you make informed mortgage financing decisions.

How much money is lost to scams in Canada per year?
Each year millions of dollars are lost to scams. In Canada, fraud accounted for $530 million in 2022 and $380 million in 2021 lost to various scams.

What is the most common type of scam in Canada?
Investment fraud is currently the most common scam, taking the largest financial toll on Canadians. The most common investment fraud is tied to cryptocurrency investment platforms.

How can I protect myself from scams in Canada?
Some tips and tricks to help protect yourself from scams in Canada include doing your research, verifying the legitimacy of anyone that contacts you, beware of anyone that requests your personal information and don't give it out without first independently verifying them, beware of requests for money or upfront fees, protect your computer by having antivirus software installed and not clicking on links that are sent to you unsolicited, and protect your online accounts with unique hard to crack passwords.
Final Thoughts
Canadians lose millions of dollars every year to online scams. It is essential to know the common types of fraud and scams occurring today and how to protect yourself from them. Taking a few precautionary steps, such as researching unfamiliar contacts, not clicking on suspicious links or giving out unsolicited personal information, using strong passwords and installing antivirus software can protect you from fraudulent activity. 
To better ensure your financial safety, we urge you to educate yourself on potential scams for peace of mind. If you become a fraud victim or encounter a scam you think needs reporting, don't hesitate to contact your local police department or the Canadian Anti-Fraud Centre for assistance.
---
Ready to get started?
In just a few clicks, you can see our current rates. Then apply for your mortgage online in minutes!
Today's Best Mortgage Rates as of September 29, 2023