Where Is It Better to Live: Vancouver or Toronto?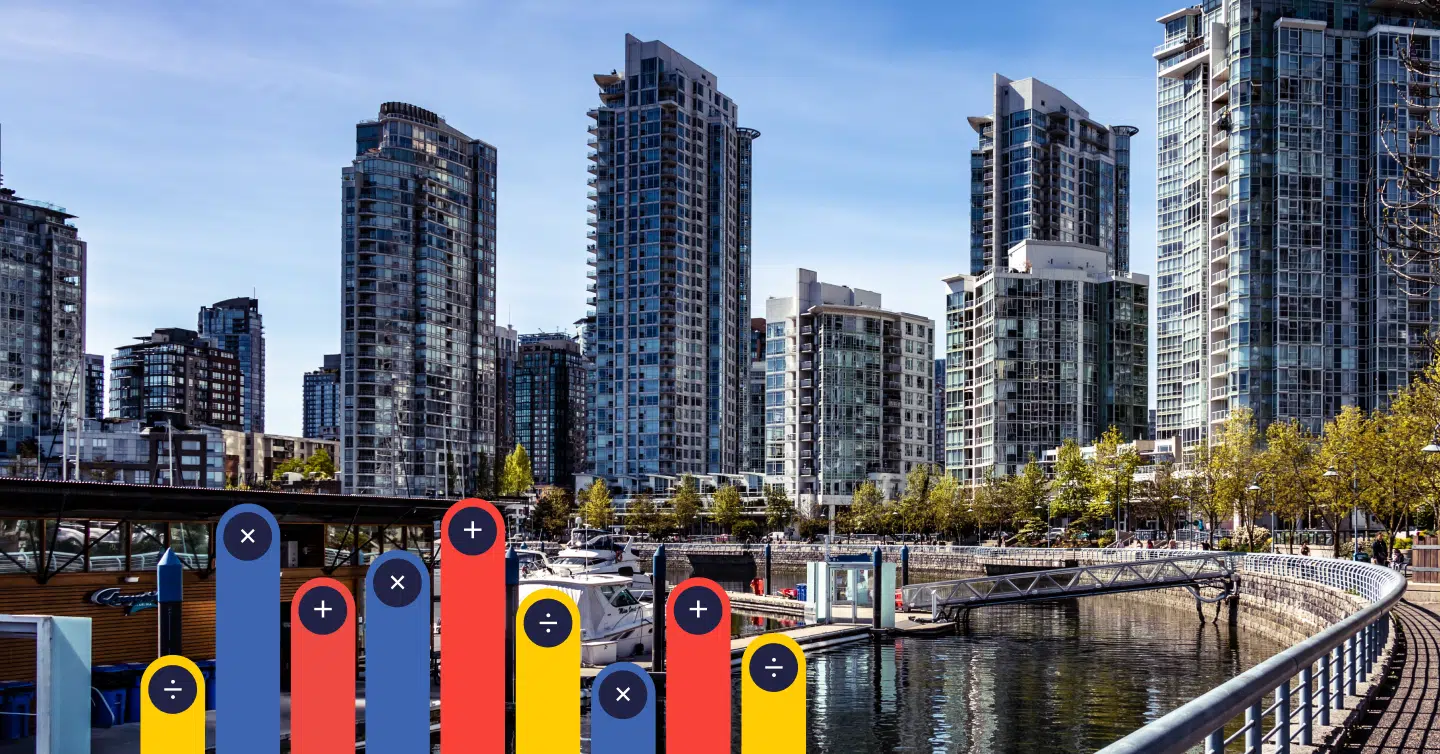 Are you wondering 'Where is it better to live: Toronto vs Vancouver?' Both are beautiful cities with different benefits to offer, largely due to their geographical locations. Vancouver is on the western coastline, by the Pacific Ocean, while Toronto is inland. Both shape the activities and lifestyle of its inhabitants.
Before buying a home, be sure to learn of the lifestyle, costs, and amenities to fit your unique personality better. 
---
Here are some key details we cover:
Is Vancouver more expensive than Toronto?
Cost of living in Vancouver vs Toronto
What's it like living in Vancouver vs Toronto? 
---
Are you a first-time buyer?
Vancouver vs Toronto: Key Differences
Given the geographical differences of the two cities, the lifestyles and daily activities are quite dissimilar. 
For starters, Vancouver is located on the west coast in the province of British Columbia (the most western Canadian province). Its close access to the outdoors and mountainous regions makes hiking, snowboarding, and outdoorsy activities predominant among its denizens. If you're a cyclist, Vancouver is a very bike friendly city, with plenty of bike lanes to commute nearly anywhere. 
Compared to Vancouver, Toronto lacks access to the outdoorsy lifestyle, but makes up for it with all the things a bigger city can offer. 
Toronto, for instance, has a more robust night life, with more activities within the city than outside of the city. And given its larger scale, there are plenty more restaurants, making it the true city for foodies. The nightlife on King street and Queen street is also one of Toronto's busier attractions. You can expect something to be happening at all times of the night around this area.
To give you a size comparison, Vancouver has one very large Chinatown area, while Toronto has three, plus an official Koreatown.
Cost of Living vs Average Salary for Vancouver & Toronto
While both cities offer wonderful activities and unique lifestyle options, the cost of living can vary between them. Below is a breakdown of costs for the everyday expenses most residents will need to account for.
Public Transportation
First off, let's talk about public transportation. While both cities provide it, costs do vary, so knowing what is within your budget and easier for your lifestyle is key when deciding to move to Vancouver or Toronto. 
Vancouver:
Vancouver provides public transportation known as the Translink. This is the regional authority for transportation within the city. Translink operates the entire system, which includes: local buses, the SkyTrain, SeaBus, and the West Coast Express. 
One exciting thing to note is that Translink announced plans to expand its development of a more efficient, and green system for the city in coming years. For those of you who love the earth, that may make you choose Vancouver over Toronto!
Now for pricing:
| Zones | Adult | Compass card | Concessions | Day pass | Monthly pass |
| --- | --- | --- | --- | --- | --- |
| 1 zone | $3.05  | $2.45 | $2.00 | $ 10.75 | $100.25 |
| 2 zones | $4.35 | $3.55 | $3.00 | $ 10.75 | $134 |
| 3 zones | $5.90 | $4.60 | $4.05 | $ 10.75 | $181.05 |
It costs $3.10 for travel within a single zone on the city's Skytrain train system. 
Once you cross a zone, you will need to upgrade to a 2-Zone fare. 
A single ticket to travel within paid zones is valid for 1.5 hours, so you'll need to plan your trip accordingly. 
If you're planning on taking the bus as well, you can get a pass ranging from $102 to $185 a month for zones 1 to 3. 
Toronto: 
On to the east! Toronto, like Vancouver, has a public transit system which is known as TransLink. 
TTC or Toronto Transit Commission runs three modes; subway, streetcars, and buses. The subway is served by two major lines. The Yellow Line (from northern Yonge Street to Union Station, back north once again) and Green Line (beginning in the Etobicoke neighborhood and running through Central Toronto to the Scarborough district).
The Toronto Transit Commission has 3 types; a subway, streetcars, and local buses. The added convenience of the subway helps to make local commuting easier. There are 2 lines: The yellow line and the green line. The Yellow line runes from northern Yonge Street to Union Station in a loop, and the Green line starts around Etobicoke and runs to Scarborough district, stopping in Central Toronto. 
When it comes to fares, see the table below for the various fees:
| TRANSIT-FARES | REGULAR FARE | YOUTH (13-19 YEARS OLD) AND SENIOR (65+) |
| --- | --- | --- |
| 1 trip | $3.25 | $2.30 |
| 1-day pass | $13.50 | $13.50 |
| Monthly pass | $143 | $128.15 |
Judging solely on price, if we compare the 2 zones pass in Vancouver to the TTC (which only has 2 lines), pricing is about the same in both cities. Yet, it's worth noting that, in all, Toronto does win out in terms of public transportation overall. It's known to be more efficient and reliable. It was even ranked as #1 in Canada back in 2019.
Comparing neighbourhoods: Vancouver vs. Toronto 
When it comes to stacking up neighbourhoods against one another in Toronto vs. Vancouver, there are a few core areas to look at. To do so, we stacked some common areas for different demographics against one another so you can see which neighbourhoods fit you best.
Vancouver
Toronto
Gastown 

For young professionals 

Gastown is one of Vancouver's most historic and iconic neighbourhoods. Founded in 1867, it was the city's original downtown core. Gastown is home to a diverse mix of businesses, from high-end boutiques and trendy restaurants to independent shops and artsy cafes. The neighbourhood also has a strong sense of community, with many residents taking pride in its unique character.  

Population: 3,888
Median income: $54,678
Median home price: $814,000
Yonge-Eglinton 

For young professionals 

Yonge-Eglinton is a neighbourhood in Toronto that is known for its lively atmosphere and its diverse population. The average home price in the area is $1,000,000, and the average population is made up of young professionals and families. The area is also home to many restaurants, bars, and shops, making it a popular destination for residents and visitors alike. In recent years, the area has undergone a significant revitalization, and new construction projects are underway. As a result of these changes, Yonge-Eglinton is becoming an increasingly desirable place to live.

Population: 21,000+
Median income: $108,543
Median home price: $1,300,000
West Point Grey

For families 

West Point Grey is one of the oldest  neighbourhoods in Vancouver. It is home to a wide variety of people. The population is a mix of young families, older retirees, and university students. The city itself is a beautiful blend of old and new architecture, with tree-lined streets and a vibrant downtown area with a village feeling. There are plenty of things to do in West Point Grey, from shopping and dining to exploring the many parks and trails. And, of course, the beach is never far away. Whether you're looking for an exciting nightlife or a quiet place to call home, West Point Grey has something for everyone.

Median income:  $106,974
Median home price: $3,200,000
Leslieville 

For families

 Leslieville is a neighbourhood in Toronto, Ontario, Canada. It is bordered on the west by the Don River, on the north by Gerrard Street East, on the east by Coxwell Avenue, and on the south by Lake Ontario. The neighbourhood is centered around Queen Street East, which is lined with cafes, restaurants, bars, and shops. The neighbourhood has a population of approximately 20,000 people and is home to a diverse range of residents, including artists, musicians, families, and professionals. Leslieville is an affordable and vibrant neighbourhood that offers something for everyone. Whether you're looking for a quiet place to raise a family or a nightlife destination to let loose with friends, Leslieville has something to offer.

Population: 21,000+
Median income:  $93,844
Median home price: $1,010,000
West End 

For students 

West End, Vancouver is home to a diverse population of people. The city is full of high-rise apartment buildings and condominiums, and the streets are lined with trees and flowers. The city is known for its location to Stanley Park and its notable shopping destination, Denman Street. 

Population: 40,000+
Median income: $64,927
Median home price: $910,000
Harbourfront 

For students 

Harbourfront is one of the most vibrant and exciting areas of Toronto. Located on the shores of Lake Ontario, it is home to a wide range of businesses, restaurants, and cultural attractions. Visitors can enjoy stunning views of the skyline, take a stroll along the boardwalk, or explore the many shops and galleries. There is also a wide range of activities to enjoy, from kayaking and sailing to live music and theater. This area is mainly comprised of high-rise condos and apartment buildings; so, for those that crave a more suburban feeling, it's likely not for you. Yet, it's perfect for the core demo: students.

Median income: $114, 462
Median home price: $776,000
Entertainment
If you're looking for entertainment, here are a few common activities residents might seek out.
Want to check out a movie? A single adult concession will cost between $11 – $15. 
Don't feel like cooking? Both cities have a vast diversity of culinary options to satisfy any foodie. The price of course will depend on where you eat. Choosing to eat at a common established diner will cost you about CAD $15. If you decide to eat at an average sushi restaurant expect to pay a bit more, around $20. 
Which is more expensive, Toronto or Vancouver? While similar is cost, Toronto has a slightly more expensive nightlife and dining out experience. However, if you choose wisely a more affordable option can always be found. 
Average cost of groceries
We all have to eat, and food is one of the second highest expenses we have, next to rent or mortgage. So, below we compare Vancouver vs. Toronto to show which is more affordable in this area.
Average Cost of Groceries in Vancouver
Average Cost of Groceries in Toronto
Items 
Prices
Items 
Prices
Milk (1 Liter)
$2.37
Milk (1 Liter)
$3.90
Loaf of bread
$3.20
Loaf of bread
$2.84
Chicken
$16.39
Chicken
$13.58
Beef round
$22.05
Beef round
$16.41
Apple
$3.82
Apple
$4.14
Source: numbeo.com
As seen above, it's clear that Vancouver is slightly more costly than Toronto when it comes to groceries. When we look at monthly averages for grocery shopping, this remains true. In Vancouver it's about $227/month for a single person, and in Toronto, it's about $285/month.
Weather in Vancouver vs Toronto 
With Vancouver located along the southern border and western coastline, the climate is more temperate from being closer to the Pacific Ocean. Vancouver's climate is actually a temperate rainforest climate, which is why its known as one of the rainiest cities in Canada.
Between the more temperate climate and the nearby mountains, the weather really depends on where you live. If you're in North Vancouver (near the mountains), you'll receive double the rainfall, compared to the lower mainland area. As you can imagine, people in Vancouver are used to the rain; the climate definitely contributes to the west coast vibe and dress attire.
In Vancouver, expect cool summers with the occasional hot spike and milder winters, compared to the rest of Canada.
With Toronto being in the east—inland, it's about 3/4th of the way across Canada and is at the southernmost tip of Canada—near the state of New York. This brings a continental climate to Torontonians. You can expect more extreme temperatures, hotter, humid summers and colder, dry winters.
The geographies of both also dictate what most of the residents can or can't do. 
Top 5 Things to do in Vancouver
Vancouver is more outdoorsy compared to Toronto. It's west coast environment is close to mountain ranges and the ocean, so as you can imagine, outdoor activities tend to be quite popular in Vancouver. 
You could say there's something for every avid sport goer.
#1: Stanley Park
In the summer, Stanley Park is a popular destination for all sorts of activities. You'll see people biking and running along what they call "the sea wall."
#2 Whistler Ski Resort
Ranked as the number one ski resort in the world, you can expect amazing skiing or snowboarding conditions. Being on a glacier, it's actually open year round to professionals. 
In the summer, it's bustling with activities, being a 2-3 hour drive away from the city. 
#3 Lighthouse Park
Located in North Vancouver, this park is open for a few months of the year in the summer. It provides a great hiking environment along the beautiful coastline. 
#4 Granville Island
Popular year round, this small island is very busy during the summer. You'll find lots of restaurants, professional buskers, and creative artistic studios, given the renowned art school Emily Carr is located right here. 
You'll also find a large market of fresh produce and food vendors providing fabulous foods and treats along the water, under the Granville bridge. 
#5 Gas Town
This area is close to downtown and home to the popular steam clock. You'll find lots of restaurants, boutique shops in this older, rustic part of the city. 
At night there are plenty of bars, cocktail bars, and even wine bars. It's a must see. 
Top 5 Things to Do in Toronto
#1 Casa Loma
Casa Loma is a popular destination for many tourists and one that I personally enjoy.
It's built by one of the early founders of the Toronto stock exchange. It's an iconic heritage site with an experience you won't expect from another Canadian city.
You'll find it both a museum, an escape, and an intriguing hidden doorway to an old castle. You won't find anything like it anywhere else in Canada. 
#2 St. Lawrence Market
This is a popular market for its fresh food and endless food stalls situated in a building built in 1902. It's a joy to wander around this old building and discover new culinary foods, very popular among foodies. 
#3 The Toronto Islands
To get here you have to take a short ferry ride to this small walkable island (no cars on the island). The denizens here comprise about 600 people. Small quaint cafes and restaurants line the walking route with a nice park and view of the Toronto skyline.
#4 Distillery District
One of the nicest entertainment districts of Toronto is the Distillery district. Both the architecture and culture of these old building are unique. 
The 19th-century buildings are repurposed into upscale bars, great restaurants, and wine bars. You'll find amazing food and a great night out if you visit this area. 
#5 The Royal Ontario Museum
This is one popular large museum. It has a range of interesting artifacts from history to archaeology, geology, palaeontology, zoology, and more… 
You can spend a few hours here (pictures are allowed!)
Final Thoughts 
Where you choose to live largely depends on your unique situation. Both Toronto and Vancouver are great cities, but both offer different experiences. If you're going to be working a job there, then knowing which city offers the most opportunity can be more financially rewarding. 
Part of living is enjoying your day to day activities with friends and family. Knowing which activities you tend to gravitate toward doing will likely dictate which city you will enjoy living in more. If you're looking to purchase a home and need a new mortgage or refinance your existing mortgage, you'll want the lowest—guaranteed rate. 
---
Ready to get started?
In just a few clicks, you can see our current rates. Then apply for your mortgage online in minutes!
Today's Best Mortgage Rates as of December 5, 2023