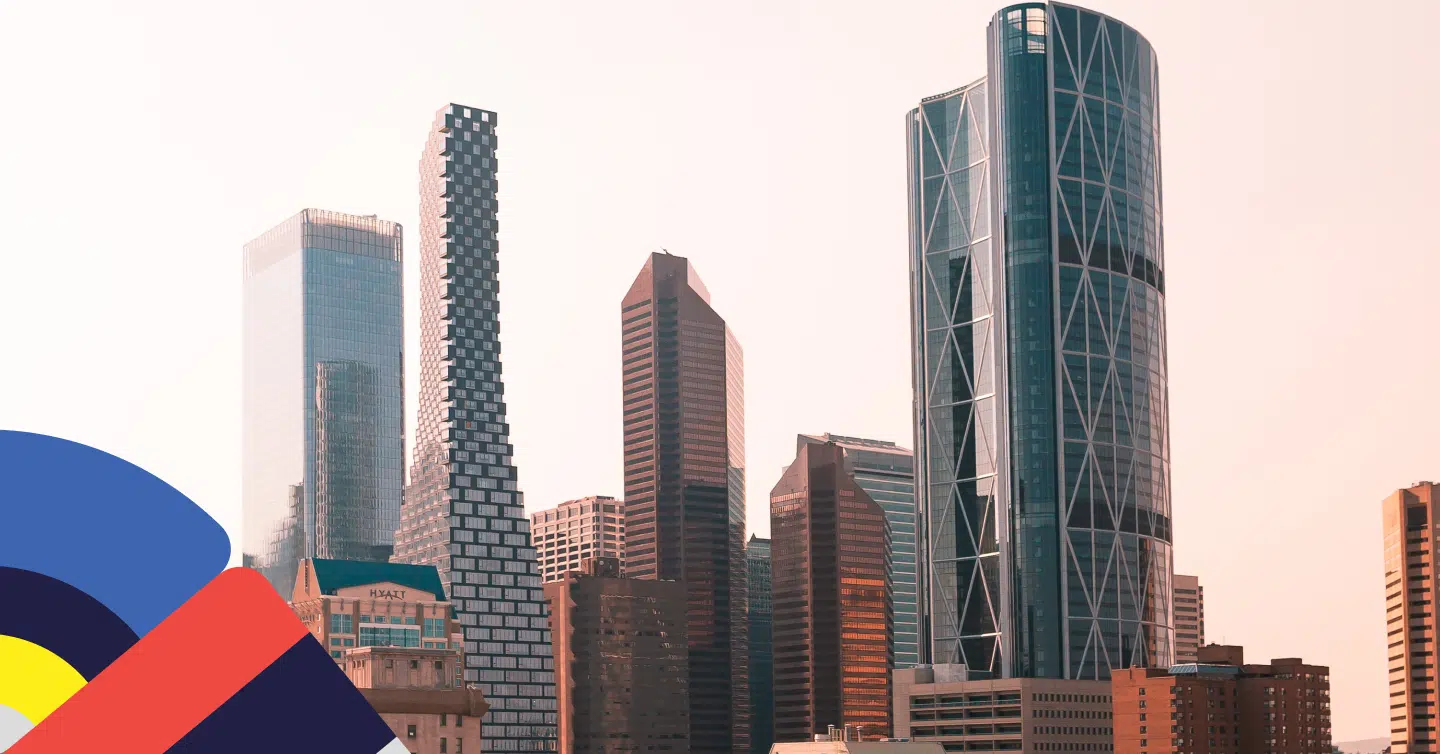 Separated by a 12 hour drive and the Canadian Rockies, Calgary and Vancouver are more alike than people think. However, there are some important differences in the culture of the 2 cities and major differences in living costs. In this post, we'll break down the differences and similarities of Canada's third and fourth largest cities to help you make a more informed decision about buying a home in Vancouver or Calgary.
---
Key Highlights
Vancouver and Calgary are Canada's third and fourth-largest cities, respectively, with populations of 2.6 million in Greater Vancouver, and 1.3 million in Calgary.
Both cities are heavily urbanized, modern metropolitan cities that have many of the same amenities, like transit infrastructure, national sports arenas, art galleries, public spaces, and proximity to nature.
The average cost of a home in Vancouver is $1,155,300, and only $499,484 in Calgary (October 2022).
---
Calgary vs Vancouver: Key Differences
Vancouver is a densely populated and diverse city located in the lower mainland region of coastal British Columbia, close to the border between Canada and the United States. Surrounded by mountains and the Pacific Ocean, Vancouver has been consistently featured in lists of the best cities to live in the world, thanks to its mix of culture, amenities, and natural setting. However, it's also becoming one of Canada's most expensive places to buy a home, to rent, and to live.
Calgary, the biggest city in Alberta, is also a nature-lovers paradise, with close access to the Canadian Rockies just an hour or so from the city and proximity to famous natural landmarks like Banff National Park. Calgary has a relatively diverse population and the city continues to grow. It's also on average much cheaper than Vancouver to buy a home and rent, and cost of living is significantly lower.
By population, Vancouver is Canada's third-largest city (after Toronto and Montreal), with a total population in Greater Vancouver of 2,606,000. However, according to the 2021 census, Vancouver's population is only 662,248 based on the city's census subdivision. Calgary, on the other hand, has a total population of 1,306,784, based on the same census. Calgary is far less densely populated than Vancouver, with a population density of 1,329 people per km² spread over 825 km². By comparison, Vancouver has a population density of 5,249 people per km², spread over 114.97 km² – making it the 4th-most densely populated city in North America.
Cost of living is another major difference between the 2 cities. As of October 2022, the average cost of a Calgary home was $499,484. In the same month, the average property cost in Vancouver was $1,155,300. According to numbeo.com, costs in Vancouver are higher across multiple dimensions, including consumer prices, rent, groceries and restaurants. Local purchasing power is also lower for Vancouverites, meaning that your income goes further in Calgary.
Ultimately, both cities have a huge range of amenities and relatively decent transport infrastructure. Vancouver's transit system is probably slightly further ahead than Calgary's, and both cities are investing in the improvement of their downtown transit systems over the next decade. Culturally, both Calgary and Vancouver offer a wide range of neighbourhoods to suit a variety of living situations and preferences, plus a host of great restaurants, shopping centers, sports facilities and arenas, art galleries, events, and much more.
With nesto it's stress free
Find a better rate and we'll match it, beat it, or give you $500*.
*Conditions Apply
Cost of Living vs Average Salary for Calgary & Vancouver
Below is a quick comparison of living costs in Calgary and Vancouver, plus average income for individuals in both cities. Generally, Calgary is a much cheaper place to live in than Vancouver across most metrics. The median household income for Calgarians is $97,218 according to areavibes, which is 18% higher than the national average, and in Vancouver this figure was $82,918, marginally lower than Calgary's, and only 7% higher than the national average.
Cost of Living vs Average Salary in Calgary
The average cost of a house in Calgary was around $500,000 in October 2022, less than half of Vancouver's average property cost ($1,155,300). Calgary's housing market has seen consistent growth throughout the pandemic, with a 10% year on year increase across all residential property types since October last year. However, it's still relatively inexpensive to buy a property in Calgary compared to other major Canadian cities, in particular Vancouver. 
The median household income for Calgary is $97,218 according to areavibes, 18% higher than the national average and just over 14,000 dollars more each year than Vancouver's median income ($82,918). Calgary is also significantly more affordable in terms of living cost as a proportion of average income. According to Numbeo, a family of four in Calgary would have average monthly costs of $4,596.97 before rent, and a single person's monthly costs would be $1,290.69 without rent, both lower than Vancouver's figures. According to Numbeo, Consumer prices are 6.04% higher than Calgary, and rent prices are a staggering 66.59% higher in Vancouver as well. Restaurants are 18.85% more expensive in Vancouver, and groceries are 9.68% higher in Vancouver.
Here are some graphs showing the average income in Calgary, average residential property cost, and Alberta tax brackets.
*According to Statistics Canada
Average Residential Property Cost, Calgary (September 2022)
| Property Type | Average Sold Price (September, 2022) |
| --- | --- |
| All property types | $485,000 |
| Detached | $636,353 |
| Semi-Detached | $514,793 |
| Townhouse | $341,022 |
| Condominium | $270,176 |
Alberta Taxable Personal Income Brackets, 2022
| | |
| --- | --- |
| first $134,238 | 10% |
| over $134,238 up to $161,086 | 12% |
| over $161,086 up to $214,781 | 13% |
| over $214,781 up to $322,171 | 14% |
| over $322,171 | 15% |
Cost of Living vs Average Salary in Vancouver
The benchmark cost of a home in Vancouver in October was $1,155,300. Vancouver remains the most expensive city in Canada to buy a home, and the market continues to grow in value. Although Vancouver and BC have some first time buyer incentives, the cost of living is high compared to the rest of the country. With the median household income for Vancouver at $82,918, it's also a lower-paying city to live in than Calgary.
Finally, according to Numbeo.com, a family of four in Vancouver would have average monthly costs of $4,847.10 without rent, marginally higher than if they were to live in Calgary ($4,588.34). A single person's monthly costs in Vancouver are estimated to be $1,311.82, which is only marginally higher than Calgary ($1,288.50). However, rent prices in Vancouver are 39.97% higher than in Calgary, suggesting that property ownership and renting are the two primary cost differences between the two cities.
Below are graphs and tables showing Vancouver's average income, average cost of a residential property in the city, and current British Columbia tax brackets.
*According to Statistics Canada
Average Residential Property Cost, Vancouver (September, 2022)
| Property Type | Benchmark Price (September, 2022) |
| --- | --- |
| All property types | $1,155,300 |
| Detached | $1,906,400 |
| Townhouse | $1,048,900 |
| Condominium | $728,500 |
British Columbia Taxable Personal Income Brackets, 2022
| | |
| --- | --- |
| $0 to $43,070 | 5.06% |
| $43,070.01 to $86,141 | 7.70% |
| $86,141.01 to $98,901 | 10.50% |
| $98,901.01 to $120,094 | 12.29% |
| $120,094.01 to $162,832 | 14.70% |
| $162,832.01 to $227,091 | 16.80% |
| Over $227,091 | 20.5% |
Curious how Vancouver stacks up against Toronto? Find out now.
Comparable Neighborhoods in Calgary & Vancouver
Both Vancouver and Calgary have some of Canada\s most exciting and diverse neighbourhoods to live in, from heavily urbanized downtown areas to more picturesque suburbs, and everything in between. Here's a few of our favorite areas in Calgary and Vancouver, plus key information about each neighbourhood and how they match up.
Sourced from: Zolo, Areavibes, CMHC, City of Calgary, and RE/MAX Alberta.
Neighborhood in Calgary
Neighborhood in Vancouver
Mission / Cliff Bungalow
Mission is a trendy inner city neighbourhood in Calgary close to the downtown core and 17th Ave. Mission is a relatively busy but safe area of downtown with trendy shops, bars, and salons, localized primarily around 4th Street and surrounding areas. Cliff Bungalow, adjacent to mission, is a quieter residential area tucked away behind 17th Ave and primarily detached and low-rise housing.
Population: 4,835

Median income: $85,089*
Median age: 34.4
Average home price: $458,691, according to RE/MAX Alberta

Fun things to do: Mission and Cliff Bungalow are both located right next to Calgary's legendary 17th Avenue Southwest, or 17th to locals. 17th is one of the main areas for Calgary nightlife, and home to the famous Red Mile, the route for Calgary Flames fans before and after games. Mission itself has tons of shops, food, and bars along 4th Street, and if you follow it down to the river you can enjoy some of Calgary's nicest walks. Mission is also home to the stunning Lindsay park, a beautiful public park with year-round fantastic views of downtown Calgary.


South Granville
South Granville is a trendy, upmarket neighbourhood that roughly covers the span of Granville Street from West 4th and the Granville Street Bridge, to West 16th to the South. Transit along the street consists of regular buses in both directions. 
Population: 4,013
Median income: $82,097*
Median age: 39.7
Average home price: $4,061,429**
Fun things to do:
South Granville street is a lively area that's outside the downtown core but still has a wide selection of shops and cafes. South Granville is also known for the South Granville BIA's artisan summer markets, the Stanley Industrial Alliance Stage theatre, and the VanDusen Botanical Garden.

Kensington
Kensington is one of Calgary's coolest places to live. As one of Calgary's Business Revitalization Zones, Kensington has undergone a number of redevelopment projects in recent years. Kensington is located around the intersection of Kensington Road and 10th Street Northwest. 
Population: 14,750*
Median income: $79,652*
Median age: 36.7*
Average home price: $543,938**
Fun things to do: There are a lot of fun things to do in Kensington. The area is home to a wide range of stores, restaurants, coffee shops, and more. Some of Calgary's best graffiti can be found in Kensington, as well as a ton of other great things to see on Kensington's Art Walk. With a range of coffee shops and restaurants to try out, the area is well-known for brunch, lunch, and dinner spots alike. Kensington also has one of the best bookstores in Calgary, Pages.

Downtown (West End, Yaletown, Gastown, Coal Harbour)
Downtown Vancouver includes the city's residential West End, lively Yaletown and Gastown, and the condos and marina of Coal Harbour. It has a higher cost of living than other areas of the city, and is one of the most densely populated places in North America.
Population: c. 75,000*

Median income: $87,266*
Median age: 37.5*
Median home price: $932,143**
Fun things to do:
Downtown Vancouver is home to some of the best bars and restaurants in Canada, the Vancouver Art Gallery, CF Pacific Centre, and hundreds of shops, theatres, and more. Yaletown offers the heart of the city's nightlife, and you'll also find the city's major arena a short walk away from Downtown, the Rogers Arena, home to the Vancouver Canucks.

InglewoodInglewood is a trendy North East Calgary neighbourhood located primarily along 9th Ave SE and just outside of the downtown core. It's home to a number of alternative shops, bars, and quirky heritage buildings, plus newer condos and coffee shops. Inglewood is a popular area for young professionals, students, and artsy types alike.
Population: 4,605*

Median income: $86,101**
Median age: 38.4*

Median home price: According to zolo.ca, the median price of a residential property in Inglewood is currently $432,106, based on MLS® statistics.

Fun things to do: Inglewood has a lot of alternative charm, and is known for its coffee shops, record stores, book shops, tattoo parlors, and alternative restaurants. Gravity Wine and Espresso Bar is a local favorite, as is Vegan Street tacos, which provide a quality range of all vegan tacos and some pretty great cocktails. For nature loves, you can check out the Inglewood Wildlands park and the Inglewood Bird Sanctuary, both located close to the river and complete with beautiful views and peaceful walks. 

KitsilanoKitsilano is a leafy suburban area to the southwest of the downtown core. Kitsilano, or kits to the locals, is located between Burrard street to the east, Alma to the west, West 16th to the south, and the waterfront to the north, which includes the well-known Kitsilano Beach.
Population: 45,827
Median income: $92,243*
Median age: 37.7
Average home price: $1,474,088**
Fun things to do:
Kitsilano is a residential area with a number of shops and bars along West 4th ave and West Broadway further south, plus the famous Kitsilano Beach, and a handful of great cafes, restaurants, book stores, and more. The area is known for its beaches, quiet neighbourhoods, parks, and beautiful ocean and mountain views. 

Marda Loop
Marda Loop, or 'The Loop', as it's known, is a desirable area of southwest Calgary known for its charming residential feel and wealth of amenities, plus its close proximity to other great neighbourhoods like Mission, downtown, and 17th Ave.
Population: 8,995*
Median income: $118,764 *
Median age: 37*
Median home price: According to RE/MAX Central Alberta, the current median price of a residential property in Marda Loop is $854,493.
Fun things to do: Marda Loop has over 170 shops, boutiques and restaurants of all different kinds. Considered a walkable shopping and dining district in the middle of Southwest Calgary, The Loop is an attractive and well-off area with beautiful scenery. Check out Visit Marda Loop for news on events. Marda Loop is also home to a fair amount of street art, and an annual Mardi Gras festival.

Kerrisdale
Kerrisdale is an expensive residential neighbourhood in West Vancouver, just south of Kitsilano, which features a mix of low-rises, old bungalows, and newly built housing. West 41st and 49th contain major transit interchanges for the area, with other bus services dotted around.
Population: 16,137*

Median income: $101,925*
Median age: 44.8*
Median home price: $3,223,444**
Fun things to do:
Kerrisdale has a distinct community feel that is unique from many parts of Vancouver, with a number of long time residents in the area and several community amenities. Kerrisdale isn't exactly on a par with the nightlife of downtown or parts of Kits, but it's got its charm. Bakeries, thrift shops, cafes, and other quaint neighborhood stores abound in this tree-lined suburb.

Is living in Calgary More Expensive Than in Vancouver?
By most metrics, Vancouver is a more expensive city to live in than Calgary, from cost of property ownership to everyday living costs. In mortgage payments alone, buying a home in Calgary will save you thousands over the lifetime of your loan. (To understand more about how your house price will affect your mortgage payments, check out our mortgage affordability calculator). In addition, Vancouver has a lower median income, and lower local buying power. Essentially, this means that in Vancouver you would typically earn less (depending on your field and experience), and that your money won't go as far. Depending on how much you earn, Alberta may be better tax-wise as well, but we'll expand on this below.
Comparing Alberta vs BC Income Tax
Depending on how much you earn, it may be more beneficial to live in Alberta, or BC, from an income tax perspective. Generally, it works out cheaper in most situations to live in Alberta, after factoring the different taxes levied on household income by the Canadian Government. However, according to CBC, the basic tax advantage for Albertans diminishes as income increases. At $25,000 a year, Albertans pay the least income tax in the country. At $50,000, Albertans pay more than BC and Ontario. At the $75,000 and $100,000 marks, Albertans will pay more than people in British Columbia.
Here's a breakdown of what you'd pay in income tax for the same amounts in Vancouver, British Columbia and Calgary, Alberta.
2021 Income Taxes (Individual)
| Income (CAD) | Alberta (Calgary) | BC (Vancouver) |
| --- | --- | --- |
| 10,000 | -984 | -958 |
| 20,000 | 278 | 378 |
| 30,000 | 4,375 | 4,195 |
| 40,000 | 7,769 | 7,300 |
| 50,000 | 10,838 | 10,109 |
| 60,000 | 14,368 | 13,441 |
| 80,000 | 20,533 | 19,150 |
| 100,000 | 26,725 | 25,361 |
| 175,000 | 55,522 | 56,529 |
| 600,000 | 256,231 | 280,602 |
Here are representative tax rates for the same income amounts in Alberta and BC.
2021 Average Tax Rates for a Single Person
| Employment Income | AB | BC |
| --- | --- | --- |
| 10,000 | -9.90% | -9.60% |
| 20,000 | 1.40% | 1.90% |
| 30,000 | 14.60% | 14.00% |
| 40,000 | 19.50% | 18.30% |
| 50,000 | 21.80% | 20.30% |
| 60,000 | 24.10% | 22.50% |
| 80,000 | 25.80% | 24.00% |
| 100,000 | 26.80% | 25.40% |
| 175,000 | 31.80% | 32.40% |
| 600,000 | 42.70% | 46.80% |
Weather in Calgary vs Vancouver
On average, Vancouver has a significantly higher temperature, with the exception of peak summer months, which are often slightly warmer in Calgary. On average, Calgary receives more snowfall each year and far colder peak winter temperatures, however, these are offset somewhat by Chinook winds, which are warm, dry winds, flowing from the Canadian Rockies, periodically warming Calgary throughout winter. Vancouver is famous for its rain, receiving far higher average yearly rainfall than Calgary, and earning the city a host of nicknames, from Storm City to Raincouver. Vancouver winters are marked by 'wet' cold, as opposed to the dry, crisp cold of Calgary. Calgary is a generally sunny city year-round, though snowstorms are not infrequent.
Calgary Weather
| Month | High/Low (°C) | Rain |
| --- | --- | --- |
| January | -3° / -14° | 4 days |
| February | -1° / -11° | 3 days |
| March | 4° / -7° | 4 days |
| April | 11° / -2° | 5 days |
| May | 16° / 4° | 7 days |
| June | 20° / 8° | 8 days |
| July | 23° / 10° | 8 days |
| August | 22° / 9° | 6 days |
| September | 16° / 4° | 6 days |
| October | 12° / 0° | 3 days |
| November | 3° / -8° | 3 days |
| December | -2° / -12° | 3 days |
Data: NOAA
Vancouver Weather
| Month | High/Low (°C) | Rain |
| --- | --- | --- |
| January | 3° / 7° | 12 days |
| February | 3° / 8° | 12 days |
| March | 4° / 10° | 10 days |
| April | 6° / 13° | 8 days |
| May | 10° / 12° | 6 days |
| June | 12° / 20° | 6 days |
| July | 14° / 22° | 4 days |
| August | 14° / 22° | 4 days |
| September | 12° / 19° | 5 days |
| October | 8° / 14° | 9 days |
| November | 5° / 9° | 13 days |
| December | 3° / 7° | 12 days |
Data: NOAA
Top 5 Things to Do in Calgary
Calgary has something for everyone. Pretty much the only thing you're missing in Calgary compared to Vancouver is the rain and the ocean, but you still have the Rockies on your doorstep, and everything a major city needs. Calgary is one of Canada's most unique cities, and has been growing consistently in property value for the last few years. Here are some of Calgary's best attractions and events if you're thinking about checking it out.
The Calgary Stampede
Calgary Stampede is the city's most legendary event. For two weeks every summer the city turns into one giant festival, centered around the iconic Stampede Rodeo and Evening Show, fireworks, booming nightlife and the sights and rides of Stampede Park. In 2022, Stampede brought in 1.2 million people in attendance, which is basically the population of the city of Calgary itself. If you're moving to Calgary, Stampede is an absolute must see.
Check out a Flames game
Even if you're not a huge hockey fan, or even a sports fan for that matter, there's little that galvanizes the whole city quite like the Calgary Flames on a hot run. Tickets are reasonably priced compared to some other Canadian teams, and you're guaranteed to have a good time. What's more, part of Flames' fans' tradition is to check out the Red Mile – the fans' route of choice along 17th Ave before (and after) games. Which brings us on to the next best thing to do in Calgary:
Walk around the Glenmore Reservoir
The Glenmore Reservoir is a stunning reservoir and parks area that provides much of the city with clean drinking water. Calgarians love this spot to unwind, take their dogs for walks, and enjoy the scenery throughout the seasons.
Bar hop on 17th ave 
17th Avenue Southwest, or just 17th to locals, has a plethora of the very best cocktail bars and restaurants you could hope for in a small area. From Cleaver, to Lulu bar, Calcutta Cricket Club, Blanco, Porch – the list goes on and on. With some of the best cocktails, food, and nightlife in Calgary, 17th is best explored on a Friday or Saturday with some friends. Just be ready for motorbikes and cars revving their engines down the strip throughout the night. (Protip: if you're more of a morning type, check out Analog Coffee on 17th, it is quite literally the best coffee shop in the city).
See a show at the Studio Bell / The National Music Centre 
Studio Bell's program includes everything from cinematic soundtracks to music therapy, jazz trios, film screenings, and full-orchestral ensemble events. It has a number of fantastic permanent, feature, and online exhibitions, plus rotating artists-in-residence and even opportunities to rent your own studio and event spaces. General admission at Studio Bell is currently a pay-what-you-can rate, with a recommended admission of $15 per person.
Top 5 Things to Do in Vancouver
Visit the Vancouver Art Gallery
Vancouver Art Gallery (VAG) is a world-renowned gallery in the heart of downtown Vancouver, Situated in the old provincial courthouse, and one of the city's most unique buildings, the VAG is home to internationally-acclaimed permanent collections and seasonal exhibitions, from the photography of Walker Evans to the Group of Seven, as well as a number of indigenous and international artists. Visit the gallery on Tuesday for free admission!
Visit Kits or Jericho Beach
Vancouver is home to a number of beautiful beaches, right outside of the downtown core. Of the city's many beaches, Kitsilano (Kits) and Jericho Beach, and Spanish Banks, are some of the local favorites. From basketball and beach volleyball at Kits Beach to a local favorite pastime – watching the sunset, plus dog walking at Spanish Banks, Vancouver's beaches are a must see for urbanites and nature-lovers alike.
Visit Capilano Suspension Bridge
Speaking of nature-lovers, Capilano Suspension Bridge Park is a popular attraction for most of the year for both visitors and locals. Located across the Capilano river in North Vancouver, the suspension bridge covers 140m in length and sits at a height of 70 metres above the river. Capilano Suspension Bridge Ticket Rates vary, from around 24.95 for kids to 62.95 for adults for day visits, or yearly passes for the same rate as a day visit for BC residents.
Ski at Grouse Mountain
Grouse Mountain, which touts itself as 'The Peak of Vancouver' provides some of the most stunning views of the entire city and lower mainland. Located just 20 minutes away from downtown if the traffic is good, Grouse Mountain allows Vancouverites to literally go to the beach and go skiing on the same day, depending on the time of year. Ski passes at Grouse are fairly reasonable, and you can even go skiing on Christmas Day if you want!
Head out in Yaletown
Yaletown, sometimes colloquially called YTown, is the heart of Vancouver's nightlife, as well as areas like Main Street, Gastown, Granville Street, and parts of Kits. With some of the best cocktail bars and restaurants in the city, Yaletown brings in the crowds every weekend, and often on weeknights too. Expect traffic to be busy around the area once the sun starts to set. Generally, there are bars for every price point in Yaletown, from casual drinks at Yaletown Distillery to fancier fare at places like Bartholomew (just expect to wait a while for the latter). 
FAQ
Here are some of the most frequently asked questions about living in Calgary versus Vancouver right now.
Is it cheaper to live in Calgary or Vancouver?
Generally speaking, it's far less expensive to live in Calgary than Vancouver. Although Calgary rental prices have increased overall since the beginning of the pandemic, rent is still significantly lower than in Vancouver and you're likely to get much more square footage for your money. Buying a property in Calgary costs less than half, on average, what it would in Vancouver. Groceries, restaurants, and overall cost of living is higher in Vancouver than Calgary, too. 
Is Calgary colder than Vancouver?
Yes. Calgary, year-round, is colder than Vancouver. However, Calgary is known for a crisp, dry cold, whereas Vancouver's proximity to the ocean makes it much wetter, and winter months often see biting 'wet' cold, so it can still feel particularly cold in the city during the winter months. With that being said, Calgary gets a significant amount more snow, and average temperatures in nearly every month are lower in Calgary than Vancouver.
Which is a bigger city, Vancouver or Calgary?
Technically speaking, Calgary is the larger city of the two, based on the space the city occupies and by population, however, Greater Vancouver is the larger city by population overall. Calgary covers a landmass of 825 km². By comparison, Vancouver is spread out over just 114.97 km², and is one of the most population-dense cities in North America. Calgary's population is about 1.3 million, whereas Vancouver's is roughly half of that. However, the Greater Vancouver Area has 2,606,000 people, roughly double Calgary's. 
Final Thoughts
If you're looking to move to Calgary or Vancouver, it's worth comparing your living costs, property costs, and then considering what you need out of your city. Overall, Calgary and Vancouver are pretty similar in their amenities, proximity to large natural spaces, transit systems, and city infrastructure. However, Vancouver has a much higher cost of living and a much more expensive property market. If you're looking to buy a home in either of these great cities, the best thing to do is compare the best mortgage rates and see how much you can afford. If you've already found a place you like, get in touch with one of our trained mortgage professionals today and we'll help you get started.
---
Ready to get started?
In just a few clicks you can see our current rates. Then apply for your mortgage online in minutes!
in this series Where is Better to Live?
Lock in your mortgage rate for 150 days
Lock in your rate today