Top 6 Real Estate Scams to Watch Out For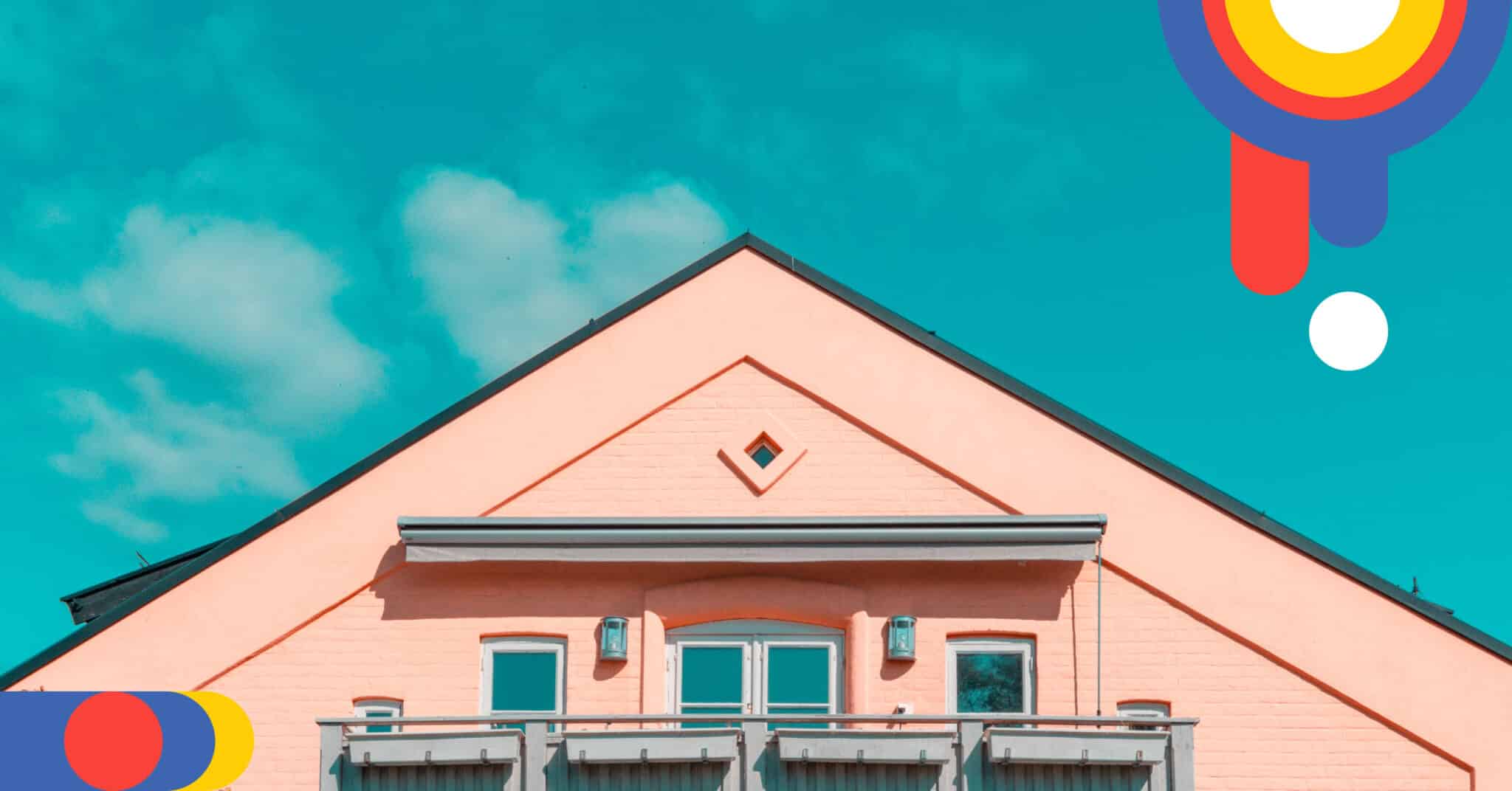 Real estate scams are fraudulent attacks targeting individuals looking to buy or sell a property. They are often committed by fraudsters who take advantage of unsuspecting victims, leaving them out of pocket and without property. The impact of real estate fraud can be devastating, both financially and emotionally. In this article, we will discuss the top six real estate scams to watch out for.
---
Key Highlights
Searching for the right property can be a stressful exercise so it's important to learn about the possible real estate scam to be able to avoid them.
Be vigilant at all times as scammers are very quick to adapt to a changing market. Never feel pressured to take a certain action when house hunting.
Once aware of the possible scams, it'll be easier for you to spot them and avoid them. Taking the time to investigate and using your common sense are often your best guide in these situations.
---
Are you a first-time buyer?
What Is A Real Estate Scam?
A real estate scam is when someone tries to take advantage of buyers, sellers, renters or even landlords by misrepresenting themselves as a legitimate party in the negotiation. Scammers will promise quick or easy deals, or they may try to get you to sign documents that don't accurately represent the true terms of the transaction.
How to Identify a Real Estate Scam
It's important to be aware of these housing scams and to learn about the different scams used by fraudsters in Canada. 
Let's look at some of the red flags in a real estate negotiation you should be on the lookout for. 
Look for a Lack of Proper Documentation
The first red flag indicating a possible real estate scam is the lack of proper documentation. Before buying a house or a flat, make sure to ask for proof of ownership of the property you're interested in. The other documentation to ask if the seller isn't the owner is the official documentation authorizing them to sell the property. Pay particular attention to all the documentation provided.
Beware of Notices to "Act Now"
Fraudsters will want to act fast and ask you to sign the papers "today". They may even ask for a bank transfer before visiting the property. If at any time during a real estate negotiation, you feel pressured to do anything, then take that as a warning that something isn't right. 
They may argue that there's a lot of demand for the property and that you'll lose your opportunity if you don't act fast. It may be the case so have some safety measures in place to deal with it. Always try to meet the sellers or landlords in person. Have you been able to either do an online live visit or an in-person tour of the property? Have you visited the offices of the real estate agent or broker? 
Look out for Unrealistic Guarantees & Offers
As the old adage goes, "if it sounds too good to be true, it probably is". If the seller or lender is making unrealistic promises, then this is a red flag that something isn't right. Below-market prices are also red flags, so make sure to do your research beforehand and know the market value of the properties you're interested in.
Never Wire Money Right Away
One of the biggest real estate frauds is asking buyers or future tenants to wire money right away as part of a deposit for a property. Scammers will find a wide range of "reasonable" excuses for this but don't fall for it. Make sure to know and understand the process you're embarking on. You should always sign a contract or lease before making any wire payments.
Double Check Email Addresses & Company Information
Another way to detect real estate fraud is to double-check the email addresses and any company information appearing on the documents you've been asked to sign. If you notice any inconsistencies or slight differences between the documents and what you can find online, then proceed with caution. Contact the seller or broker and ask them to clarify the information, it may be more than an oversight.
6 Common Real Estate Scams in Canada
It's important to be aware of common types of real estate frauds in Canada so you can protect yourself and your property. Here are 6 of the common real estate frauds in Canada to help you avoid being scammed: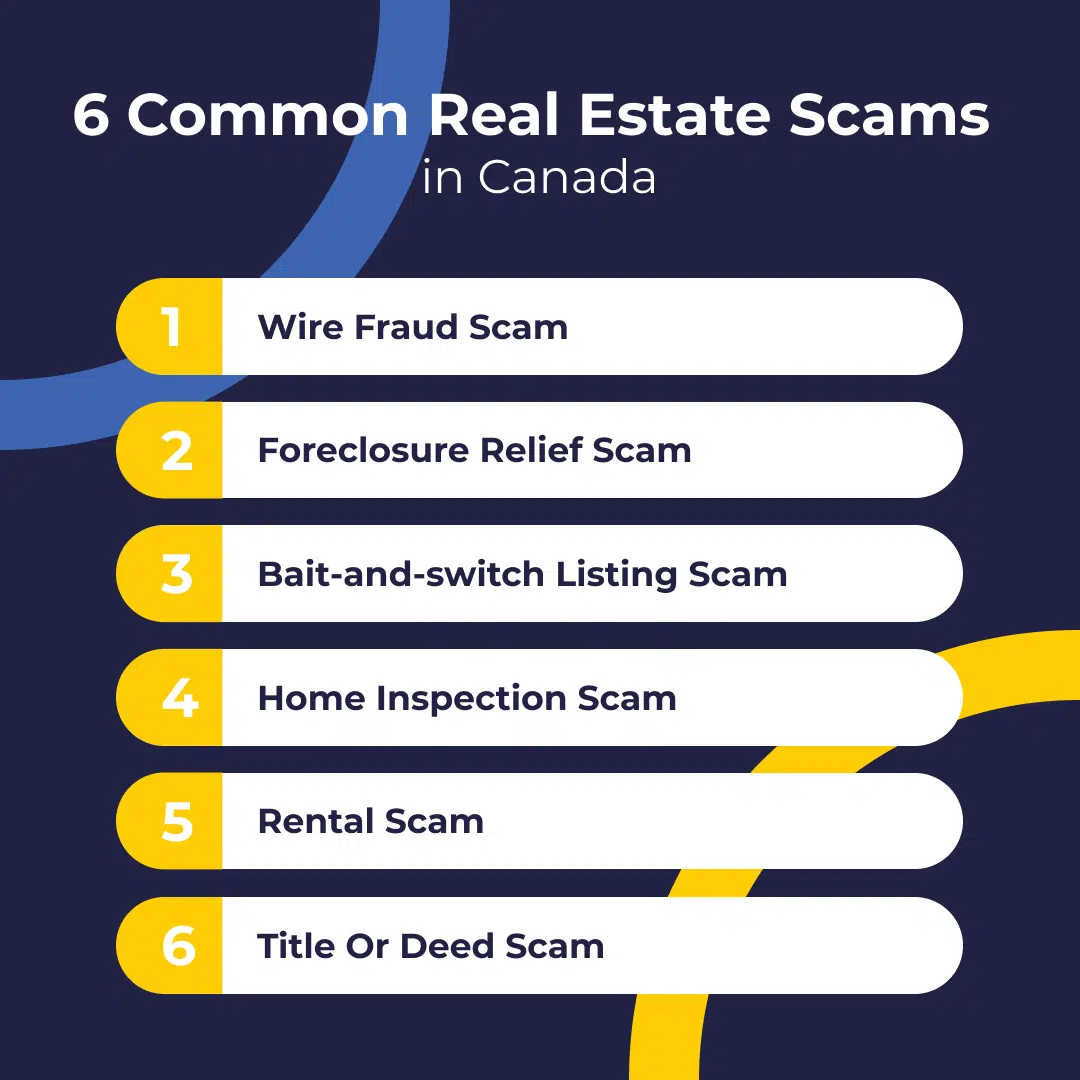 1. Wire Fraud Scam
There are various wire fraud scam scenarios. One of the most common ones is when criminals pretend to be your real estate agent or the seller and ask you to make a wire payment to a foreign bank account for the purchase of the house. 
2. Foreclosure Relief Scam
A foreclosure relief scam is a fraudulent scheme in which an organization claims to be able to assist you as you're facing foreclosure by providing a loan modification or other forms of help, but ultimately they take your money without providing any real assistance.
3. Bait-and-switch Listing Scam
This scam involves criminals advertising a property for sale or rent at an attractive price, then switching it out for a different property of a much lower quality or much higher price.
4. Home Inspection Scam
It happens when unqualified professionals who will pass as certified house inspectors hide any potential issues with the property.  
5. Rental Scam
This scam involves criminals sending emails or online messages that appear to come from a legitimate rental company. They ask for deposit money for properties that don't actually exist.
6. Title Or Deed Scam
A title or deed scam is a type of property fraud in which a scammer falsely claims to own a property and sells it to an unsuspecting buyer. The scammer may create fake documents, such as a fake deed or title, to make it appear as though they have the legal right to sell the property. 
Find a better rate, and we'll match it, beat it, or give you $500*.
*Conditions Apply
With nesto, it's stress-free
How to Report a Real Estate Scam in Canada
If you suspect you might have been a victim of a real estate scam or if you have any suspicions about a transaction, then report it to the appropriate authorities:
Report a real estate scam in Canada by contacting the Canadian Anti-Fraud Centre via their website at www.antifraudcentre-centreantifraude.ca. 
You can also contact your local police department and the Canadian Real Estate Association (CREA) for assistance.
It's important to provide information, such as the name and contact information of the person or company involved, any documents or evidence you have, and the details of the scam.
FAQ
What is a real estate scam?
A real estate scam is when someone tries to take advantage of buyers, sellers, renters or even landlords by misrepresenting themselves as a legitimate party in the negotiation. Scammers will promise quick or easy deals, or they may try to get you to sign documents that don't accurately represent the true terms of the transaction.
What are some common real estate scams?
Wire fraud scams, foreclosure relief scams, and lising scams are some of the more common real estate scams in Canada.
Final Thoughts
In conclusion, it's important to be aware of the various real estate scams that exist on the Canadian market in order to protect yourself from falling victim to one. By staying vigilant and being aware of these scams, you can better protect yourself from becoming a victim of real estate fraud. 
---
Ready to get started?
In just a few clicks, you can see our current rates. Then apply for your mortgage online in minutes!
Today's Best Mortgage Rates as of December 5, 2023