How Much Does it Cost to Buy a Home in Toronto?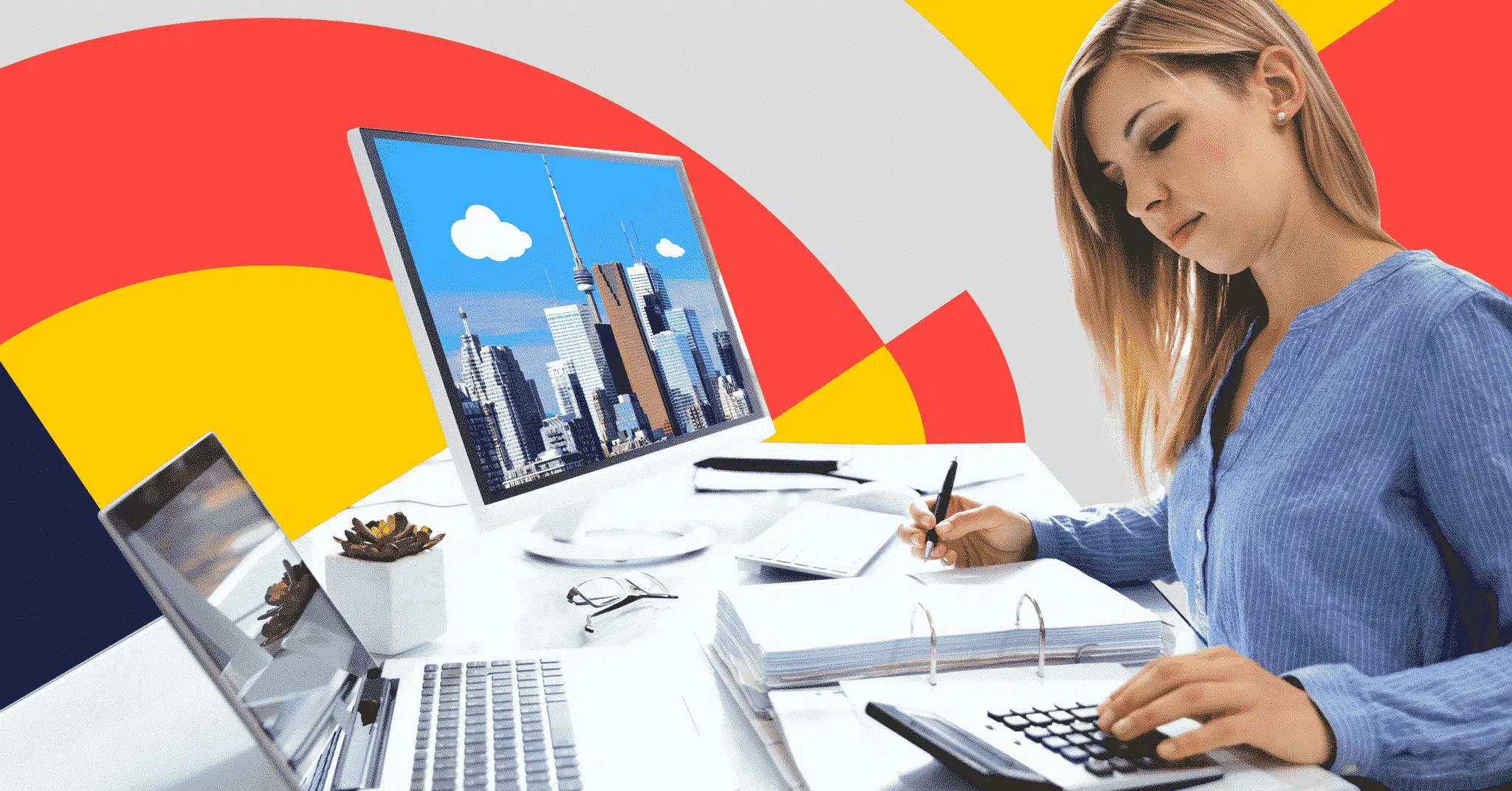 Despite a global pandemic and a year of social distancing, the most populous area in Canada is still one of the most expensive, with Toronto real estate prices second only to Vancouver. Last month, the average buyer paid $1,062,000 to call Toronto home, 12% more than 12 months ago. That figure includes condos, so a typical three-bedroom, two-bathroom family home (whether a townhome, semi-detached, or detached) will probably cost more. Then there are closing costs, taxes, and ongoing annual expenses to consider. So, how much does it cost to buy a home in Toronto? Let's take a closer look. 
Are you a first-time buyer?
Many (but not all) homes are seven figures because prices vary by property type and location. Here's a breakdown: 
| | | |
| --- | --- | --- |
|  Home Type | 416 / City of Toronto | 905 / GTA |
| Detached | $1,634,000 | $1,346,000 |
| Semi-detached | $1,206,000 | $944,000 |
| Townhouse | $893,000 | $838,000 |
Before the pandemic, you could get a detached home in the GTA for under $1 million, but that extra space now costs 27% more. However, for a semi in the City, you'll only pay 2% more than in 2020.
Red hot rates impacting your housing market experience?
With nesto, you can get a low rate with a 150-day hold.
How Much Money Do You Need to Buy a Home in Toronto?
You don't need a million-dollar bank account to buy a million-dollar home (that's what a mortgage is for), but you do need a six-figure income and significant savings to cover the down payment, taxes, and closing costs. 
Downpayment
Homes over $1 million require a 20% down payment, so you need at least $212,400 to buy the average $1,062,000 home in Toronto. Keep in mind that 20% is just the government-mandated minimum, with some lenders wanting more down payment for homes at a higher price point. 
For homes under $1 million, you don't need nearly as much: 5% of the first $500,000, and 10% of the amount over $500,000. For an average $838,000 townhouse – the most affordable family home in the GTA – that works out to $58,800. However, mortgages with less than 20% down payment must be default-insured, which in this case, is an additional $31,000. The good news is you can borrow that cost with the mortgage (except for 8% PST).
Land Transfer Tax
After the down payment, land transfer tax is another considerable cost of buying a home in Toronto because you must pay both the province and the municipality. Land transfer tax is tiered based on the purchase price, so it might be $35,400 for the average home, but that can almost double to $58,300 for a detached house. Some homes are part of the GTA but technically outside the City of Toronto (typically, homes with non-M postal codes), and in that case, only provincial land transfer tax applies. First-time homebuyers also get a break, at an average rebate of $4,000 per tax paid. 
Closing Costs
 Closing costs to buying a home in Toronto are similar to the rest of Canada. A $500 home inspection is not mandatory but may pay for itself, especially if an older home needs expensive upgrades. Some lenders require an on-site appraisal, also around $500, but will cost more in a heated market and for larger homes. Buyers typically do not pay realtors or mortgage professionals but can expect to pay a real estate lawyer $2,000, including title insurance. (See: Closing Costs: What are They and How Much Will You Pay?)
Mortgage Payments 
Mortgage payments vary depending on the interest rate, amount borrowed, and length of time to pay back the loan. Here's what a 2% mortgage payment would be on various homes in Toronto, assuming the minimum amount of down payment, and maximum allowable amortization:
| | | |
| --- | --- | --- |
|   | 416 / City of Toronto | 905 / GTA |
| Detached | $1,634,000 purchase price$1,307,200 max mortgage$4,826/month payment | $1,346,000 purchase price$1,076,800 max mortgage$3,976/month payment |
| Semi-detached | $1,206,000 purchase price$964,800 max mortgage$3,562/month payment | $944,000 purchase price$909,584 max mortgage$3,852/month payment |
| Townhouse | $893,000 purchase price$861,848 max mortgage$3,650/month payment | $838,000 purchase price$810,368 max mortgage$3,432/month payment |
It's typically possible to qualify for 5x your salary, so a family would need a household income of about $170,000 to buy a home in Toronto. That's assuming an 80% mortgage on the average $1,062,000 home. Those without a six-figure income may buy with a co-signer or a larger down payment. It's common for close family members to help with this.
Other Costs of Owning a Home
Owning a home in Toronto also comes with ongoing costs. The city controls some of these (like property taxes), and others may be within your purview (like home maintenance). Here are some essential expenses to be aware of:
Property Taxes
Toronto has some of the lowest property tax rates in Ontario, ranging from 0.6-0.7% of property assessment value depending on location in the GTA. While home prices are high, properties are typically assessed for less than fair market value, so taxes are lower than you might think. For example, the City of Toronto estimates $4,270/year for a $699,000 home, but a quick search on Realtor.ca shows that's closer to the average bill for a home valued at twice the price. 
Home Insurance
Mortgage lenders require home insurance to cover the replacement cost of a potential fire. This typically costs about $100/month, although older homes can cost more to insure, for example, if there's knob & tube wiring or asbestos. Your bill may also be higher if you own expensive art, jewelry, or electronics, or lower if your provider bundles home & auto insurance.
Energy & Recycling
Toronto gas and electricity bills vary based on energy usage. The bill for an air-conditioned home with a heated pool, gas BBQ, and fireplace may $300/month, while for other homes it may be closer to $150/month. Bills are typically lower in the spring and autumn months when heating and cooling are less needed. Toronto Hydro offers homeowners a choice of either time-of-use or tiered billing, so it is possible to pay less for electricity during off-peak hours.
Water and waste management services are typically billed quarterly, with an average combined household cost of $100/month. Each bag of garbage over the prescribed limit requires a $6 tag.
Repairs & Maintenance
Most experts recommend a budget of 1% for preventative home maintenance and necessary repairs, which is $10,600/year for the average Toronto home. If that seems excessive, remember that a new kitchen appliance, furnace, or roof can cost thousands, if not tens of thousands of dollars, to replace, and prices are higher than usual because of the pandemic. Homeowners should set aside a reasonable sum for maintenance and repairs, and a home equity line of credit can also help cover unexpected costs.
Gardening & Snow Removal
Some homeowners may view gardening and snow shoveling as a great way to get some outdoor exercise. For those who don't, basic lawn maintenance and snow removal are available for $100-$200/month. Toronto homes tend to have smaller lawns, and some have no driveway, which lowers the cost. This winter, a new bylaw will fine homeowners $135 who forget to clear snow and ice within 12 hours of a snowfall.
Final Thoughts
The average home in Toronto costs a cool $1 million and requires a six-figure income to maintain. For many families, this is out of reach. For those who can afford it, it is critical to consider all costs of homeownership for buying a home in the city.
---
Ready to get started?
In just a few clicks, you can see our current rates. Then apply for your mortgage online in minutes!
Today's Best Mortgage Rates as of September 28, 2023