Compare TD Bank Mortgage Rates in Canada
Rate Alerts
Get rate alerts so you're always in the know
Compare TD Bank Mortgage Rates in Canada
Regardless of where you are in Canada, nesto can tell you what your best mortgage rates are today. We instantly show you the lowest rates for every mortgage option – ranging from five-year fixed-rate mortgages to five-year variable-rate mortgages and everything in between available through Canada's big banks and a variety of other lenders. More choice means you always get the very best mortgage to meet your needs.
Key Highlights
Regardless of where you are in Canada, nesto can tell you what your best mortgage rates are today
When comparing rates, be sure to measure mortgage products based on both the term length (3 years, 5 years, etc) and type (fixed or variable)
TD Bank mortgage rates are competitive among other big banks and lenders. Your personal financial situation will often determine whether you qualify for the lowest rates
Compare TD Bank mortgage rates
The top five big bank rates are all available in the easy-to-view table below. This enables you to quickly compare nesto rates against TD Bank, RBC, CIBC, HSBC and Scotia Bank. We do all the work to ensure you always get the best rate upfront!
Top 5 Big
Bank Rates
The top 5 big bank rates all in one easy-to-view table. See their rates then beat their rates (or get $500) with nesto's low rate guarantee.
How to compare bank rates from big banks
Shopping rates on your own can be a cumbersome task. nesto has simplified the entire process by providing all the information you need in one place. When comparing rates, be sure to measure mortgage products based on term length and type. For instance, if you're looking at a fixed-rate mortgage, compare banks' five-year offerings, then three-year offerings, etc, as opposed to looking at just the rate without the term length being offered.
If you've found a rate from a lender other than nesto, we guarantee that we'll match or beat it, or you could get $500. Learn more about nesto's low rate guarantee.
TD Bank Overview & Stock Information
TD Bank is recognized as one of Canada's big six banks based on assets and market capitalization. In addition to operating across Canada, TD also has locations in the East Coast of the United States and a worldwide presence.
Stock information
TD Bank 5-Year Fixed and Variable Rate History
It's interesting to look at TD Bank historic rates to see how both five-year fixed and variable rates have changed over time.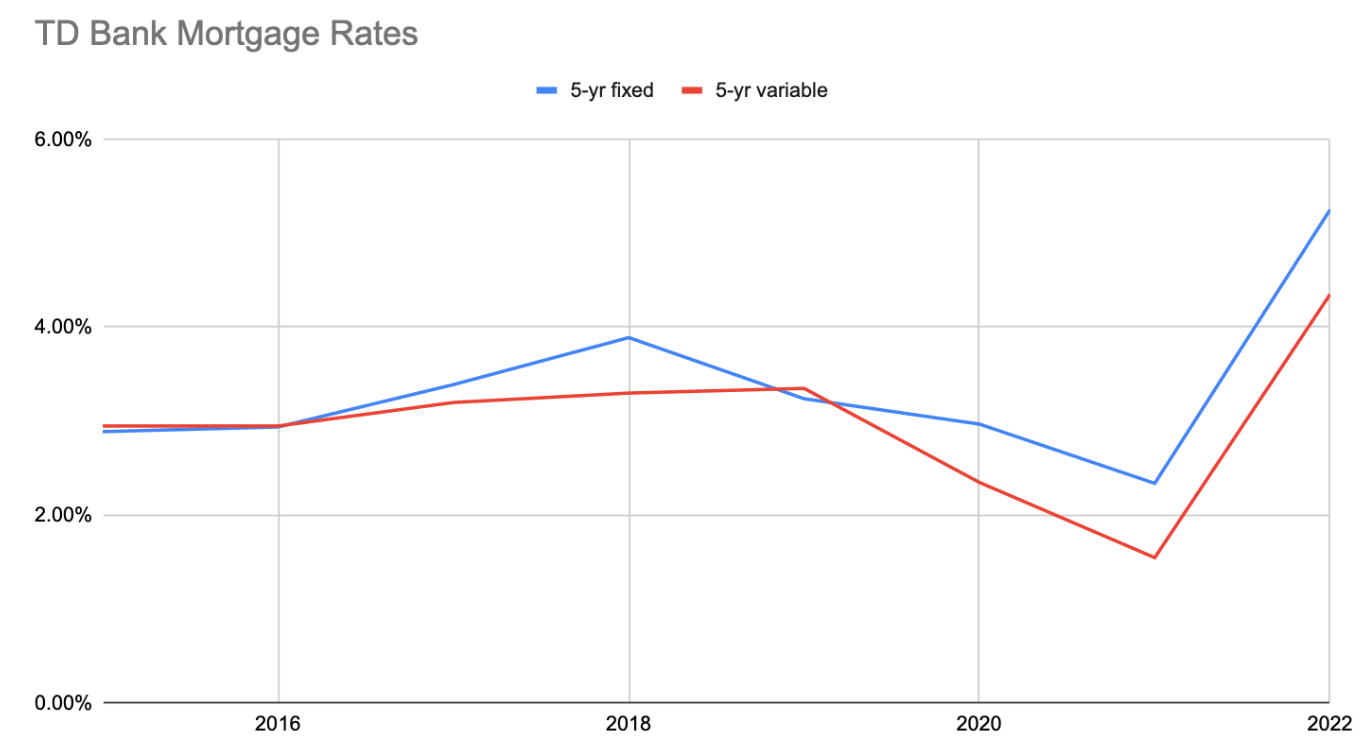 TD Bank Mortgage Products
TD offers a number of mortgage products in addition to the standard fixed- and variable-rate options:
Six-month convertible mortgage
A six-month mortgage with the option of converting to a longer closed term at any time, at no cost.
5% cashback mortgage
Available with TD's 6-year fixed-rate residential mortgage. You may be eligible to receive cash upfront totaling up to 5% of the mortgage principal amount
Green Mortgage
Makes you eligible for a 1% discount off the posted interest rate and up to a 1.5% cash rebate when you make ENERGY STAR-qualified purchases or purchase CSA-approved solar panels.
High Ratio Mortgage
Allows you to buy a home with a down payment as low as 5%.
Multi-unit residential mortgage
Available to borrowers considering a mortgage on a residential property with five or more units.
Agricultural mortgage
TD's dedicated Agriculture Services arm offers two products focused on agricultural borrowers. The Farm Mortgage is for those interested in a part-time or hobby farm. For commercial operations, the Rural Property Mortgage is exclusively for countryside properties.
TD Bank Mortgage Payment Increases
In mortgage terms, prepayment describes when a borrower pays off some or all of their mortgage early, with a lump sum payment, or by increasing their monthly payments. Each major bank has different amounts you can pay off each year on your mortgage. Some mortgages come with more attractive prepayment options, so it's worth looking into if you want the flexibility of being able to pay back your mortgage early.
TD enables you to make one extra mortgage payment for one month every year in addition to your normal monthly payment, without a penalty. This payment will go directly to paying down your mortgage principal to help you pay off your mortgage quicker.
TD Bank Annual Mortgage Prepayment
This annual prepayment privilege enables you to prepay up to 15% of your original mortgage principal on a closed mortgage in one lump sum payment every year. This will help reduce your interest payments and pay down your mortgage much faster, as all of the lumpsum amount will go towards the mortgage principal balance.
Important: if you choose to pay down more than 15% of your mortgage principal annually, you'll be charged a penalty
Canadian Bank Closed Mortgage Prepayment Amounts
RBC
10%
TD Bank
15%
Scotiabank
15%
BMO
20%
CIBC
20%
National Bank
10%

Renewal Process with Big Banks
The renewal process often brings up questions like whether or not you have to renew your mortgage with your current bank. The answer is no, you do have the choice to renew at the end of your term with any bank or mortgage provider. If you're looking to renew your current TD Bank mortgage with another lender, it's worth shopping around for better rates and terms that suit your situation before you renew with the same lender.
At nesto, we help you find the best rates available on your mortgage, and we also lend directly. Our simple renewal process guide explains in more detail how to renew your mortgage with a new lender. To get started and renew your mortgage with nesto, start by finding the best rate available near you, at least a couple months before your current term is due to expire. Once you've found a solution you're interested in, simply get in touch and a mortgage advisor will help you through the process. Renewing with nesto is a simple, hassle-free process that could save you thousands over the lifetime of your mortgage compared to the Big Banks.
Frequently Asked Questions
Here are some of the commonly asked questions about BMO's mortgage offerings and rates recently.
Are TD Bank rates lower than other big banks?
TD Bank mortgage rates are competitive among other big banks and lenders, but they aren't consistently lower or higher. Your personal financial situation will often determine whether you qualify for the lowest rates. If, for instance, your credit score is low or you're carrying a higher debt load, you're not likely to qualify for the best rates. And in order to get the best mortgage rate, as well as the mortgage features your desire, it's important to compare mortgages from multiple providers, which is exactly what nesto does on your behalf.
What are the benefits of choosing a smaller lender?
There are often a number of benefits to getting your mortgage through a smaller lender. For one, the banks have very strict policies when it comes to who fits into their mortgage products, whereby smaller lenders are more likely to listen to your story before determining if you qualify for a mortgage. As well, smaller lenders often only specialize in mortgages, so they won't be trying to cross-sell you on other products. This makes them more focused on ensuring you always have the best mortgage experience possible.
How do I get a mortgage with TD Bank?
You can get a TD Bank mortgage by going straight to the bank, through a mortgage broker or with your nesto mortgage advisor. The benefits to not going directly to the bank are that a nesto advisor or mortgage broker will compare multiple lender products and rates to get you the best deal. TD Bank may not always have the best mortgage rate for you.
Final Thoughts
While TD Bank is an excellent choice for many mortgage borrowers, it's always important to compare your options every time you're in the market for a new mortgage, renewal or refinance. Your nesto advisor will ensure you get the very best rate every time.
Lock in your mortgage rate for 150 days*
*Conditions apply