Is it Better to Buy or Rent a Home in Toronto?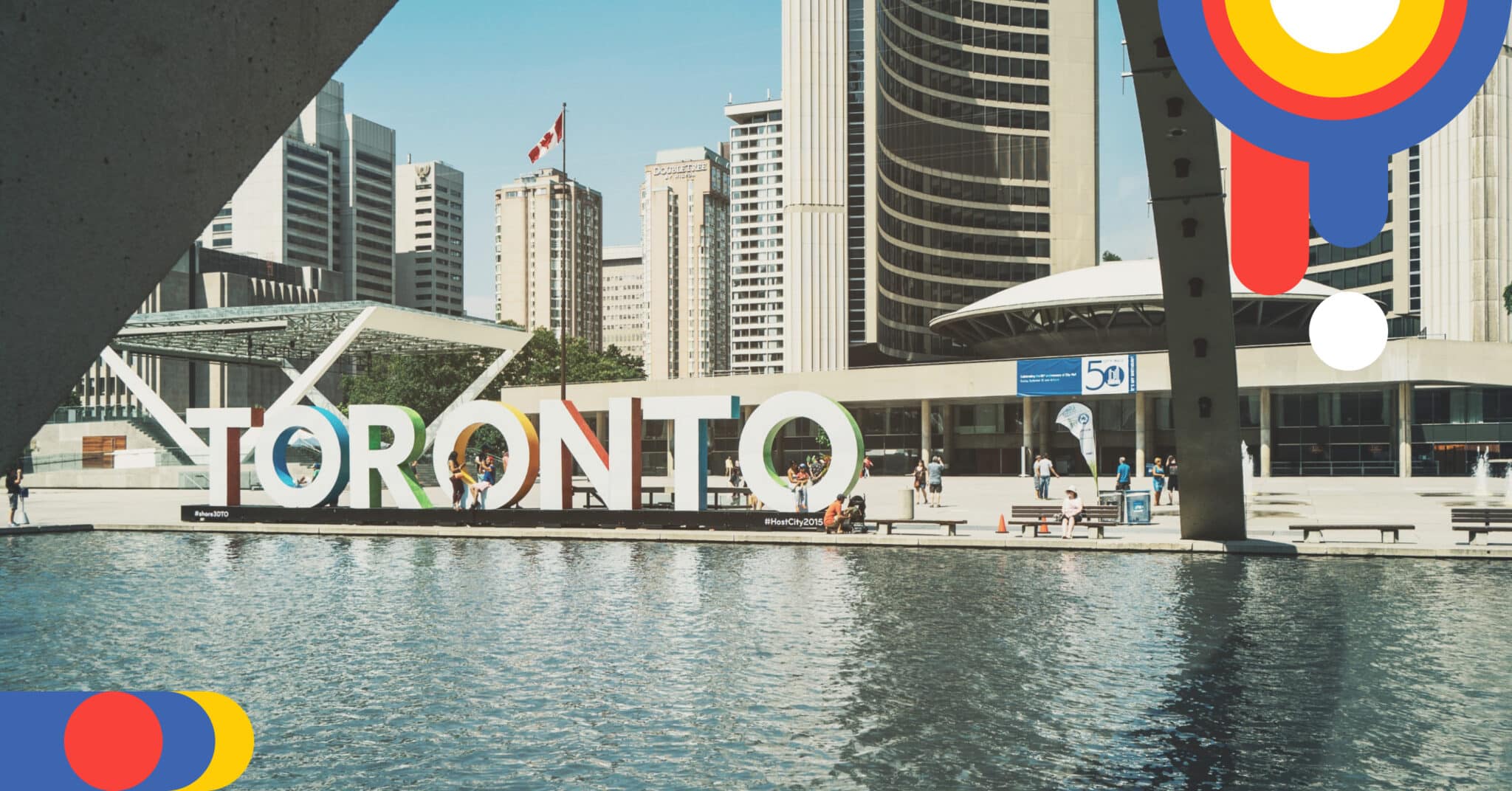 ---
Key Highlights
The benefits of renting versus buying will differ based on your situation and personal goals. 
Don't just compare monthly rent payments to mortgage payments, use the 5% rule to get a more accurate financial picture.
When taking home equity into consideration, the money you may save by renting is far less than the amount the value of your home increases. 
---
Are you a first-time buyer?
Pros & Cons of Renting a Home
Pros of renting
Flexibility: If you don't plan on staying in the same place for very long, renting gives you way more flexibility to move whenever you want, since lease contracts are short-term commitments, usually no more than a year. 
Maintenance: When you're renting, your landlord or property manager are responsible for the maintenance of the home. Not only will this save you time and money, if the home suffers significant damage, you are not at any kind of loss or financial risk. 
Saving money: There's a reason renting is the more affordable option for households with lower incomes. In the short term, renting is cheaper than owning a home and making mortgage payments. Even if you can afford to buy, a home is not an investment everybody wants to make and renting can allow you to invest more of your money differently.
Cons of renting
Lack of stability: When you're renting, at the end of the day, you are at the mercy of the person you are renting from, whether that be a landlord or a property manager. Besides needing permission to make any alteration to your space, you have much less control 
Cheaper (for a limited time): Renting seems cheaper at first, but in the long run, it is no secret that renting brings you 0 returns. If you take into account the investment opportunity and capital gains associated with buying a home, long-term renting is not the cheapest option. 
No long-term gains: Unless your rent is exceptionally cheap in comparison to getting a mortgage, there aren't really any investment opportunities or capital gains to be made in renting. 
Buying could be the best option for you–
 Download our full report below to find out!
Pros & Cons of Owning a Home
Pros of owning a home
Ownership: This one might seem obvious, but the fact that you actually own your home will provide you with much more stability and freedom than renting. Moreover, mortgage payments are a predictable monthly expense even during times of inflation, which  is not guaranteed with renting where rent prices change every year or between tenants. 
Building equity: As you make monthly mortgage payments, you will be building equity in your home and a part of your payment will go towards the principal. At first, it might be discouraging to see your payments mostly go towards the interest on your loan, but that will decrease over time. 
Investment: Buying a home is an investment for your future, much like a retirement fund. Once you pay it off, your home becomes an asset. Think of it as a long-term investment that you get to live in!
Long-term gains: If you're home increases in value, you can see some capital gains by selling it for a higher price than you bought it for. Historically, the Canadian market has allowed for this to happen often. Additionally, depending on the specific laws in your province, you can even rent out parts of your home to help you cover monthly mortgage payments and maintenance costs. Another way to create capital gains from your home is to downsize for your retirement. Essentially, this means moving into a smaller (cheaper) space and selling your larger home or renting it out entirely. 
Cons of owning a home
Less flexibility: If you are not ready to settle down, buying a home might not be the ideal investment for you. Buying a home is a commitment and backing out of a mortgage or putting a home back on the market is not as easy as getting out of a lease agreement. 
Maintenance costs: Buying a home is always a smart investment, but it is one you have to dedicate a lot of time and money to after your purchase. Home maintenance ranges from small daily tasks to yearly repairs and upkeep, many of which come with a hefty price tag.
Mortgage payments: In line with the previous con, buying a home will make a dent in your wallet for years to come. Between maintenance costs and monthly mortgage payments, your home might be your primary investment for a while.  
Find a better rate, and we'll match it, beat it, or give you $500*.
*Conditions Apply
With nesto, it's stress-free
Rent vs Buy: Using the 5% Rule
When comparing the cost of renting to the cost of buying, people are quick to equate monthly rent payments to mortgage payments to justify that rent is a waste of money, but these payments do not have a one-to-one relationship. The 5% rule provides a more accurate comparison by including unrecoverable costs into the calculation. Unrecoverable costs are the money you spend that you cannot get back. For renting, unrecoverable costs are straightforward: it's the money you spend on rent every month to continue living in your home. For a home you own, these costs are: property taxes, maintenance costs, and costs of capital (mortgage interest + opportunity costs). These three usually add up to 5% of the value of your home that you are paying in unrecoverable costs. 
After that, the calculation is simple. Multiply the value of your home by 5% and then divide by 12 to find out the monthly unrecoverable costs. For renting, it's somewhat of a reverse calculation: multiply your monthly rent by 12 and then divide by 5% to find out the financial equivalent in terms of buying a home. Now let's apply this to a real Toronto listing!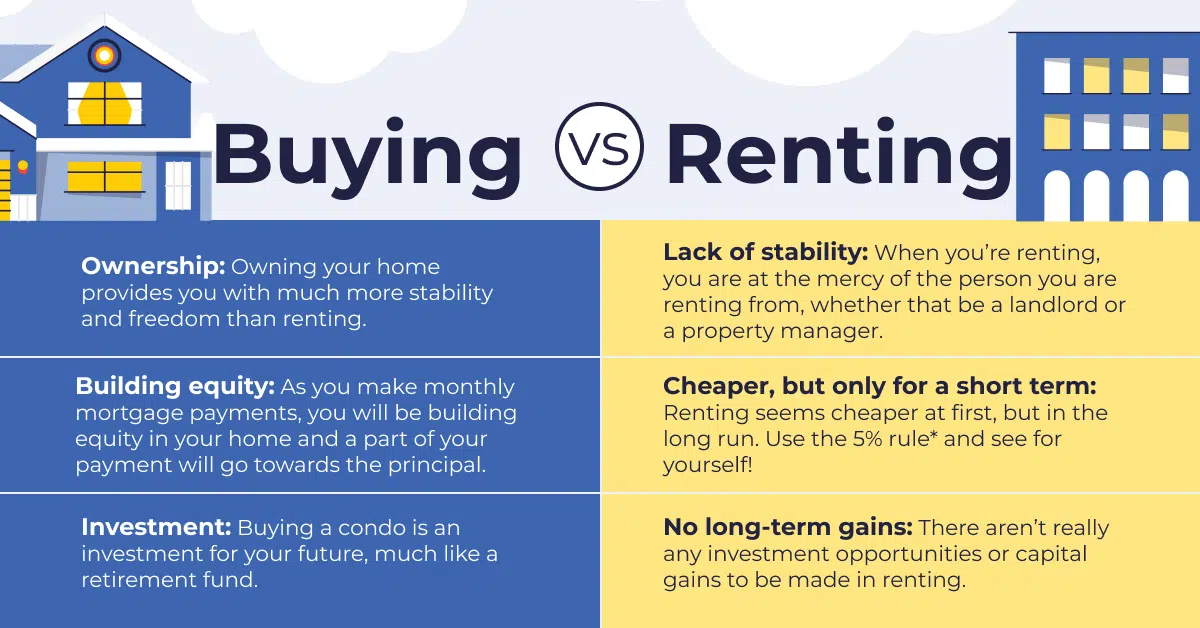 Rent vs Buy Calculator: Real Toronto Listing Example
Let's take a one bedroom apartment in Toronto listed for $750,000. By applying the 5% rule, we can determine that the monthly unrecoverable costs are $3,125. Simply put, if you are renting for less than that, renting is the cheaper option. 
According to the October 2022 National Rent Report, the average one bedroom rental apartment in Toronto goes for $2,474 a month. By applying the 5% rule, we can determine that renting for that price is the financial equivalent to buying a home for $593,760.
So, in this case, renting seems cheaper, right? Not exactly. 
There is a huge caveat to consider here: home equity. Your home appreciates in value and as you pay off your mortgage, you build equity. The historical average of growth in Toronto is at 6% (a conservative estimate considering the gains of the condo market over the last year). Basically, whatever money you end up saving by renting is minimal compared to the amount the value of your home increases over the year. 
Rent vs Buy: 5 Year Outlook for 2022 Onwards
As the COO of Royal LePage put it, when examining the real estate market, it is crucial to look at the long-term picture and not just a snapshot of the present state. With the ongoing rate hikes by the Bank of Canada, buyer hesitancy is at an all time high; the fact that people are reluctant to buy in this market makes sense, but don't let rate-anxiety stop you! The market is constantly changing, but will always remain active whether you are looking 5 years ahead or 10 years ahead, which means that property also remains a great investment (not to mention all the equity you're building by living there). Basically, when you consider the bigger picture and adopt a 5 year outlook, buying a home is the smarter move, even now. 
 Is it Better to Rent or Buy in Toronto in 2023?
Toronto real estate is the most expensive in the country and while renting might be the more affordable option for some, buying or planning to buy in Toronto is the smarter move. In the last quarter of 2022, we continue to see rate hikes by the Bank of Canada and while that does increase mortgage rates, we are also seeing home prices go down. The slower and less competitive market also allows for other advantages, such as allocating time for a home inspection and less bidding wars. Despite higher rates, potential buyers should still try to take advantage of these benefits in 2023. 
Moreover, the Greater Toronto Area is a vast region that encompasses many other smaller cities, satellite towns, and municipalities. If you are determined to buy, but can't afford anything in Toronto proper, expanding your search to parts outside of the main city will definitely offer a larger volume of affordable options.  
FAQ
Here are some frequently asked questions about renting vs buying in Toronto. 
Is buying a house in Toronto worth it?
If you can afford it, yes. Not only is buying property a good investment in general, Toronto is the largest metropolitan city in Canada, making property in the Greater Toronto Area an especially smart investment. 
Is 2023 a good year to buy a rental property?
Buying rental property is always a great way to establish passive income, especially in major cities. That being said, make sure that you are familiar with your local laws surrounding rental properties before making the decision.
Final Thoughts
Ultimately, whether buying or renting is better for you depends on your own situation and personal goals. When adopting a long term outlook of 5-10 years, buying a home instead of renting remains the more financially sound option as a guaranteed future investment. 
---
Ready to get started?
In just a few clicks, you can see our current rates. Then apply for your mortgage online in minutes!
Today's Best Mortgage Rates as of December 5, 2023