What You Need To Know About A Reverse Mortgage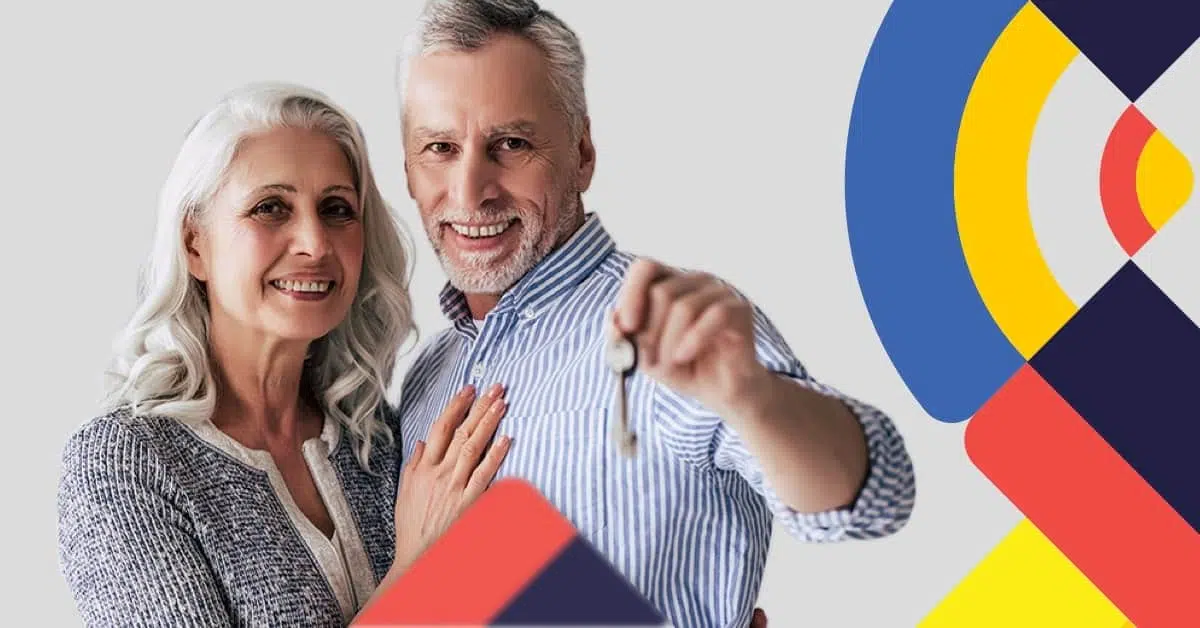 Are you a homeowner 55 years or older and looking for a way to supplement your retirement income? A reverse mortgage can be a great option for you without the need to sell your home! Read on for an overview of all there is to know about a reverse mortgage, from eligibility requirements to how the funds can be accessed and used. With this handy guide, you can make an informed decision suitable for your financial situation.
---
Key Takeaways
Reverse mortgages use your home's equity to provide tax-free cash.
Eligibility is limited to homeowners on the property's title who are 55 years in age or older and maintain the property as a primary residence.
Interest rates on reverse mortgages are higher due to a lack of competition, no government-backed mortgage financing options, and additional risk to lenders.
Are you a first-time buyer?
What Is A Reverse Mortgage? 
Reverse mortgages are loans that use your home's equity to give you access to tax-free cash without selling your home. 
You can access up to 55% (or up to 59% with Equitable Bank) of the home's current value. The maximum allowable amount you can borrow is determined based on age, the home's appraised value, and the lender. 
Unlike a traditional mortgage, where you make monthly payments to pay off the loan and build up equity, you don't have to make payments with a reverse mortgage until you either sell, move out, or the last borrower dies.  
There are currently only 2 financial institutions in Canada that offer reverse mortgages. HomeEquity Bank has provided CHIP reverse mortgages to Canadians for over 3 decades. Equitable Bank offers reverse mortgages to those residing in Ontario, Quebec, British Columbia, and Alberta urban areas. 
Who Is Eligible For A Reverse Mortgage?
To be eligible, you must meet the following criteria:
Every homeowner on the title to the property must be at least 55 years old.
The property you use to secure a reverse mortgage must be your primary residence – meaning you live there at least 6 months out of the year.
If you still have a mortgage or any other lien on the property, it must be paid from the reverse mortgage proceeds or other sources of funds. The remaining amount (reverse mortgage advance less current mortgage/liens) will be advanced to the applicants.
The home has a minimum appraised value of $250,000.
The home must be detached, semi-detached, townhome, or condo.
If these conditions are met, your mortgage expert will then calculate the maximum loan amount you can obtain based on your age and the estimated value of your property. Before being approved, the property will need to be professionally appraised. The appraisal will confirm the market value and the amount you can borrow.
The next step is to receive a lawyer's independent legal advice (ILA) to ensure a reverse mortgage is right for you. Making this a perfect time to speak to your family or trusted professionals to obtain a second opinion.
How Does A Reverse Mortgage Work?
Reverse mortgages have been designed for house-rich/cash-poor homeowners 55 years or older to easily access and unlock their property's home equity as tax-free cash. Unlike traditional mortgages, there is no need to make regular repayments. 
This money can be received in a lump sum or regular instalments and won't affect your Guaranteed Income Supplement (GIS) or Old-Age Security (OAS). You can access these funds while maintaining ownership of your home without the need to sell, move or downsize.
Your home will remain yours – meaning that you are still on title as you would with a traditional mortgage. When you choose to sell or move out of your home, this loan will be repaid through the sale proceeds unless you transfer the reverse mortgage to a new property.
Why Reverse Mortgages Charge Higher Interest Rates
Interest rates on reverse mortgages come at a premium and could be much higher than most other types of mortgages. This can be attributed to a lack of competition; there are currently only two lenders in Canada where you can obtain a reverse mortgage. The lack of competition in this market drives higher interest rates. 
Additionally, programs for traditional mortgages enable banks and other lenders to reduce their funding costs. This type of government-backed mortgage financing does not apply to reverse mortgages. 
There is also an additional risk to lenders that offer reverse mortgages because you are not required to make regular payments. This means the lender could wait years to get their money back. There is also something called a no negative equity guarantee which means you will never owe more than the fair market value of your home, and the lender would need to cover the difference between the sale price and loan amount.
Pros And Cons Of A Reverse Mortgage 
Like any other mortgage or loan, there are pros and cons to consider when deciding whether a reverse mortgage is right for you. 
| Pros | Cons |
| --- | --- |
| You don't need income or good credit to qualify.  | Higher interest rates when compared to other types of mortgages. |
| There is no need to make regular loan repayments.  | Equity in the home may decrease as interest accumulates on the loan. |
| The money borrowed is tax-free. | When you die, the estate must repay the loan within a set time frame per the mortgage contract. This timeframe may be shorter than the time needed to settle the estate. |
| You retain full ownership of your home. | Costs associated with reverse mortgages can be higher than other mortgage and loan products.  |
| OAS and GIS benefits are not affected. | There may be less money in the estate left for beneficiaries. |
| No negative equity guarantee – you can never owe more than the fair market value. | There are prepayment penalties associated with paying off a reverse mortgage early.  |
| Flexible options allow you to access cash through a lump sum or regular installments. | You may, in some cases, be required to borrow a minimum amount – even if you require a lesser amount.  |
How To Get A Reverse Mortgage
The first step to getting a reverse mortgage is to submit an application. This can be done virtually through the lender's websites or a broker. You will need to answer some basic questions and provide personal information to determine eligibility, and once completed should get an estimate of what you are eligible to borrow. 
From there, the lender will contact you to answer any questions and learn more about you and your financial situation. This will include questions about other loans you may have registered on the property. The lender, at this time, may also request an appraisal on the property. 
Once approved, you will finalize the reverse mortgage terms with the lender and choose how to receive the payments.
Get approval on your low rate today
No big bank bias, just commission-free experts ready to help you.
What Can You Do With The Money You Borrow?
As mentioned earlier, the first thing you must do with the money you borrow is pay off any mortgage, debt or lien on the property.
Once that is taken care of, you can spend the remaining funds however you choose. Some examples of what you can do with the remaining funds from the reverse mortgage include: 
What Costs Are Involved With A Reverse Mortgage?
As with everything else in this world, reverse mortgages aren't free. 
Costs may include:
A higher interest rate than a traditional mortgage
An appraisal fee can range from $250-$450, depending on your location
A setup fee of approximately $995 is deducted from the initial advance of funds 
A prepayment penalty if the reverse mortgage is paid before it is due or before the prepayment window expires
Closing costs such as legal fees and independent legal advice
Paying Off Your Reverse Mortgage
Just like a traditional mortgage, a reverse mortgage does accrue interest. The difference is that the interest on a reverse mortgage and the principal paid out to the homeowner must only be repaid once a property is sold or after the last surviving homeowner passes away or moves out.
A reverse mortgage allows you to retain ownership of your home. Since you remain the property owner, you have the same responsibilities you had before: you must pay any and all property taxes, heating expenses, condominium fees (if applicable), valid fire policy, and maintain the property in good order.
Of course, if you wish to reduce your reverse mortgage's interest , you can make payments anytime without incurring penalties for early prepayment.
Frequently Asked Questions
Welcome to our Frequently-Asked Questions (FAQ) section, where we answer the most popular questions designed and crafted by our in-house mortgage experts to help you make informed mortgage financing decisions.
What credit score do I need for a reverse mortgage?
No minimum credit score is required to qualify for a reverse mortgage.
How do I know if I qualify for a reverse mortgage?
To qualify, you and everyone on the title must be 55 years or older, and the home must be your primary residence. There are other qualifying criteria based on the lender and location of the home, so it's best to submit an application with the lender of your choice to see if you qualify.
Can I qualify for a reverse mortgage if I already have a mortgage?
You can still qualify for a reverse mortgage if you currently have a mortgage. You will required to first pay off the mortgage from the funds you receive from the reverse mortgage.
Final Thoughts
Reverse mortgages can be a great financial solution for qualifying homeowners to receive cash flow without worrying about additional taxes. While the interest rates may be higher than other mortgage and loan products, the benefits of being able to stay in your home and neighbourhood can outweigh these additional costs. They can be a great way to gift money tax-free to children and grandchildren while you're alive to see them enjoy it.
Reverse mortgages are not suitable for every situation, so it's important to research all available options thoroughly and speak to a mortgage expert for advice before making a decision.
Ready to get started?
In just a few clicks, you can see our current rates. Then apply for your mortgage online in minutes!
Today's Best Mortgage Rates as of September 28, 2023