Best Places to Invest in Real Estate in 2024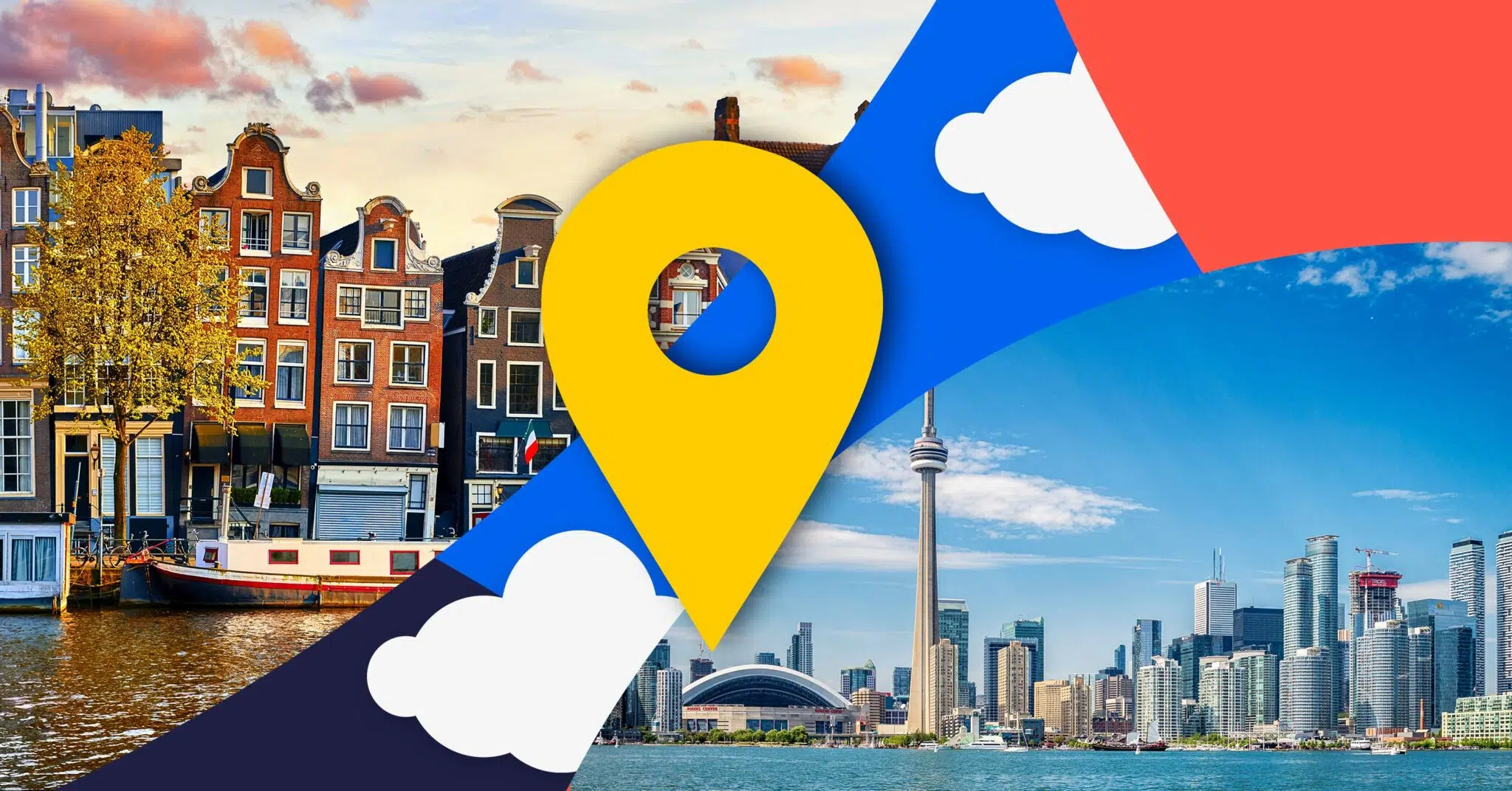 Are you looking to invest in real estate this year? Before starting your search for the perfect property – why not start with the ideal area first. Canada is an increasingly popular destination amongst savvy investors and there's a good reason why. With its steadily increasing population, excellent quality of life parameters as well as great rental yields on offer; it makes sense to look around for a city or two that have demonstrated potential worth investing in. If you're interested in getting started, here are our picks for the best cities to invest in real estate Canada in 2024.
---
Key Takeaways
Housing investments remain strong, despite cooling market
If you're looking to buy an investment property, now is a good time to do so, while home prices are still low.
Rental demand and proximity to larger cities are good indicators when thinking about investing in real estate.
---
Are you a first-time buyer?
What to Look for When Investing in Real Estate in Canada
Investing in the real estate market is a robust strategy, carrying the potential for significant returns. However, success in this field requires a comprehensive understanding of various factors that drive the market. In this guide, we'll delve into the most critical aspects to consider before stepping into the real estate market in 2024
Location, Location, Location
The appeal and profitability of a property largely hinge on its geographical setting. Residential properties gain value based on their proximity to amenities, green spaces, picturesque views, and the overall status of the neighbourhood. On the other hand, commercial properties' value depends on their closeness to markets, warehouses, transport hubs, freeways, and tax-exempt areas.
When evaluating a property's location, consider the area's prospective development over your investment period. Researching the ownership and future usage of nearby areas is crucial. Contacting local zoning and urban planning agencies can provide valuable insight into long-term area planning.
Property Valuation
Understanding how much a property is worth is crucial for any real estate investment. Property valuation is vital for financing during the purchase, listing price, investment analysis, insurance, and taxation.
Real estate valuation methods include the sales comparison approach, cost approach, and income approach. 
The sales comparison approach relies on recent comparable sales of properties with similar characteristics. 
The cost approach calculates the cost of the land and construction, minus depreciation. 
The income approach is based on expected cash inflows.
Purpose and Time Horizon of Investment
The purpose and time horizon of your investment can significantly affect your financial results.
Real estate investments are high-value and low-liquidity. A lack of clarity on purpose can lead to unexpected results, including financial distress, especially if the investment is mortgaged.
Identify whether you intend to buy and self-use, buy and lease, buy and sell short-term or long-term. Each category has its own advantages, challenges, and financial implications.
Cash Flows and Profit Opportunities
Cash flow is the lifeblood of real estate investment. Positive cash flow is crucial for a good rate of return on an investment property.
Develop projections for expected cash flow from rental income, expected increase in intrinsic value, benefits of depreciation, and cost-benefit analyses of renovation before sale and mortgage loans versus value appreciation.
Leverage
Leverage, or using borrowed capital to finance an investment, can be a double-edged sword. While loans may seem convenient, they come with a cost. You commit future income to pay for a property today, with interest spread across many years. Over-leverage in adverse market conditions can lead to financial distress.
Decide on the type of mortgage that best fits your situation and be aware of the terms, conditions, and charges levied by the mortgage lender. Shopping around can help you find lower interest rates and better terms.
New Construction vs. Existing Property
Choosing between a new construction and an existing property depends on your investment goals and risk appetite. New constructions can offer attractive pricing, customisability, and modern amenities. Existing properties offer convenience, faster access, established improvements, and potentially lower costs.
Research the construction company's reputation for new investments. For existing properties, review property deeds, recent surveys, and appraisal reports. Also, consider monthly maintenance costs, outstanding dues, and taxes.
Indirect Investments in Real Estate
Indirect investments can be a good option for those who prefer not to manage physical properties. Not everyone is cut out for managing physical properties over the long term. Consider other ways to invest in real estate, such as Real Estate Investment Trusts (REITs), real estate company stocks, real estate sector-focused mutual funds and ETFs, mortgage bonds, and mortgage-backed securities (MBS).
Credit Score
Your credit score is a significant determinant of your ability to secure a mortgage and the terms you receive. A higher credit score can help you qualify for better mortgage terms, leading to substantial savings over time.
If necessary, work on improving your credit score by paying bills on time, paying down debt, limiting requests for new credit, and reviewing your credit report for inaccuracies.
The Real Estate Market
Understanding the overall real estate market trends can help you make informed investment decisions. Real estate markets fluctuate, and staying aware of trends can help you buy low and sell high.
Stay up-to-date with trends and statistics for home prices and sales, new construction, property inventory, mortgage rates, flipping activity, and foreclosures.
Identifying Your Investment Purpose
Buy and self-use: This is when you purchase a property intending to use it yourself. This could be for personal use or as your business premises.
Buy and lease: Here, you buy a property and then lease it out to tenants. Your tenants pay you rent, providing you with a steady income stream.
Buy and sell (short-term): Also known as flipping, this involves buying a property, often renovating or improving it, then selling it at a higher price.
Buy and sell (long-term): This is when you buy a property and hold on to it for an extended period before selling, hoping its value will appreciate over time.
Top 10 places to Invest in Real Estate
Here are some of the top Canadian cities to invest in real estate in 2024, based on year-over-year growth.
1- Moncton, New Brunswick
Real estate investing in Moncton, New Brunswick has always been a lucrative option for enterprising individuals looking to make an ROI. The real estate market in the province is still growing at a steady pace and as a result, property values have continued to lag slightly behind other locations in the area. This provides real estate investors with an opportunity to acquire high value real estate at discounted prices and enables them to capitalize on margin of profits that would otherwise be lost if they were investing elsewhere.
2- Halifax-Dartmouth, Nova Scotia
With real estate prices continuing to remain relatively stable and steady, those who invest in real estate here are likely to experience real returns on their money. The city also offers a variety of amenities and attractions, making it an attractive destination for tenants. Additionally, rental demand is high, especially among young professionals and students, resulting in plenty of reliable income for real estate investors. From booming business opportunities to lush green landscapes, Halifax has something to offer everyone – and real estate investors can reap the benefits by investing in this vibrant coastal city.
3- Windsor Essex, Ontario
This city is situated along the Detroit River and has an impressive selection of both residential and commercial properties available. The close proximity to Detroit also makes it ideal for cross-border business activities, ensuring that investments in the area remain strong. From downtown lofts to suburban development, there's something for everyone looking to invest in real estate and take advantage of this vibrant market. With so much potential available just a stone's throw away from one of Canada's largest cities, Windsor is an excellent location for buyers eager to grow their wealth through real estate investing.
4- Oakville-Milton, Ontario
Investing in real estate in Oakville-Milton, Ontario offers a promising return on investment due to the region's robust housing market. Oakville-Milton is known for its high-quality life standards, excellent education system, and thriving economy, making it a desirable location for both residential and commercial real estate investments. Moreover, the steady population growth in Oakville-Milton indicates a continuous demand for properties, which is a positive sign for real estate investors.
Population: 132,979
Median home price: $1,332,736
Median monthly rent: $2,200
YoY growth: 10%
5- Fredericton, New Brunswick
Located in New Brunswick, Fredericton is home to a dynamic and evolving real estate market. Characterized by its diverse portfolio of residential and commercial properties, it offers a range of opportunities for investors, homebuyers, and renters alike. Despite economic fluctuations, the Fredericton market has demonstrated resilience and sustained growth over the years.
6- Toronto, Ontario
One of the many reasons why homebuyers should consider Toronto is its thriving real estate market. The city has various housing options, from modern high-rise condos to charming heritage homes in historic neighbourhoods. The city has been consistently ranked as one of the most livable cities in the world, and it's easy to see why.
The city is also ranked as one of the most competitive cities in the world and is consistently rated as one of the best places to do business. It is a member of the prestigious Global Economic Cities Index and is home to some of the world's largest multinational corporations. In 2020, Toronto was ranked as the 14th-largest economy in North America and the 30th-largest globally. Toronto's economic contribution to Canada's economy and its position in the world economy makes it a vital player in global business and finance.
Population: 2,93 million
Median home price: $1,250,000
Median monthly rent: $2,500
YoY growth: 15%
7- Vancouver, British Columbia
Vancouver is British Columbia's largest city, and the Greater Vancouver Area (GVA) ranks as the third-largest metropolitan region in the country. Vancouver is Canada's most densely populated city, with approximately 5,249 people per square kilometre, and more than half of its residents are fluent in a language other than English.
Due to its magnificent integration with the surrounding natural landscape, Vancouver is consistently ranked among the world's most livable cities. Vancouver's tourism industry is the second biggest contributor to the city's local economy.  
Population: 675 218
Median home price: $1,208,400
Median monthly rent: $2,722
YoY growth: 10%
8- Montreal, Quebec
Montreal real estate is an attractive investment opportunity for many. The lively cultural scene, the warm summers and cold winters, and the diversity of people make it a vibrant city with something for everyone. For real estate investors, low real estate prices compared to other major Canadian cities makes investing in Montreal real estate much more attainable. Easy access to transportation hubs and international connections, combined with an established real-estate market, provide a stable and secure environment to invest in real estate.
9- Calgary, Alberta
Investing in real estate in Calgary is a smart decision for many reasons. It's an incredibly competitive market and you'll have access to a wide range of properties; this means you can choose the most cost effective and profitable option that meets your needs. Furthermore, real estate investments produce real, tangible returns, so if done correctly, you can benefit from long-term financial rewards. The low real estate costs also mean it's easier to diversify your investment portfolio by buying multiple real estate investments at once. Another plus is the area itself which is beautiful with various recreational and outdoor activities nearby, making it attractive to potential buyers or tenants and thus increasing the value of your real estate investment over time. All things considered, investing in real estate in Calgary is a beneficial opportunity that should not be overlooked.
10- Vancouver Island, British Columbia
The Vancouver Island real estate market is a vibrant and dynamic sector that has experienced significant growth over the years. With Victoria as its capital, the island offers a diverse range of properties, catering to various investment preferences. The market is characterized by high demand and limited supply, driving property values up. Victoria, in particular, is known for its historic properties and oceanfront homes, which attract both local and international investors. Not to mention, Victoria boasts the lowest vacancy rate in Canada (6.5%), making it an attractive option for investors looking to generate rental income.
Population: 864,864
Median home price: $799,500
Median monthly rent: $2000 (Victoria, BC)
YoY growth: 22%
Picking the right property
When investing in Canadian real estate, there are virtually endless options. Single-family houses and condos are a safe bet when it comes to your money. Condos are increasingly popular among real estate investors in busy cities because they're more budget-friendly. But, regardless of where you plan to buy, be sure to research such factors as average prices, amenities, growth and rental prices, for starters. You always want to ensure a good rate of return on your investment should you decide to sell down the road.
Red hot rates impacting your housing market experience?
With nesto, you can get a low rate with a 150-day hold.
Frequently Asked Questions
Which city has the lowest rental vacancy rate?
Out of the cities listed above, Vancouver Island (Victoria) has the lowest vacancy rate at 6.5%, followed by Vancouver (8.6%) and Toronto (11%).
Which city has the lowest median home price for entry investors?
New Brunswick is a great place for entry investors to start their search. Of the cities listed, the two with lowest median home price are both in New Brunswick: Moncton and Fredericton.
When is the best time to look for investment properties?
While investing in the real estate market is a robust strategy that carries the potential for significant returns, doing your research and understanding your own financial situation is the ideal first step. Success in this field requires a comprehensive understanding of various factors that drive the market.
Final Thoughts – Real Estate Predictions for 2024
Despite rising interest rates, industry experts are still advising that it's the best time to buy a home, including investment properties. While rates are forecasted to fall at the start of 2024, property values are rising. If you're looking for guidance on what to do next, contact nesto's commission-free mortgage experts and lock in your rates today. With decades of experience between them, our team can help you navigate these changing markets and find the best solution for your needs.
---
Ready to get started?
In just a few clicks, you can see our current rates. Then apply for your mortgage online in minutes!
Today's Best Mortgage Rates as of December 1, 2023