Canadian Housing Market Outlook 2023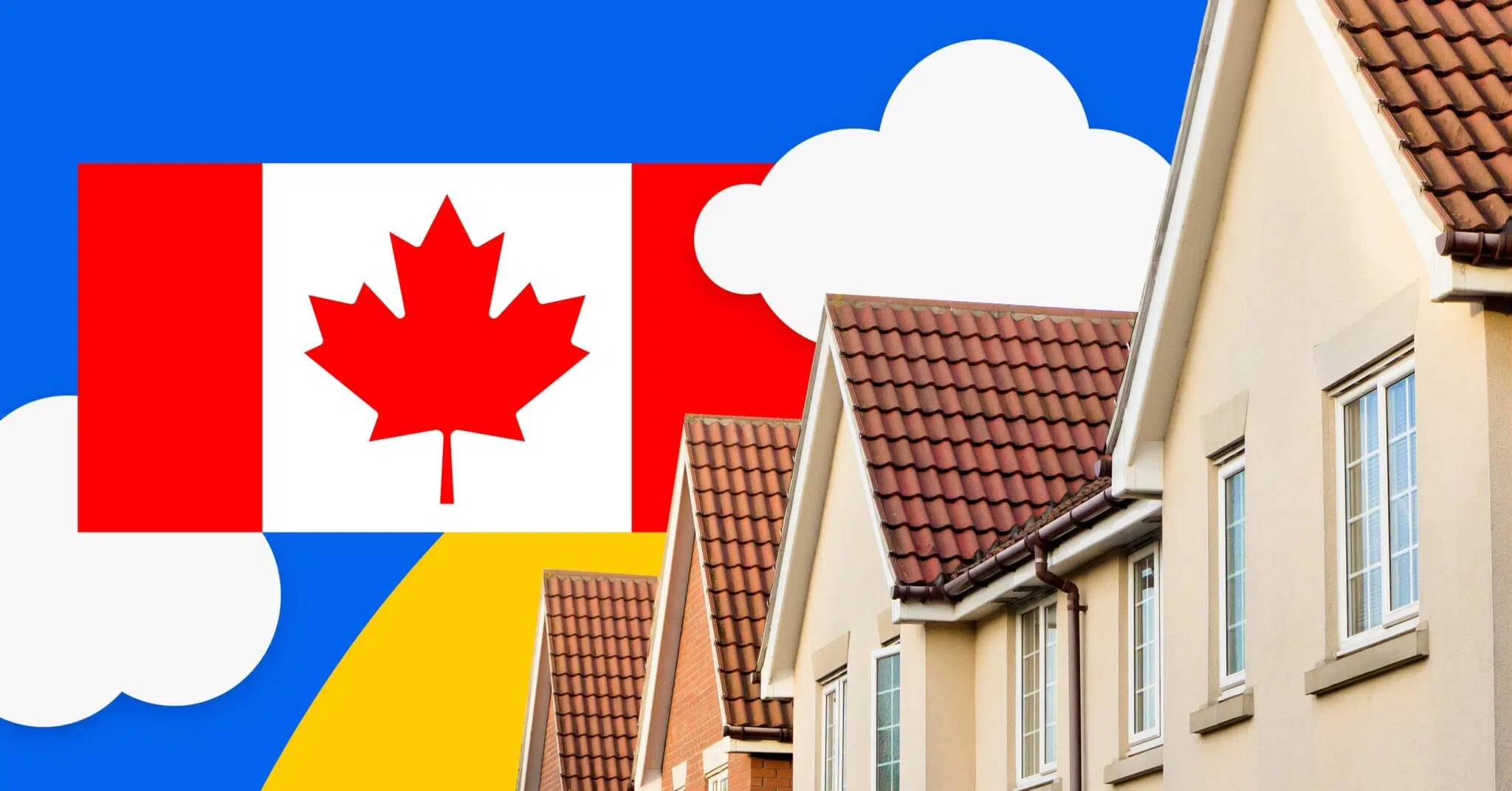 ---
National Market Report Summary
Canada's benchmark single-family home price increased by 1.4% year-over-year to $802,200 in October 2023.
Canada's benchmark townhouse/row/multiplex price increased by 1.3% year-over-year to $678,600 in October 2023.
Canada's benchmark condo/apartment price increased by 1.8% year-over-year to $541,500 in October 2023.
Canada's benchmark composite home price increased by 1.1% year-over-year to $731,100 in October 2023.
Canada's average rent for an apartment increased by 12% year-over-year to $2,112 for October 2023. 
---
Are you a first-time buyer?
The Canadian Housing Market Performance in October 2023
The Canadian housing market is a topic that has been widely discussed in recent months as affordability continues to deteriorate nationally. The housing market in Canada is a significant contributor to the country's economy, and it has been experiencing a significant slowdown as the homebuying season comes to a close. 
The housing market is a complex system that involves various factors such as supply and demand, interest rates, government policies, and economic conditions. Domestic and international factors influence the market, and the government and industry experts closely monitor it. 
The housing market has been a concern for many Canadians due to the rising price of homes in major cities such as Toronto and Vancouver. The government has implemented various measures to address this issue, such as introducing stricter mortgage rules, foreign buyer bans, underused housing taxes and measures to increase the supply of affordable housing.
Let's look at how different factors and regions are affected by changes in housing demand and supply, alongside changes in family budgets throughout Canada due to monetary policy by the Bank of Canada to curb inflationary pressures and purchasing power volatility. 
Regional Housing Market Scenarios Continue to Evolve
The Canadian Real Estate Association (CREA) reported a decrease in home sales by 5.6% in October, leading into November. New listings also slipped by 2.3%, marking the first decline since March. Interestingly, the average selling price of a home during this period was $656,625, a slight increase from September and a 1.8% increase year-on-year.
The Canadian housing market in October 2023 presented a blend of trends, with each region showing its unique characteristics. 
Ontario and BC 
The housing market in Ontario and British Columbia indicated a shift towards a buyer's market, with the sales-to-new-listing ratio in Ontario hitting its lowest point since 2008. This indicates a possible price decrease in these two markets in the upcoming months. However, pockets of the country saw prices move decisively higher, such as Calgary, which continues to have a hot housing market due to a strong economy attracting people nationwide.
Calgary
Calgary's housing market indicated a strong seller's market, with a sales-to-new listings ratio of 81%. Calgary's housing market stood out in October 2023, recording the highest annual percentage gains in residential sales above $1 million. The Calgary region saw a 69% year-over-year boost, making it the pack's leader among other major Canadian centres.
The average home price in Calgary for October 2023 was $545,746, representing a 7.1% increase from the previous year and a 0.7% decrease from the previous month. Detached home average prices in Calgary reached $725,758, demonstrating a 10% annual growth and a 0.6% monthly decrease. Semi-detached home average prices stood at $614,741, reflecting a 14.6% annual growth and a 2.3% decrease from the previous month. The average price for a townhouse was $427,372, marking a 19.9% annual increase and a 1.9% monthly increase.
Québec
In Québec, the real estate housing market is witnessing a peculiar trend, with housing prices escalating while affordability continues to deteriorate. The percentage of Québec homeowners has reportedly declined in recent years, marking the first occurrence since 1971.
Québec City
Quebec City, the province's capital, demonstrated an impressive resilience against national economic fluctuations, marking its third-best October performance in 23 years. The Quebec Professional Association of Real Estate Brokers (QPAREB) reported 729 residential sales for the month, a 14% increase compared to last year. This resilience is grounded in the robustness of the region's economy and the gradual growth of property prices.
The strong performance in Quebec City's housing market can be attributed to a buoyant economy and slowly increasing property prices. The Agglomeration of Quebec City and the Northern Periphery marked 16% and 23% annual increases, respectively, bolstering the overall market. A significant 42% surge in sales was for smaller investment properties, with 61 transactions. 
Concurrently, single-family home sales increased by 4%, while condo sales leapt by 30%, totalling 224 transactions. October 2023 saw 3,029 active listings, a slight increase of 3% over the previous year. The median price for a single-family home in Quebec City was $350,000, indicating a 1% increase from the same month of the previous year. Meanwhile, condo prices rose by 4% to reach $249,000, while prices for plexes fell by 9% to $385,000.
Montréal
Contrary to Quebec City, Montreal's housing market showed signs of slowing in October 2023. The market experienced its second-lowest transaction level for October in 23 years, with a total of 2,675 residential sales reported, marking a 2% decrease from the same period in the previous year.
The housing market in Montreal presented a contrasting picture in different regions. While the Island of Montreal and the South Shore of Montreal saw transaction increases of 7% and 8%, respectively (totalling 1,022 and 654 transactions), other regions experienced sales declines. North Shore of Montreal, Laval, Vaudreuil-Soulanges, and Saint-Jean-sur-Richelieu reported decreases of 12%, 17%, 19%, and 30% respectively. 
In Montréal, sales for single-family homes were down 6% compared to the previous year, dropping to 1,347 sales. Despite declining sales, smaller investment properties rose 10% to 307 transactions. Condo sales stood steady, with a total of 1,018 transactions. Active listings rose to 17,518 properties in October 2023, up 12% over the previous year. This inventory level is the highest since the summer of 2019, before the COVID-19 pandemic. Despite the slowdown in sales, median prices for residential properties rose compared to the previous year. Single-family homes saw a 7% increase to $545,000, while plexes and condos experienced a rise of 5% and 3%, respectively, reaching $735,000 and $390,000.
The higher interest rates are a significant factor influencing both the Quebec City and Montreal housing markets. As Charles Brant, QPAREB's market analysis director, highlighted, the continuous rise in prices, despite higher interest rates, could attract investors, possibly leading to speculative behaviour detrimental to the housing market in general. The contrasting performances of the Quebec City and Montreal housing markets demonstrate the complex dynamics of real estate. While Quebec City's market remains robust, Montreal is experiencing a slowdown. However, it's important to remember that these trends are subject to change as many factors, including economic conditions, interest rates, and consumer behaviour, influence them.
Toronto and the GTA
The Greater Toronto Area (GTA) continued to demonstrate resilience in the face of a buyer's market. The average house price in the GTA was $1,125,928 in October 2023, indicating a 1% increase from the previous month and a 3% increase year-on-year. The area has seen steady price growth despite the region being in a buyer's market for the past 2 months.
When looking at different property types in the GTA, detached homes showed an average price increase of 5.7% year-on-year, reaching $1.45M. Semi-detached homes saw a 2.2% increase, with an average price of $1.10M. Freehold townhouses witnessed a 1.8% year-on-year surge to $1.04M. However, condo apartments experienced a 1.1% decrease, bringing the average price to $709k. 
In the City of Toronto proper, average prices for semi-detached homes increased 2% year-on-year to an average price of $1,102,721. Prices for freehold townhouses remained relatively unchanged monthly at $1,042,124, up 2% year-on-year. Condos were the only property type to see an annual decrease in home prices, falling 1% year-over-year to $708,780.
As the housing market dynamics unfold, those looking to buy a home in cities like Toronto might start to see some deals on the horizon. Home prices in these regions are expected to fall over the next few months. However, the average home price may continue to be offset by luxury home sales supporting the average price.
Ottawa
In Ottawa, the average home sale price increased 5.9% year-on-year to $660,836. This figure represents a decrease of 2.2% from the previous month. The average price of a detached home reached $810,319, indicating a 4.8% yearly increase. Average townhouse prices were down by 1.7% compared with October 2022, at $517,909. 
Vancouver
In Vancouver, the housing market trended towards a buyer's market in October 2023. The average home price in Greater Vancouver was $1,299,503, up by 5.5% annually and 0.1% monthly. The benchmark price of homes in Metro Vancouver was $1,196,500, representing a 0.6% monthly decrease and a 4.4% yearly increase. Detached homes in Vancouver saw an average price increase of 10% year-on-year to $2.24M. The average price of attached homes decreased by 0.2% year-on-year to $1.21M. Meanwhile, condo apartments experienced a 5.4% increase, with the average price at $811K.
Mortgage Rates and Other Factors Affecting Real Estate 
The Bank of Canada's policy rate stands at 5%, an increase of 4.75% from the rate of 0.25%, last seen in February 2022. As a result, prime rates and, subsequently, variable mortgage rates have increased significantly over the past year and a half. This has resulted in a high cost of borrowing, causing many potential homebuyers to hold back.
The issue of housing affordability has been a pressing concern in the Canadian housing market. The third quarter of 2023 saw a "considerable deterioration" in housing affordability, as reported by the National Bank of Canada.
The combination of rebounding home prices and high interest rates has made homeownership increasingly challenging. However, the challenge is not limited to prospective homeowners alone. Developers, too, are grappling with the surge in construction expenses and higher borrowing costs, further exacerbating the affordability crisis.
New Housing Starts Last Quarter
According to new data from CMHC, the last quarter witnessed a favourable upturn in new housing starts. The national construction rate reportedly increased by approximately 8%, with the seasonally adjusted annual rate (SAAR) for housing units reaching 270,500 in the previous month.
This surge was primarily driven by the construction of multi-unit dwellings, which observed a 10% boost, reaching a SAAR of 207,700 monthly units. However, despite the positive trend in new construction, the housing prices in these markets have started to dip, mainly due to the surplus of resale inventories. Cities such as Toronto, Montreal and Vancouver were particularly impacted, with price falls of 1.3%, 0.6% and 0.4% respectively.
Luxury Market Performance Across Canada
The luxury market across Canada has presented a surprising resurgence in sales activity, particularly concerning luxury single-family homes. This market revitalization has resulted from the return of investors and buyers who had previously retreated to the sidelines. This trend has been most evident in the major metropolitan areas nationwide. 
According to data collected by Sotheby's International Realty Canada, the third quarter of 2023 witnessed a significant uptick in the country's luxury market, with notable growth in the Calgary, Greater Toronto Area (GTA), Vancouver and Montreal regions.
Frustrated Buyers and Condo Developers in Toronto
Homebuyers in Toronto, unable to close their transactions, have started to forfeit sizeable deposits, some amounting to hundreds of thousands of dollars. This trend is particularly prevalent in the lowrise homes sector in the GTA suburbs, where prices had spiked rapidly during the pandemic and have since fallen drastically.
In what has been described as an unprecedented move, Toronto developers have postponed the launch of almost 14,000 condominium units this year. This decision was prompted by the slowed pace of preconstruction condo sales, a trend largely attributed to the climbing interest rates that have escalated costs for buyers and developers.
Investors Challenged by Housing Density Concerns Still Make up 30% of Canadian Homebuyers
For investors, the challenge lies in the increasing housing density in major cities across Canada. The rapid population growth and the lack of affordable housing create a challenging environment for investors looking to penetrate the real estate market.
However, these challenges didn't stop investors from playing an increasingly prominent role in Canada's real estate housing market. New data indicates that investors account for 30% of all residential real estate purchases in the first part of the year.
Final Thoughts
In conclusion, the Canadian housing market in October 2023 displayed a combination of resilience, balance, and fluctuation across different provinces and cities. Despite challenges like interest rate hikes and affordability issues, the market continues demonstrating dynamic shifts and opportunities for buyers and sellers.
Potential buyers and sellers should closely monitor these trends as the market evolves to make informed decisions about their real estate transactions.
---
Canada Housing Market Summary
Data from the Canadian Real Estate Association (CREA) indicates that the benchmark price of resale residential homes sold across Canada in October 2023 was $731,100, an increase of 1.1% compared to a year ago. 
CREA also reported the national sales-to-listings ratio (SNLR) of 50%, indicating a balanced market nationally for October 2023.
Verbatim: What national experts from the Canadian Real Estate Association (CREA) say about Canada's national housing market:
"We're only in November, but it appears many would-be home buyers have already gone into hibernation," said Larry Cerqua, Chair of CREA. "The October numbers also revealed some sellers may be shelving their plans until next spring. That said, there are still a lot of people active in the market and looking to get deals done this year. If you're looking for information and guidance about buying or selling a property in the current market, contact a realtor in your area," continued Cerqua.
"We know housing demand is extremely high all across the country, but October's resale data was further confirmation that it probably won't be manifesting itself in the existing home market for the remainder of this year and likely not until spring 2024 at the earliest," said Shaun Cathcart, CREA's Senior Economist. "The rebound in activity this past spring was an example of what we might see next year. It will really come down to whether the Bank of Canada has to increase interest rates again, or whether by next March it's simply a matter of how soon we'll see the Bank make its first cut."
Month-over-Month Market Expectations for Canada
The sales to new listings ratio (SNLR) is the number of home sales compared to new listings. An SNLR under 40% suggests a buyer's market where buyers have the upper hand and more negotiating power. An SNLR between 40% and 60% is a balanced market, while an SNLR of over 60% is considered a seller's market. 
Canada's Housing Market Breakdown & Change By Province
Provincial and territorial composite benchmark prices in order of decrease/increase compared to last year.
Historical Changes To National Benchmark Prices In Canada By Property Type
Last 10 Years of Monthly Changes to Canada's Composite Home Price
Red hot rates impacting your housing market experience?
With nesto, you can get a low rate with a 150-day hold.
---
Rents Continue to Surge Across Canada in October
Rapidly escalating rents have become a nationwide concern in Canada, profoundly impacting family budgets and exacerbating the housing affordability crisis in several regions. Let's review rent increases and their implications on Canadian households.
According to Urbanation's November 2023 Rentals.ca Report, the average asking price for rental units in Canada hit $2,178 in October, marking a significant 9.9% increase compared to the previous year. This surge is not recent; rents have consistently hit new highs for half a year. On a monthly scale, the average asking rents witnessed a 1.4% rise in October, a slight dip from the 1.5% and 1.8% monthly increments in September and August, respectively. These fluctuations are typically attributed to seasonal variations.
The average rent for 1-bedroom units reached $1,906 in October, a whopping 14% higher than in 2022. Similarly, the average asking price for 2-bedroom units was $2,255, an 11.8% annual increase.
Price escalations in Alberta, Quebec, and Nova Scotia fuel Canadian rent inflation. This inflation is partly due to substantial population growth and an influx of new rental supply priced above the average market rates. Among Canada's major cities, Calgary in Alberta saw the highest annual rent growth for apartments for 9 consecutive months.
In Alberta, the standard rental price for purpose-built and condominium apartments reached a high of $1,686 in October, marking a 16.4% increase from the previous year. This rate outpaced the growth seen in September, which was 15.3%. In Nova Scotia, the average rent for apartments rose by 13.6% compared to the year before, reaching a price of $2,097. Quebec followed closely with a growth rate of 13.3%, leading to an average rent of $1,977.
Despite these increases, British Columbia held onto its crown as the province with the highest average apartment rents, clocking in at $2,639 in October. However, B.C. experienced a slight dip of 0.6% in its rent month-on-month, marking its second successive monthly drop. This drop resulted in a decreased annual growth rate of 9.8% in October from 12.3% in September. Vancouver consistently ranks as the priciest city for tenants in Canada. The average rent for a 1-bedroom unit in Vancouver was $2,872, and a 2-bedroom.
Edmonton climbed the ladder to secure the third spot in yearly rent increase among the most significant Canadian cities, with apartment rents witnessing an 8.6% rise annually, reaching an average of $1,461. Conversely, Ottawa slid from third to fifth as the annual rent increase slowed to 3.5% in October (down from a 9.7% yearly rate in September), with rents averaging $2,197. The asking rents for apartments in Ottawa experienced a minor slump of 0.3% on a monthly basis. While these figures were slightly lower than September's prices, they marked an annual increase of 6.7% and 5.5%, respectively.
Ontario recorded the slowest annual growth in apartment rents in October, with a modest increase of 4.6% (in contrast to the 6.6% increase reported for September). After falling by 0.4% between August and September, the average rent requests in Ontario are stabilizing.
For the ninth consecutive month, Calgary has reigned supreme in yearly rental increments for flats amongst Canada's most populous cities. The request for purpose-built and condominium apartments in Calgary saw a significant surge of 14.7% from the previous year, settling at an average price of $2,093. Montreal held its position as runner-up, with an annual rent increase of 10.2%, accumulating to an average of $2,046 as of October.
In Vancouver, the priciest among Canada's major cities, average rents fell by 3.7% month-on-month to $3,215. The annual rent increase in Vancouver decelerated to 4.4% in October (down from 7.7% in September). Toronto recorded a year-on-year decline of 0.8%, averaging $2,908 — marking the first annual rent drop since August 2021.
Of Canada's top 25 rental markets with the highest costs, Ontario was home to 14, British Columbia (B.C.) 9, and the remaining 2 in Quebec.
The 3 priciest regions for average apartment rental rates in October among small and medium-sized cities were all based in British Columbia. They included North Vancouver, with an average ask of $3,360; Coquitlam, at an average of $3,116; and Richmond, with an average of $3,051.
Ontario dominated the list of the top 10 priciest markets with 6 cities. The highest-ranking Ontario city was Oakville, in fourth place, demanding an average rent of $3,008. This was followed by Vaughan in sixth place with an average rent of $2,754 and Mississauga in seventh place with an average of $2,700. In the high-end rental markets outside the Greater Toronto Area (GTA), Kanata came out on top in October with an average rent rate of $2,561. Barrie, Guelph, and Waterloo followed closely behind with their respective rates of $2,326, $2,246, and $2,227.
In Quebec, the areas with the highest average apartment rents during October were represented by 2 Montreal markets: Côte Saint-Luc ($2,458) and Mount Royal ($2,427). Notably, Côte Saint-Luc witnessed the most rapid rent growth in October, recording a 36.6% annual increase. This was followed by a 29.1% yearly hike in Richmond and a 22.3% annual surge in Red Deer. 
During October, we observed a notable surge in listings for co-living spaces across provinces like B.C., Alberta, Ontario, and Quebec. Compared to the previous year, the numbers climbed a significant 42%. Parallel to this increase, the average rental prices for shared residences also experienced growth. A rise of 19% was recorded on a year-over-year basis, reaching an average monthly rental of $964.
Specifically, shared accommodation rentals commanded the highest rents in B.C., where the average cost was $1,176. In particular, Vancouver emerged as a pricy city for such arrangements, with an average rent of $1,454. Moving over to Alberta, renters seeking roommates were typically expected to shell out an average monthly rent of $870 in October. In terms of cities, Calgary noted an average of $911, while Edmonton was slightly more affordable at $737.
Ontario did not lag far behind B.C. in terms of high rents for shared accommodations. It held the position of having the second-highest average roommate rent in Canada at $1,068. Toronto led the pack in the province with an average rent of $1,312, and Ottawa followed with an average of $966. Meanwhile, Montreal's shared housing market in Quebec saw an average asking rent of $873.
Final Thoughts
Several factors contribute to the escalating rental situation, including interprovincial migration and a declining homeownership trend due to high interest rates. A third of Canadian households are renters, a rate growing twice as fast as homeowners. As rents continue to soar, Canada must address housing affordability and ensure adequate rental supply. These issues are not only affecting family budgets but also contributing to broader economic challenges, including inflation. By tackling these issues head-on, Canada can ensure a more sustainable and equitable housing market for all its residents.
Market Rents Summary
Each $100K in mortgage balance costs an average of $601.11 per month on nesto's lowest fixed 5-year rate at and $641.25 per month on nesto's lowest variable 5-year rate at .  Rates used for calculation are those offered on insured purchases with less than a 20% downpayment on a 25-year amortization.  Each 0.25% change in mortgage rates impacts the monthly payment by $15 on a 25-year amortization.
Rental Prices Compared to Other Canadian Cities
Rental Prices Compared to Other Provinces and Nationally
Average Rents by Housing Type

Rental Growth by Housing Type
Frequently Asked Questions
Will 2023 be a good time to buy a house?
Despite the uncertainty in the housing market, 2023 could be an excellent time to buy a house. Interest rates and housing prices are likely to reduce while wages rise – a combination that means more buying power.
Is Canada in a housing bubble, and will it burst?
Canadian real estate prices have risen spectacularly since 2000, and with the current pandemic and inflationary pressures, there is speculation that Canada may be bottoming out of a housing bubble. However, experts are mixed on whether or not this bubble will burst; some think prices may take a dip but stay relatively stable, while others expect prices to fall further.
Should I wait to get a mortgage in 2023?
Whether or not you wait to get a mortgage in 2023 depends mainly on your financial circumstances. Consider the current market conditions and forecasts and factor them into your financial and long-term plans. It's also important to remember that waiting may mean missing out on specific opportunities – especially once mortgage rates start reducing. 
How nesto works
At nesto, all of our commission-free mortgage experts hold concurrent professional designations from one or more provinces. Our clients will receive the best advice and care when they speak with experts exceeding the industry status quo.
Unlike the industry norm, our agents are not commissioned but salaried employees. Our honest and transparent advice guarantees free, unbiased advice on the most suitable mortgage solution for your unique needs.  Our advisors are measured on the satisfaction and quality of advice they provide to their clients.
nesto is working hard to change how the mortgage industry functions. We start with honest and transparent advice, followed by our best rates upfront.  We can offer you these best rates by using technology by providing a virtual and 100% online process to reduce our overhead costs.
By working remotely across Canada, all our mortgage experts and staff spend less time commuting to work and more time with their friends and family. This makes for more dedicated employees and contributes to our success with happy and satisfied clients.
nesto is on a mission to offer a positive, empowering and transparent property financing experience, simplified from start to finish.
Reach out to our licensed and knowledgeable mortgage experts to find your best mortgage rate in Canada.
DISCLAIMER
Interest Rate: Qualified using nesto's fixed 5-year insured and uninsured rates as advertised on our website. For today, Tuesday, December 5, 2023, our example calculations are qualified on our lowest rates, which may or may not apply to your unique financing situation or long-term goals. Insured fixed-rate mortgages will be qualified at , which is exactly 2% in addition to our fixed insured rate currently at . Uninsured fixed-rate mortgages will be qualified at , which is exactly 2% in addition to our fixed uninsured rate currently at . Insured variable rate mortgages will be qualified at , which is exactly 2% in addition to our variable insured rate currently at . Uninsured variable rate mortgages will be qualified at , which is exactly 2% in addition to our variable uninsured rate currently at .
Property Values: Home values collected from CREA or QPAREB are those presented as the composite benchmark or average prices for each city/province/region unless specified. They may be interchangeably called average home prices, though an average price may not be available for many regions outside Quebec.
Rents: Our monthly or year-over-year rental averages are sourced from Urbanation's monthly Rentals.ca National Rental Report.
Mortgage Qualifying Criteria: Insured qualifying criteria are limited to a 39% gross debt service (GDS) ratio and up to 25 years of amortization. For insured mortgage transaction calculations, we have used a 20% downpayment, unless otherwise indicated, in our examples and excluded any mortgage default insurance (CMHC) premium. Uninsured qualifying criteria are limited to a 35% gross debt service (GDS) ratio and up to 30 years of amortization. We have used a 20% downpayment for uninsured mortgage transaction calculations in our examples. Unless otherwise indicated, a $100 monthly heating cost is attributed to the total monthly stress-tested payment. Municipal tax rates are the most recently shown on the applicable municipality's website (1% used as default when unavailable or for a region with an unspecified mill rate). Mortgage default insurance is not permitted on purchases that have valuations of $1 million or more, amortizations exceeding 25 years, or on refinance transactions.
We appreciate your patience and understanding and encourage you to email us at website@nesto.ca with information that needs correction alongside your sources.
---
Ready to get started?
In just a few clicks, you can see our current rates. Then apply for your mortgage online in minutes!
Today's Best Mortgage Rates as of December 5, 2023