What is a Mortgage Broker?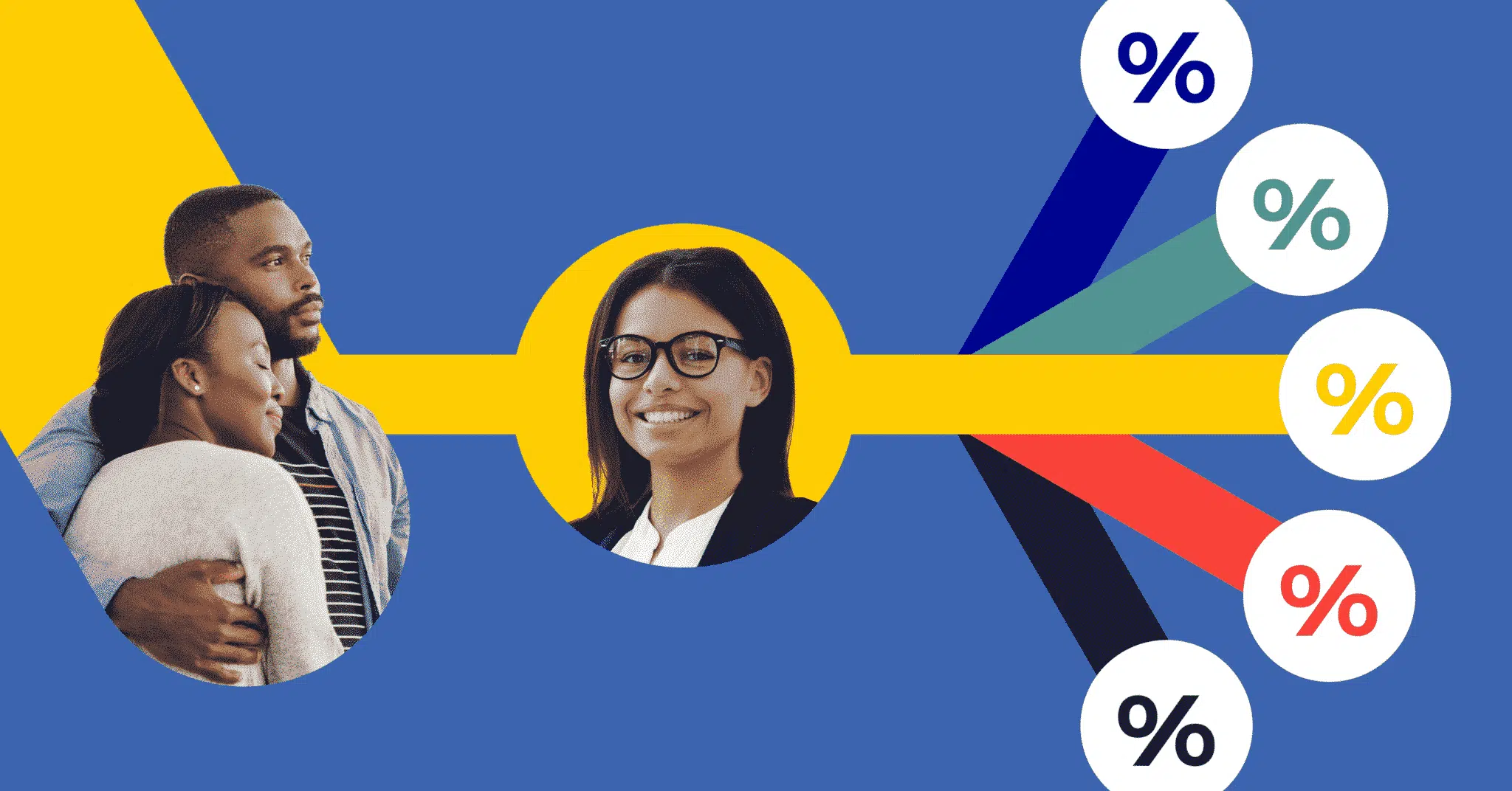 Having a mortgage professional looking out for your best interest while navigating the abundance of mortgage choices available today puts you at a huge advantage over shopping direct with one bank. Depending on your province, these mortgage professionals may be called brokers, advisors, agents, salespersons, submortgage brokers, associates, mortgage associates, or specialists. 
Mortgage professionals ensure you always have the most suitable mortgage for your unique needs and financial situation  – whether you're a first-time home buyer (FTHB), a move-up buyer upgrading to a new home, renewing/refinancing an existing mortgage or an investor buying your first investment property or vacation home. Today, we will guide you on everything these professionals do, so you can walk away knowing who you are doing business with when you get a mortgage.
Skip reading, watch and learn all things about Mortgage Brokers below! 👇
---
Key Takeaways
A mortgage professional is a licensed expert who can negotiate the best mortgage rate and locate the most suitable mortgage solution for you by comparing multiple options from various lenders, including banks, credit unions, trusts, insurance companies, virtual lenders, mortgage finance companies (monoline lenders), and subprime/alternative/private lenders.
Mortgage brokers have a fiduciary duty to ensure you understand how your mortgage operates and its suitability for your situation. Provincial regulators enforce mortgage broker licensing and requirements.
---
Are you a first-time buyer?
What Is The Difference Between Mortgage Brokers, Advisors, Specialists and Agents
Regardless of their title, mortgage professionals are regulated by their provincial regulator.  They provide the same type of service while meeting similar educational requirements. Mortgage professionals can compare mortgage products and interest rates across multiple lenders and negotiate on your behalf. In Ontario, the difference between the two is that brokers have extra experience and accreditations that allow them to supervise agents and perform compliance on completed mortgage files for their brokerage. 
Mortgage advisors and specialists provide similar mortgage solutions, but they are not accredited mortgage professionals or provincially regulated. Mortgage advisors or specialists are internal or external bank employees exempt from educational requirements as they work for an FRFI (Federally Regulated Financial Institution). 
These unlicensed mortgage advisors and specialists are limited to selling the mortgage products and solutions offered only by the financial institution they work for. While they can assist in comparing mortgage products and interest rates, they will be limited and partial to the products offered by their employer. Although they have a fiduciary duty to provide their client with the most suitable mortgage solution, they cannot fully meet this requirement if the client requires an alternative or subprime solution.
What is a Mortgage Broker?
A mortgage broker, known with various titles in different provincial jurisdictions, is a licensed professional who can negotiate the best mortgage for you by comparing all the offerings from multiple lenders. Specifically, a mortgage broker or any other licensed mortgage professional is a salesperson who acts as an intermediary between the borrower and the lender. The lender pays them a commission as a finder's fee for the introduction. 
Important: The term 'mortgage broker' doesn't mean the same across Canada. While many licensed mortgage professionals can colloquially call themselves brokers in most provinces, the term is very specific to accredited mortgage professionals in all provinces except for BC, Manitoba and Prince Edward Island. 
In order to become a mortgage broker in Ontario, you must first become a mortgage agent. Becoming a broker requires multiple years of experience as a mortgage agent and additional education on compliance, licensing and supervision to run a brokerage.
What is a Mortgage Agent?
The titles mortgage 'broker' and mortgage 'agent' are often used interchangeably, although they mean different things. A mortgage agent acts as a salesperson and intermediary between the borrower and lender. The distinction is specific to  Ontario, as the title is used for new entrants before they become accredited as mortgage brokers.
Tip: Banks and other financial institutions often try to convince mortgage borrowers that their branch employees or mobile mortgage specialists can provide the same products and services as licensed mortgage brokers. But, in reality, banks only offer their own products, while brokers have access to multiple product lines from a variety of lenders.
Get approval on your low rate today
No big bank bias, just commission-free experts ready to help you.
What Does a Mortgage Broker Do?
A mortgage broker, or any licensed mortgage professional known by various names in different provinces, acts as an intermediary between the borrower and lender, finding the most suitable solution to meet the borrower's needs.
Choosing a Mortgage Broker vs. Bank
The number one differentiator between banks and mortgage brokers is that mortgage brokers offer more choices. Mortgage brokers have access to multiple product lines from a wide variety of lenders – including banks, credit unions, trust companies, alternative lenders, private lenders or investors, etc. 
In contrast, bank branches and specialists can only offer you a mortgage from their one product line. More choice from brokers means you'll be matched with the best solution catered to your unique financial situation. And if you happen to be self-employed or have credit blemishes, brokers can still help you. 
Mortgage brokers also get lenders competing for your business again at renewal – or anytime you need to renegotiate your mortgage – which can save you a lot of money over the years you hold your mortgage. 
Advantages and Disadvantages of Using a Mortgage Broker
A mortgage broker can help you find the best mortgage available based on your financial situation. Brokers usually have connections to several lenders and many more mortgage solutions. Weighing the pros and cons of working with a mortgage broker over your bank may help you find a better deal on your mortgage. 
Advantages of using a Mortgage Broker:
No fees – mortgage brokers are paid on commission from prime lenders once you, as the borrower, sign the mortgage contract. Typically there are no fees to you for hiring a mortgage broker. 
Save time – since mortgage brokers are connected to many lenders, they can help you save time by honing in on the most suitable options for you. 
Obtain a lower rate – brokers typically have access to lower mortgage rates which may not be available to you directly through the lender.
Acts in your best interest – a broker will get you the best possible terms and conditions since they are the mortgage experts.
Less paperwork – you only need to fill an application once with a broker to shop with multiple lenders at the same time.
No paperwork – many brokers offer online virtual mortgage applications, saving you time filling and collecting documentation.
Not limited to locals – brokers can help you regardless if you live in the same city as where they are located.
One-stop shopping – regardless if you need a prime or subprime, or an a la carte solution, brokers can come up with unique solutions that fit your need.
No cross-selling – brokers are not affiliated with one specific lender, so they are not required to cross-sell chequing accounts, investments or credit cards with your mortgage.
Disadvantages of using a Mortgage Broker:
No relationship building – unlike a bank, brokers won't be able to use your long-standing banking relationships to secure better rates.
More paperwork – depending on your application, you may need to provide more documents to your broker than going with a bank.
Too many options – if you have trouble making decisions, a broker may have too many similar options to offer, which could make decision-making harder.  
Additional costs – if you require subprime or private lending, you may need to pay extra costs.
One-stop shop – brokers can only sell secured lending solutions requiring you to solicit business from other providers.
No cross-selling – if you're looking to set up a new bank account for your new mortgage payments or a separate credit card for household expenses, you'll have to seek a different provider.
 How Do You Choose A Mortgage Broker? 
When deciding how to choose a mortgage broker, it helps to reach out to your network first and see if any of your family, friends, neighbours, or co-workers know a good broker. Word-of-mouth is often the best way to find a broker that will work in your best interests. 
If word-of-mouth referrals don't work out, the next best way to choose is by reading reviews from past clients. This will provide you insight into whether they were satisfied with the service they received and get a feel for whether the broker will be one that you would want to work with. 
How Do Mortgage Brokers Work?
Mortgage brokers work to find you the best deal on your mortgage. They usually have connections to many lenders and can use their network to find the best mortgage rates and options not normally available to the public. A mortgage broker will take the time to understand your financial situation and help you find the best lender with a mortgage solution that best suits your needs. 
Mortgage Broker Regulations by Province
Provincial regulatory bodies govern the real estate market in Canada. The Mortgage Brokers' Regulatory Council of Canada (MBRCC) comprises regulators from across Canada responsible for administering mortgage broker legislation and regulating the industry in their respective jurisdictions. The MBRCC provides Canada's mortgage broker regulators with a forum to work cooperatively, better share information and coordinate the engagement of stakeholders to identify trends and develop solutions to common regulatory issues.
British Columbia Mortgage Brokers
The BC Financial Services Authority (BCFSA) oversees and regulates licensed mortgage brokers in British Columbia. The Mortgage Brokers Act also requires companies, partnerships, and sole proprietors to be registered as mortgage brokers to engage in mortgage broker activity.
Alberta Mortgage Brokers
The Real Estate Council of Alberta (RECA) is the independent governing body that regulates real estate licensing in Alberta. Anyone who solicits individuals to borrow or lend money secured by a mortgage or negotiates a mortgage on behalf of another person must hold a licence with RECA.
Saskatchewan Mortgage Brokers
The Financial and Consumer Affairs Authority of Saskatchewan (FCAA) regulates mortgage brokers and mortgage associates in Saskatchewan. Applicants need to meet both educational and experience requirements to become licensed.
Manitoba Mortgage Brokers
The Manitoba Financial Services Agency (MFSA) is a Special Operating Agency of the Province of Manitoba that administers and enforces legislation for the province's securities and insurance sectors, real estate and mortgage brokers, credit unions, co-operatives, and trust and loan companies. The Agency comprises of The Manitoba Securities Commission (MSC) and Financial Institutions Regulation Branch (FIRB).
Ontario Mortgage Brokers
The Financial Services Regulatory Authority of Ontario (FSRA) is an independent regulatory agency that regulates mortgage brokers and agents in Ontario. An FSRA licence is mandatory for mortgage brokers operating in Ontario. 
Quebec Mortgage Brokers
The Autorité des marchés financiers regulates mortgage brokers in Quebec. Québec mortgage brokers stand out in the industry with the most regulated consumer protections, highest education requirements and supervision in the industry.
New Brunswick Mortgage Brokers
The Financial and Consumer Services Commission of New Brunswick regulates and licenses mortgage brokers and associates in New Brunswick. 
Nova Scotia Mortgage Brokers
Mortgage brokers need to be licenced through the Government of Nova Scotia.
Newfoundland and Labrador Mortgage Brokers
Digital Government and Service NL are responsible for licensing mortgage brokers in Newfoundland and Labrador.
Prince Edward Island Mortgage Brokers
There are no mortgage broker associations in Prince Edward Island.  However, the Canadian Mortgage Brokers Association (CMBA) covers the four Atlantic provinces under the CMBA-Atlantic branch of the organization. 
Mortgage Broker FAQ
How do I become a mortgage broker?
You must first become licensed by your provincial regulator.
How much commission is paid to the mortgage brokerage?
Mortgage broker commissions vary between individual brokers and their brokerages. Commissions typically range between 0.5% and 1.2% of your full mortgage amount. The exact percentage will also depend on the term and type of the mortgage. A percentage of the commission is taken off the top and paid to the mortgage brokerage before the broker receives their portion. This amount depends on the commission split a mortgage broker negotiates with their brokerage.
How is a mobile mortgage specialist different from a broker?
Mortgage brokers must be licensed and adhere to strict government rules and regulations. And, to maintain the licence, they must take continuing education and relicensing courses to ensure they're best able to advise on your ideal mortgage solutions. Mortgage specialists aren't licensed. They can start working for a bank and sell mortgages without education, training or experience. Another key distinction is that branch advisors and mobile specialists are bank employees, whereas mortgage brokers are independent business owners who don't work for a specific lender.
Can a mortgage broker help me if I have bad credit?
Yes. Mortgage brokers work with many lenders, and they have access to programs that fit the needs of people with varying degrees of credit scores and could assist you in repairing your credit.
Final Thoughts
Mortgages are a big decision that shouldn't be taken lightly. If you're considering buying a home, it's important to understand what a mortgage broker is and how they can help you get the best deal on your loan. 
Mortgage brokers can help you navigate the complex world of mortgages, ensuring you get the best deal for your needs. Talk to one of our experienced mortgage experts today to learn more about your options. At nesto, if you're renewing your mortgage or buying a home in a different province, our mortgage experts are licensed mortgage professionals in multiple provinces. They can help you find your best mortgage solution from the comfort of your home.
---
Ready to get started?
In just a few clicks, you can see our current rates. Then apply for your mortgage online in minutes!
Today's Best Mortgage Rates as of December 5, 2023