Required Mortgage Documents in Canada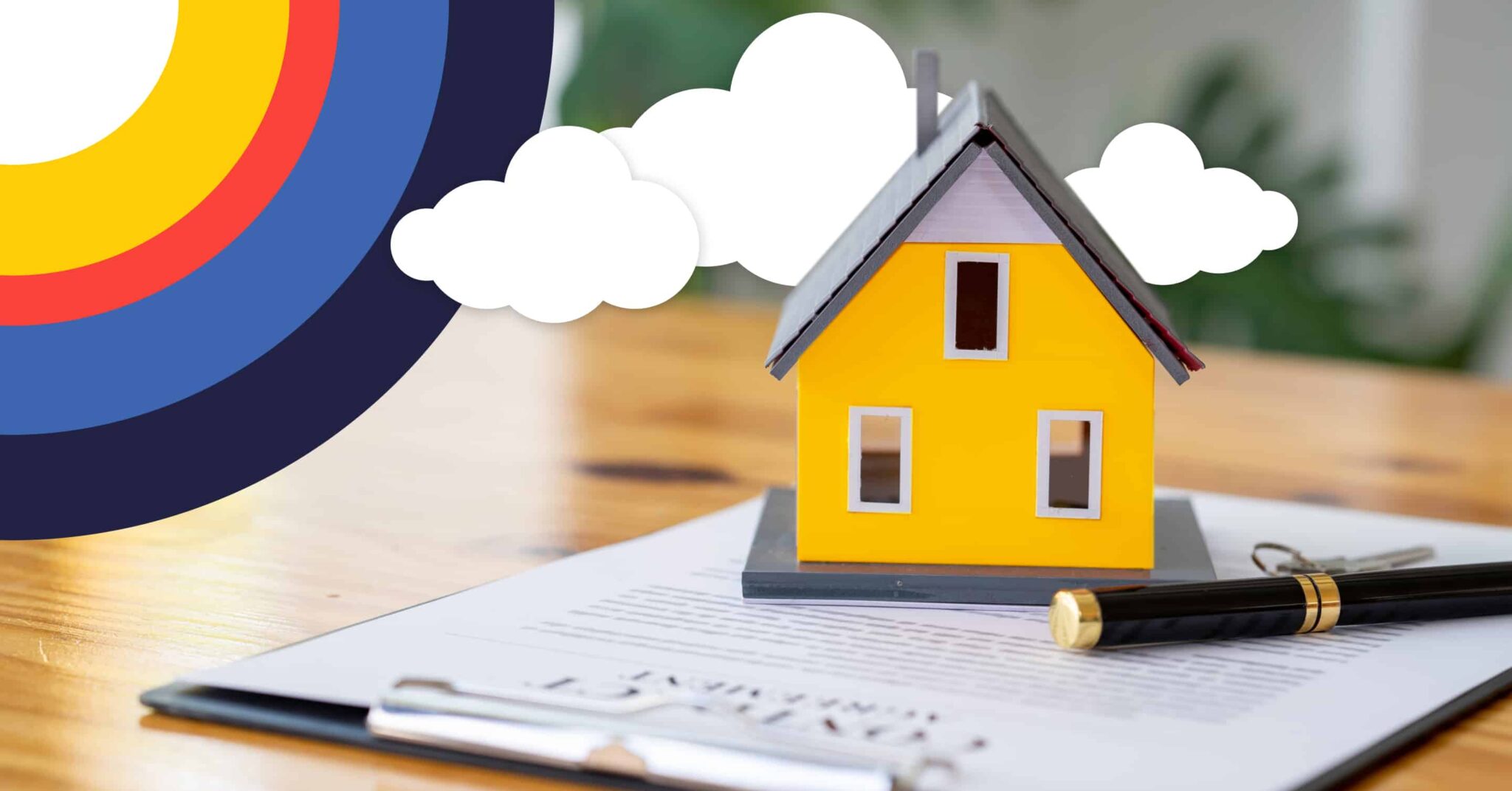 The process of purchasing a property or refinancing a mortgage in Canada is an extended and somewhat intensive one. This is mainly because of the various requirements set by the lender which you would have to meet. There is also the aspect of compiling a slew of mortgage documents. 
Most of the documents needed for mortgage Canada are required by the lender to prove that you are capable of repaying the loan. There are about 5 main categories namely; employment and income documents, personal finance documents, down payment documents, property documents, and another category that details other property owned. 
Each of these categories has several documents listed which are usually required by mortgage lenders. Certain lenders may request some other documents as well as additional information, and you would be duly notified. However, this article broadly serves as a mortgage document checklist to detail what you need for a mortgage in the way of paperwork, as well as documents required for refinance. 
---
Key Takeaways
A mortgage application process can be pretty tasking, but putting together necessary documents early can make the process easier 
The major categories of documents that your lender would review include your personal finance documents, employment and income documents, property documents, and down payment documents 
nesto can help you through the mortgage application process and lend you the expertise required for a speedy and stress-free one
---
Are you a first-time buyer?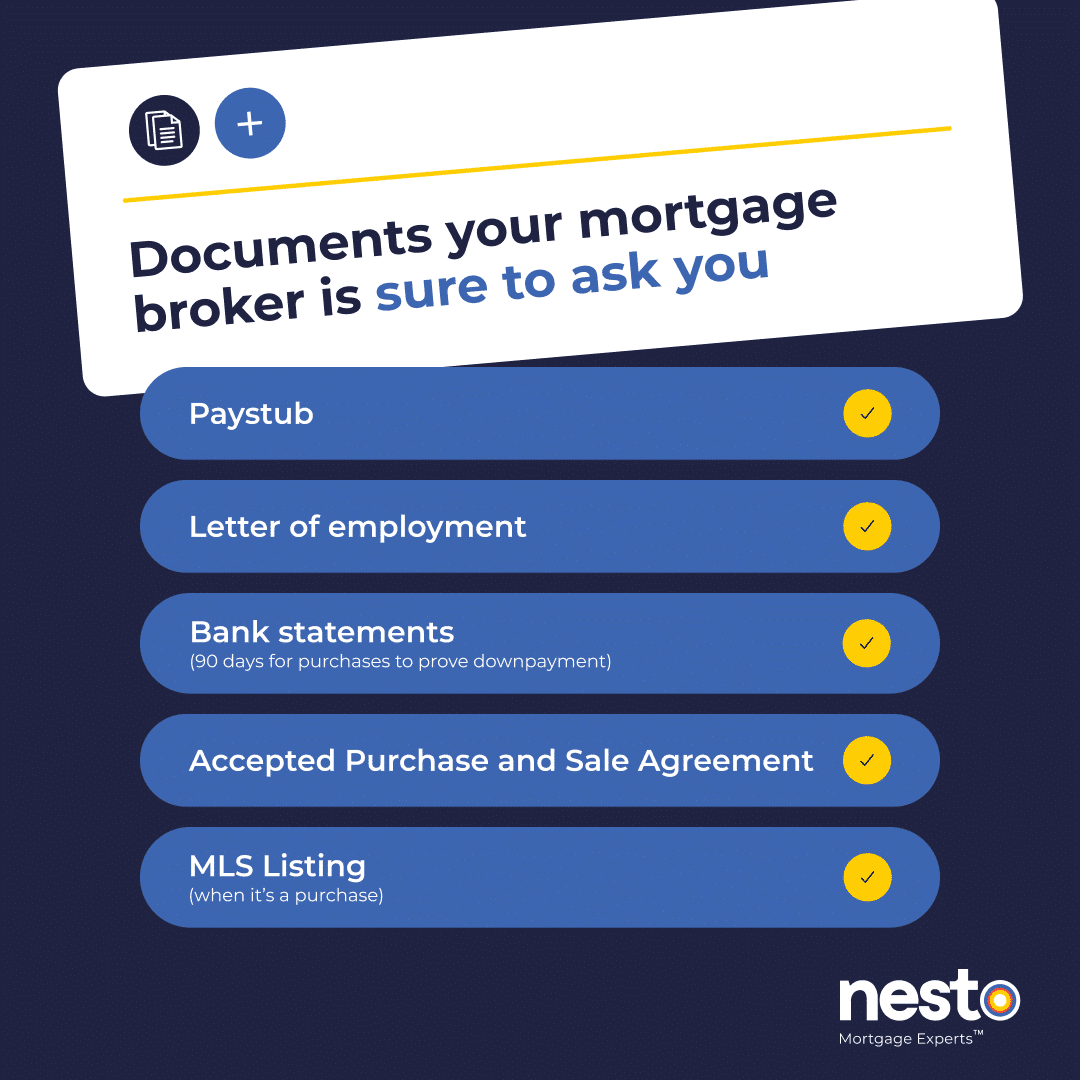 Employment & Income Documents
This category of documents proves that you are indeed employed where you claim to be, as well as for a particular duration. Most lenders are interested in current employment, however, some might require employment history. Income documents prove your income claims. 
​​Pay stubs: Pay stubs are a requirement to verify income. Usually, mortgage lenders would request about two to three pay stubs, so you should be prepared for that. 
T1 tax forms: T1 tax forms are used to determine how much you earned in income the previous year. Most lenders typically only request for the previous year's T1 tax form. 
T4 and T4A: T4 tax forms are for employees and show income received. The form details several income types including investment income, severance pay, and pensions. Employees receive a T4 form from employers annually while self-employed individuals get a T4A form. 
Notice of Assessment: This is mainly used by the lender to evaluate your debt-to-income ratios. It indicates the fact that you have filed your tax returns to the Canada Revenue Agency. Documents from the two most recent years are what your lender would require in the way of NOA. 
Letter of employment from your employer: A letter of employment mainly serves to prove job stability. It would typically include employment duration, employment status, employment nature (full-time, part-time, or seasonal), present title and role, annual salary rate or number of hours. Also important, the letter should be written with company letterhead, no older than 30 days, and duly signed by a manager or HR. 
3 years of personal tax returns (self-employed): Self-employed are regarded to be riskier borrowers because of reduced income stability. As a result, they are required to provide income documents from up to the previous three years which is a more extended period.
Business articles of incorporation (self-employed): Self-employed individuals may be required to present a business license or articles of incorporation. This is an essential amongst mortgage broker documents.
Mortgages giving you a headache?
Take a breather and work with nesto experts to make it easy for you.
Personal Financial Documents
Personal finance documents detail all available information about your personal finance and credit. It would also detail your account information as well as various statements and your pre-approval letter. 
Credit report: Accessing your credit report early provides you with an idea of what you can afford for your intended mortgage in the way of mortgage rate and budget. Errors can be present on your report, and accessing your report early allows you to correct these problems with TransUnion or Equifax credit bureaus. Your lender would typically pull this report as well. 
Bank account information: If you are wondering how many bank statements for a mortgage, at least 6 months of recent bank statements is a good start, 3 months bank statements for a mortgage should likely work too. Lenders use these bank account documents (alongside transit number) to deposit the mortgage as well as organize scheduled repayments. So, does a mortgage application need bank account numbers, yes it does. 
Statement of assets or investments: This statement of assets details property and investment value. This would typically include a list of real estate, boats, cars, stocks, and RRSPs. It is an essential amongst refinance home loan documents. 
Pre-approval letter (if applicable): Having a pre-approval letter is indicative of the fact that you can meet the credit and income requirements for lenders. Including this with your mortgage application can allow you to access lower rates. 
Any additional income sources (if any): Other income sources such as disability payments, rental income, part-time income as well as income from social security and pensions can be filed.  
Note that documents required for mortgage renewal would mainly be those that reflect your income and credit since the lender is concerned about your ability to repay the loan. 
Down Payment Documents
All information related to down payment especially those that prove the source of your down payment. This is a major aspect of answering the question 'what documents do I need to apply for a mortgage'?
Savings and investments statement for the past 90 days: Any savings or investments accumulated within the previous 90 days have to be summed up and detailed in a document that would be submitted to the lender.
Purchase of Sale agreement of your existing property: If you are selling off your old property to buy a new one, then the lender would require a copy of the previous property's Agreement of Purchase and Sale given that it would be used as a down payment. 
RRSP Withdrawals (if applicable): Canada permits first-time homebuyers to take out the money saved in their RRSPs and make down payments through the First-Time Home Buyer's Plan. Proper documentation is required for this as it would be submitted to the lender as well. 
Gift Letter (if applicable): If your down payment is being gifted to you, by say an immediate family member, a signed gift letter from them is required to confirm that it is indeed a gift and not a loan that would be repaid. 
Note that six pieces of information for mortgage application include the consumer's name, income, and social security number (to obtain a credit report), the property's address, an estimate of the property's value, and the loan amount sought.
Property Documents
The following property documents are vital to the mortgage application process. So, if you are researching 'what do you need for a mortgage in Ontario', here goes: 
Accepted Purchase and Sale Agreement: this document is provided to the bank following the signing of the agreement. The document details the precise value of the home which the bank would be interested in knowing in order to evaluate the mortgage principal amount and determine the required down payment. 
Real Estate Listing (MLS listing): The listing is used for items such as heating and utility cost estimates, property tax estimates, condo fees alongside other information, and is usually provided by the agent. 
Address of the property: This refers to the legal address of the property alongside the postal code. 
Well and septic certificates: These are mainly considered with respect to rural properties. 
Other Properties Owned
When applying for a mortgage, in addition to the documents listed above, you would also need the following: 
Address of all additional properties owned: this refers to a comprehensive list of all assets and liabilities that are tied up in real estate. This information is usually required by the lender during evaluation. 
Recent mortgage statement(s): Properties owned by the borrower which have a mortgage balance or home equity line of credit (HELOC) secured by the property must have recent mortgage statements submitted. They are used to determine that all payments are up to date. In addition, any outstanding balances left are used by the lender during debt servicing calculations. 
Rent or Lease Agreements: Investment and rental property income are regarded by many lenders as a part of annual income and typically add it to your debt servicing ratios. In this sort of situation, rent or lease agreements are required by the lender if rent is collected on these properties. 
Using Nesto to Help Guide You Through the Mortgage Application 
At nesto, it's our mission to find you the very best mortgage rate upfront in the most simple, transparent, and fast way. Thanks to our advanced technology, we're able to evaluate the whole market in seconds to find the most affordable mortgage while our commission-free experts provide you with unbiased support throughout the process.
Every mortgage expert knows the market's best rates every time they check their email. Only a few of them will give you that rate without making you work for it. nesto's here to change the industry for this very reason. You always get the best rate, right away in the most honest way possible.
Final Thoughts
To guarantee a smooth mortgage application process, it is essential to determine the requirements ahead of time and work towards meeting them. The documents we have discussed in this article are usually demanded by most lenders, so you can get to work right away. In addition, nesto is always here to help guide you through the mortgage application.
---
Ready to get started?
In just a few clicks, you can see our current rates. Then apply for your mortgage online in minutes!
Today's Best Mortgage Rates as of December 5, 2023