What Is A Home Equity Loan In Canada?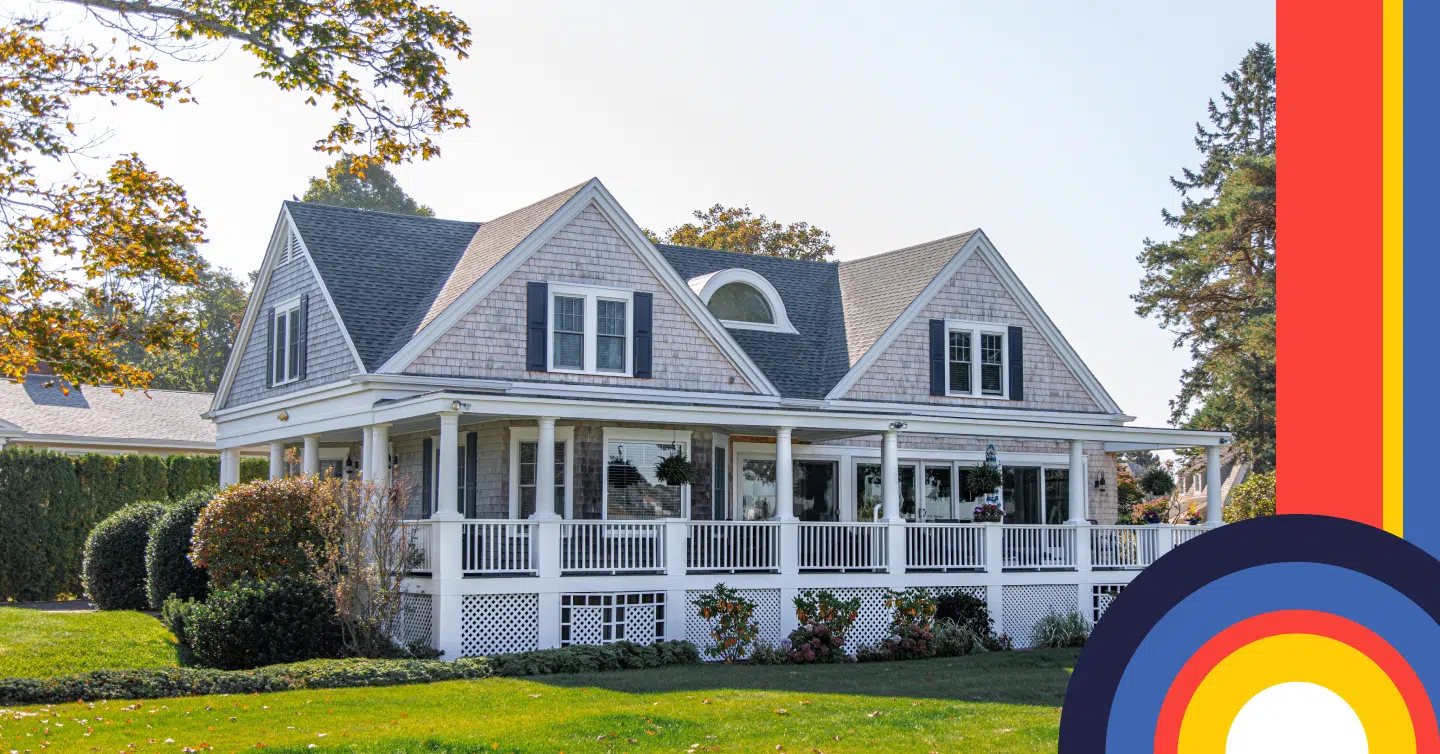 A home equity loan is a loan that allows you to borrow money against the equity in your home. It can be a second mortgage, loan, line of credit or a combination of secured lending products. It is often called and can be taken as a second mortgage. These secured credit facilities usually have lower interest rates than personally guaranteed, making them an attractive option for many homeowners.
In this article, we'll cover home equity financing and how to use your home's equity to finance home improvements and renovations, pay for post-secondary education, purchase an investment property or cottage and cover other large expenses.
---
Key Highlights
A home equity loan is a type of secured debt, and the amount available will depend on your current mortgage and homeownership situation.
2 types of the most popular home equity products in Canada are hybrid mortgages and the home equity line of credit (HELOC).
Home equity products are sold as part of a collateral charge mortgage or as a second standard charge mortgage.
Home equity financing is less costly than consumer credit, your home as collateral reduces your risk to lenders, so in return, they offer better financing terms on secured lending.
---
Are you a first-time buyer?
What Is A Home Equity Loan?
A home equity loan is a range of lending products that use your home's equity as collateral.
What is equity?  Equity is the value or share of something owned by a person or a company. The best way to define the equity in a property or home is the difference between the value of your home and the amount of money you still owe to your mortgage lender(s). In other words, home equity is the value of your ownership stake. 
Home equity products are used to access your home's equity without having to sell your home. By completing an equity takeout (ETO) or refinancing your mortgage, you can set up a new mortgage, split up your mortgages, or set up a HELOC. These changes can make it easier to access your home equity now or in the future. 
How Borrowing On Home Equity Works
Home equity financing is issued as term loans, mortgages or revolving lines of credit taken out against the value of your home, meaning that you can borrow up to the available equity in your home. A minimum of  20% equity must always be retained in your home.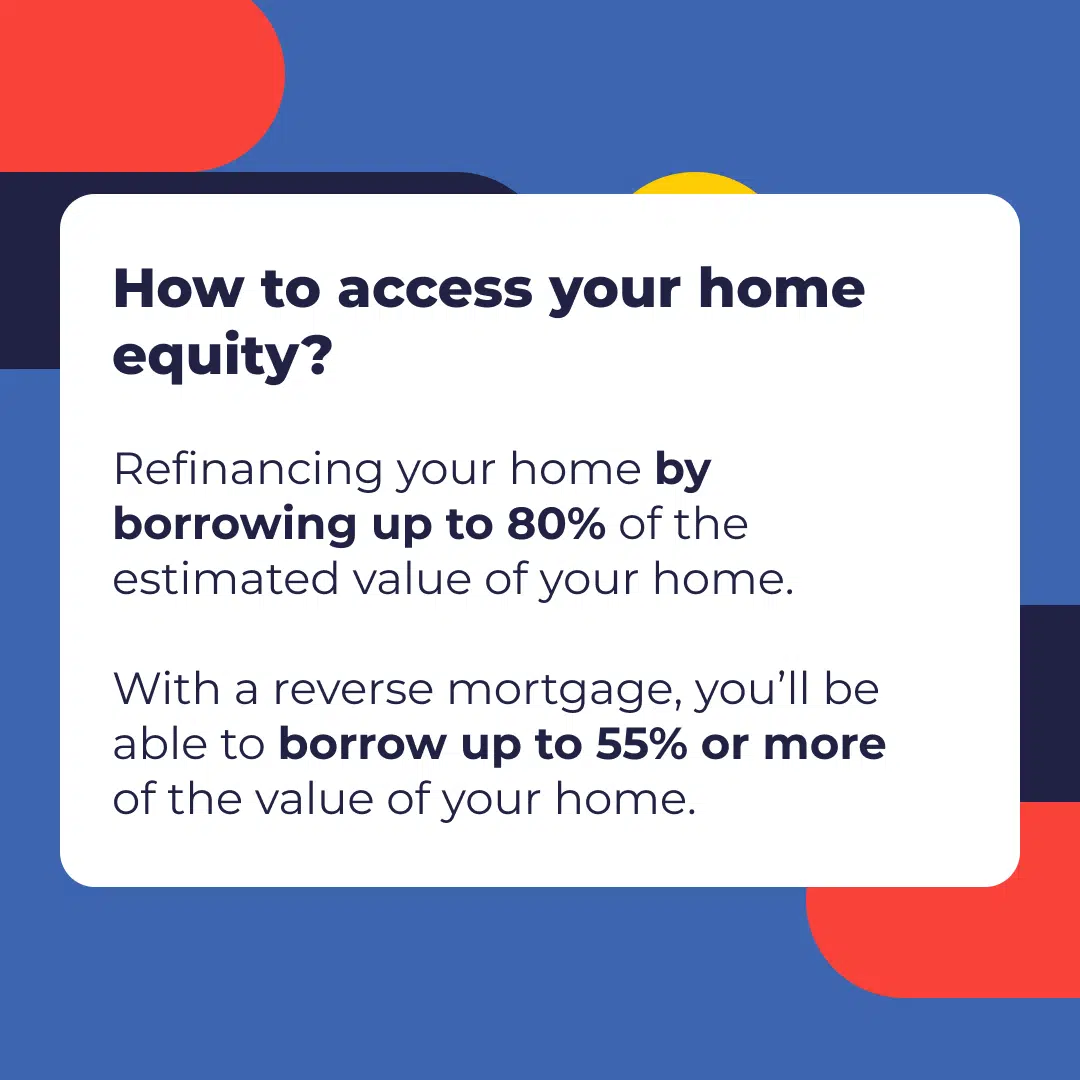 Types of Home Equity Financing 
There are several home equity loans available to homeowners. A home equity loan would only be considered a second mortgage if registered in second rank behind the first mortgage, although sometimes the lender does not permit secondary financing. Depending on how the charge against the home's title is registered, your home equity loan or line of credit (HELOC) may be part of your first mortgage if under a collateral charge.
Term Loans and Mortgages
Term loans or mortgages can be issued on a fixed or variable rate and amortized over a suitable period for your needs. Term loans are usually amortized over shorter periods, such as 60 or 96 months, whereas mortgages are amortized over more extended periods, such as 25 or 30 years. Term loans usually come with a higher interest rate. However, they can be lowered if secured by your home's equity. Conversely, if you have a more significant term loan, such as one used to purchase a car or a mobile home, you could ask the lender to set it up as a mortgage instead.  A mortgage will make payments more manageable by amortizing the repayments over a more extended period, and the lender could provide a much lower rate than on a secured term loan.
Revolving Or Home Equity Line Of Credit (HELOC)
The equity in your home can secure a HELOC or a revolving line of credit. A revolving credit product will always come with a variable rate, whether secured or unsecured. The interest rate is a premium charged on your lender's prime rate. It works similarly to a credit card but without the plastic, letting you withdraw money as needed. These lines of credit can be used to pay for significant expenses without making interest payments on unused portions. HELOCs are a great way to finance a project that may take time or has multiple vendors, such as home renovations. 
Common Uses for Home Equity Financing 
Home equity financing is a great solution to access the built-up equity in your home for various purposes. Some common uses for home equity financing in Canada include debt consolidation, home renovation projects, borrowing to get ahead, education and emergency expenses.
Debt Consolidation
Home equity financing can be a great way to clear off higher-interest debt, such as credit card debt, unsecured or consumer personal loans and store cards, by consolidating all your debt into one payment.  Before moving ahead with this solution, it's best to discuss it with a mortgage expert and complete a cost analysis to ensure that it will save you time or money in the long run.
Home Renovations
Home equity financing is a great way to fund larger renovation projects, such as updating your kitchen or bathroom or adding an addition to your home. Typically, additional living space will increase the overall value of your property.
Borrowing To Get Ahead
Regarding your investments, time is of the essence.  Contributing to your RRSP before the end of February can save you from paying a hefty income tax bill.  With a HELOC, you can use such time-saving options without visiting the bank to borrow money or empty your chequing or savings account.  Similarly, you can use your HELOC to apply a downpayment towards an investment property or for a deposit when your offer on a home is accepted. These are great ways to utilize approved low-interest credit for time-sensitive investment options.
Education Expenses
A home equity revolving line allows you to make timely payments for education expenses. Regardless of whether the education is for you or a spouse or child, the ability to make your payment without consulting your bank is a great advantage to those who proactively set up a line of credit under their collateral charge mortgage.
Emergency Expenses
Home equity financing can be used in an unplanned emergency through a HELOC. It can be used for unexpected bills, such as to replace a home appliance or repair your car. 
How To Access Your Home Equity 
There are multiple ways to access your home's equity – typically, they all involve refinancing your mortgage-free home or current mortgage.
Refinancing
One way to access your home's equity is refinancing your home by borrowing up to 80% of the estimated value of your home. You'll get a new mortgage agreement when you refinance your home or mortgage. A refinance can not only let you access your home's equity by setting up a new mortgage or a HELOC, but it could also lower your monthly payments or interest.  Your interest rate will depend on the prevailing rates at the time and the specifics of the mortgage you choose.  However, lowering your interest rate or increasing the amortization period could lower your monthly payment.
Reverse Mortgage
A reverse mortgage is a borrowing facility that allows homeowners 55 and older to convert a portion of their home's equity into cash. With a reverse mortgage, you'll be able to borrow up to 55% or more of the value of your home.
A reverse mortgage can provide a financial lifeline for senior homeowners who need extra money to cover expenses, pay off debt, help children or grandchildren with their home purchase, or make home improvements. The best part is that you can retain the equity in your home without making payments on a reverse mortgage. No minimum credit scores or repayments are required to qualify for a reverse mortgage.
Find a better rate, and we'll match it, beat it, or give you $500*.
*Conditions Apply
With nesto, it's stress-free
Requirements To Access Your Home Equity
Lenders will require a  good credit score and sufficient income to cover the loan's monthly payments, which are stress-tested on a 25-year amortization. You can understand more about your credit history by reviewing your credit accounts from one of Canada's credit bureaus. Your ability to consistently make minimum payments on time will provide a better picture of your payment history and keep you within the credit score range lenders seek. You must retain a minimum amount of equity in your home, usually around 20%, after your mortgage refinance is completed.
How To Calculate Your Home Equity 
To determine the amount of your equity, you need to establish the home's current market value and subtract the existing balance of your mortgage. You can understand the home's value by looking at comparable house sales in your area. However, you'll need a professional property appraisal to determine its market value. 
A certified home appraiser provides an unbiased evaluation of your home based on its overall condition, size, neighbourhood, key features and amenities. Once this value has been confirmed, subtract your remaining mortgage balance to determine your equity. If you need clarification, your lender can provide you with the amount owing on your mortgage.
Borrowing from your home is a great way to access the equity you have built up in your home. Let's see an example of how much home equity you could access.
Home equity loans in Canada are typically limited to 80% of your home's valuation, less any mortgage balance you owe to the lender.
For example, if the market value of your home is $400,000 and you still owe $200,000 on your current mortgage balance.
$400,000 x 0.80 = $320,000
$320,000 – $200,000 = $120,000
You can apply for a facility of up to $120,000. Depending on what type of facility you decide on, you will either get funds disbursed as a lump sum (term loan or mortgage) or set up a HELOC to access it over time. Use nesto's mortgage calculators to determine how much equity you can access from your home.
How To Build Home Equity
The equity in your home can increase in two ways simultaneously – as you pay down your mortgage and the home's market value increases. Building home equity is a great way to increase your long-term financial security and wealth. Here are some tips to help you build home equity before applying for a home equity loan: 
Location matters – Picking a location for your new home close to amenities can mean less time and money spent out shopping. This convenience frees up more time and money for spending in your home. The amenities will also bring more value to those shopping for a home in your community.
Prepayments – Small and big prepayments reduce the principal and additional interest payments you'll need to make to pay off your mortgage sooner.  Paying down your mortgage sooner will increase the equity in your home.
Renovations and improvements – By paying off your mortgage sooner – you not only create more equity in your home but free up your cashflow that can be directed at renovations instead of paying down your mortgage.  Renovations and improvements increase the value of your home.
Renting out a portion of your home – By renting out a portion of your home, you can apply the extra cashflow towards paying down your mortgage or improve/renovate portions of your home.  Both of these options will increase your home's equity.
Shopping around for the best rate – You could reduce your overall interest payments by completing a cost analysis each time your mortgage term finishes and comes up for renewal or mortgage rates drop.  You don't have to stop at your mortgage. You could shop for other necessities to lower your monthly carrying costs.  You might be able to switch your insurance, phone companies, grocery store or internet providers.
Lowering your other obligations could provide extra cash to become mortgage free faster.
While investing in improving your home is generally a good idea, it's important to note that its market value ultimately depends on several outside factors. Housing demand, household debt, inflation and unemployment, among other things, all play a role in the economy's overall health, which, in turn, impacts the state of the real estate market and, ultimately, your home's value.
How To Qualify For A Home Equity Loan
Home equity loan requirements vary depending on the type of credit facility you choose. Your lender will assess the amount of available equity and evaluate your financial position by considering your credit score and debt-to-income ratios (DTI). 
Lenders set out different conditions to determine the amount they'll lend to you. The maximum amount is up to 80% of your home's value. To improve your chances of obtaining the maximum amount should you need it, ensure that your credit score is high (680 or above) and that your gross debt service (GDS) ratio is below 35%. 
Your lender will also assess your property's loan-to-value ratio (LTV) to help determine the amount. LTV is calculated by dividing the appraised/market value of your home by the current amount of your mortgage. As a rule of thumb, your LTV should be 80% or less; if you only have a HELOC under your home equity plan, you're limited to 75% LTV.
Frequently Asked Questions
Welcome to our Frequently-Asked Questions (FAQ) section, where we answer the most popular questions designed and crafted by our in-house mortgage experts to help you make informed mortgage financing decisions.
What is home equity?
Your home's market value minus your mortgage's balance represents home equity. In other words, home equity is the value of your ownership stake.
How do you build home equity?
By making your monthly payments, you pay down the mortgage balance, thereby increasing your equity (the less you owe, the more equity you have). Your mortgage payments are applied to both the loan principal and interest. As the loan amount decreases, an increased amount of each payment will be applied to the principal, and your equity will increase accordingly. Additionally, the increase in your home's value also increases your equity.
What types of lenders offer home equity loans?
Several lenders offer Home equity loans, including banks, credit unions, virtual lenders, mortgage finance companies and mortgage brokers. Each of them will have different qualification requirements, terms and conditions, making it necessary for you to shop around and compare features.
Does home equity hurt your credit?
Taking out a home equity loan or line of credit can positively or negatively impact your credit score, depending on how you use it. If you use the loan responsibly and make payments on time, you may see an increase in your credit score. If you decide on a HELOC as your credit facility under your home equity plan, then you must be careful not to exceed using more than a third of your limit.  Taking out a term loan or mortgage instead is best if you need to use the whole amount.
Is a HELOC or a mortgage better for a home equity loan?
A HELOC is flexible and can be reused over time or to make smaller payments on longer-term projects such as renovating your home.  Mortgages are more suitable when you need a large sum of money simultaneously. Utilizing your HELOC beyond a third of its credit limit could negatively impact your credit score. With a mortgage, your credit score has no negative impact if you make mortgage payments on time.
Final thoughts
There is a need for intelligent decision-making when understanding and taking advantage of home equity options. Evaluating any product's positives and negatives can help you decide the best well-informed choice for your needs. Whether it's a hybrid mortgage or a HELOC, the right combination of these products can be beneficial. Plus, paying down your mortgage or investing some money into renovation are additional great ways to increase that equity in your home. 
Our team of commission-free mortgage experts at nesto has helped many people get into their dream homes over the years. Our honest, transparent and unbiased advice can help guide you in the right direction with the most suitable solutions.
---
Ready to get started?
In just a few clicks, you can see our current rates. Then apply for your mortgage online in minutes!
Today's Best Mortgage Rates as of September 29, 2023